Campus Improvements
Vanderbilt is investing in its infrastructure to ensure that traveling through campus is convenient, comfortable, safe and accessible.
Bike lane improvements 
Vanderbilt Place from 25th Avenue to Rand Hall/Sarratt Student Center  
A bike lane was installed on the portion of Vanderbilt Place between 25th Avenue and the transit roundabout near Rand Hall/Sarratt Student Center as part of West End neighborhood improvements. The bike lane provides improved safety for vulnerable bicyclists and supports long-term campus plans to provide bicycle infrastructure for a range of biking abilities.
Jess Neely Drive from 25th Avenue to Natchez Trace – Pilot Project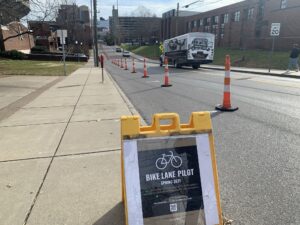 Vanderbilt worked with Metro Nashville to restrict on-street parking on Jess Neely Drive from 25th Avenue to Natchez Trace to provide a temporary bike lane. This pilot improved safety between vehicles and bicyclists crossing campus and helped inform planning for long-term changes on this corridor, which is now closed to vehicular traffic and is planned to be rebuilt as a pedestrian plaza.
Walk and Roll Loop
A Walk and Roll Loop around the campus perimeter will be implemented to provide an enhanced mobility experience for Vanderbilt and the surrounding community. The Walk and Roll Loop will be a wide and comfortable pathway encircling campus for active transportation and recreational use, and will better integrate the Vanderbilt campus with the rest of Nashville.  Sections of the Walk and Roll Loop have been completed near the Kissam Center, the West End Neighborhood, and the Owen Graduate School of Management, and other sections will continue to be constructed as campus projects continue.
Learn more about the Walk and Roll Loop and the greenway network envisioned in FutureVU, including design and construction updates and upcoming milestones, here.
Designated Ridehail Pick-up and Drop-off Areas
Ridehail services like Uber and Lyft can be used on campus. The university is piloting nine designated ridehail pick-up and drop-off locations around campus. The locations are marked with signage and are available to select in the Uber and Lyft mobile apps. The areas include E. Bronson Ingram Circle,  Sarratt Student Center/Rand Hall, Kensington Place outside of the Kensington Garage, the Engineering and Science Building, lot 24 near the Lewis House,  Blakemore House, Crawford House and Hank Ingram House.
The decision to create dedicated ridehail pick-up and drop-off locations on campus was in direct response to requests from students to improve safety measures around the ridehail process. Vanderbilt University Public Safety conducted research on best-practices from peer universities and have participated in educational webinars as part of the #WhatsMyName campaign to improve ridehail safety and awareness. The seven pilot locations were identified across campus based on existing ridehail activity and in well-lit areas that can be easily monitored by cameras and VUPS patrols. This first phase of pick-up and drop-off locations will be monitored, and adaptations or new locations will be added as needed.
Vanderbilt University Public Safety recommends that riders follow these Ridehail Safety Guidelines when using ridehail services.
Air Quality and Mobility Sensor Technology
A broad system of sensors supports Vanderbilt's transportation and mobility efforts to deliver improvements for the campus and measure impacts. This combination of devices provides for measurement of spatial and temporal travel behavior, as well as the corresponding air quality and environmental data.
Vehicle sensors, called BlueTOAD, at Vanderbilt network with additional units around Nashville to anonymously quantify travel times and volumes of commuters along major corridors. This data can help manage traffic and make strategic decisions for commuting periods. Likewise, cameras on campus equipped with advanced video analytics can count pedestrians and cyclists in critical areas and help determine the mobility patterns relevant to improve the built environment for these modes of travel. With the goal of improving mobility options and enjoyment for the Vanderbilt community, Array of Things sensors can measure air quality and other environmental factors, as well as any improvements on these factors achieved by new projects.
To date, three Array of Things sensors have been installed at the following intersections:
21st Avenue and Edgehill Avenue
21st Avenue and Broadway
21st Avenue and West End Avenue
Institute for Software Integrated Systems building on 16th Avenue (temporary)