Past Events
Candle Light Vigil
November 3rd – 5:30pm-6:30pm – Divinity School Courtyard
Please join the Middle Eastern Student Association and the Interfaith Council and participate in a sunset candle lit ceremony to remember and pray for the victims of the tragic earthquake in Turkey.
Please come wearing purple, as this is the color of mourning in Turkish tradition.
Facebook Event:
https://www.facebook.com/#!/event.php?eid=267817246593110·
Faith in Art
Nov. 6 at 6:30 p.m. –Faith in Art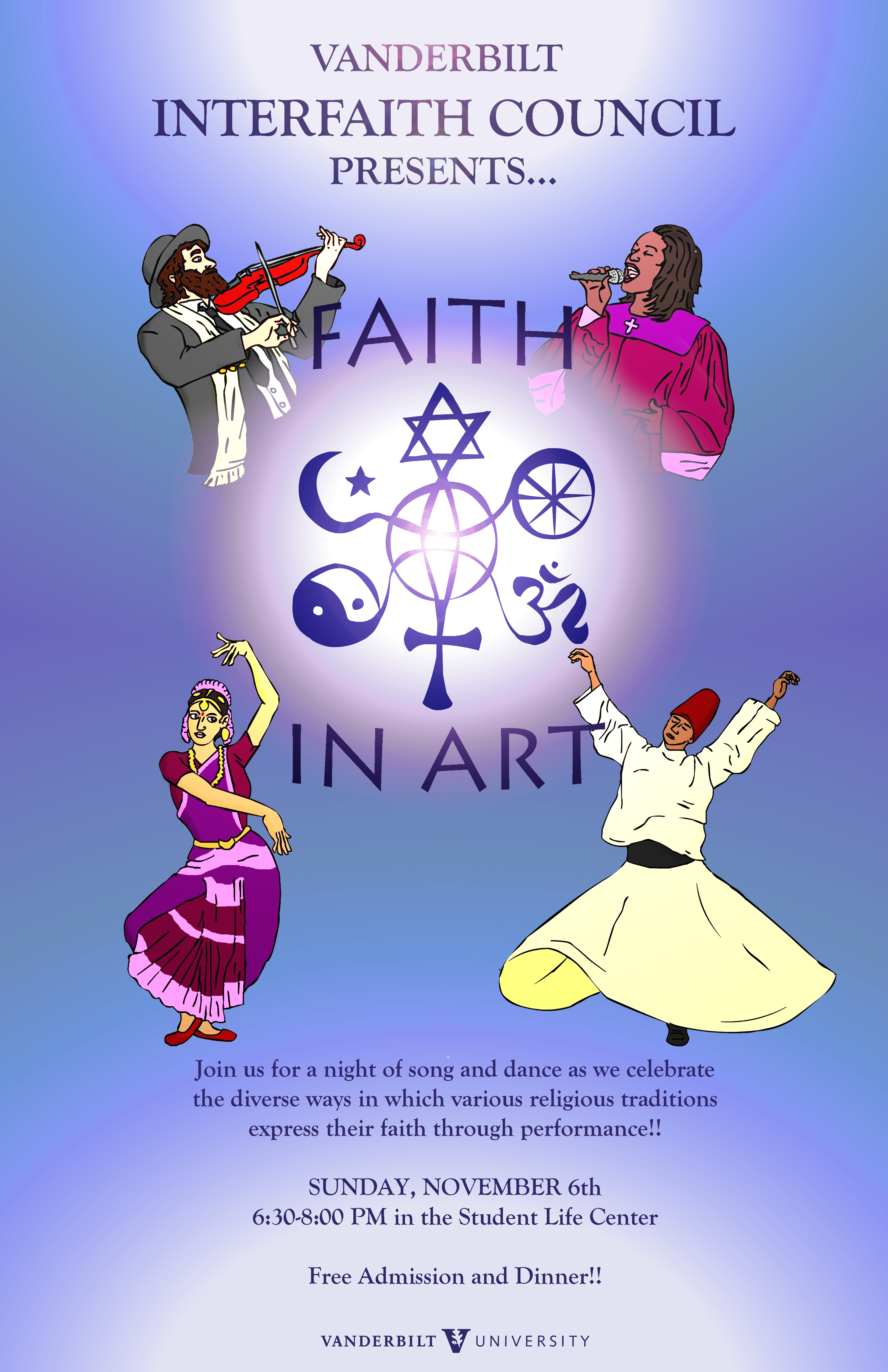 Interfaith Panel
February 13th at 7 pm in the Student Life Center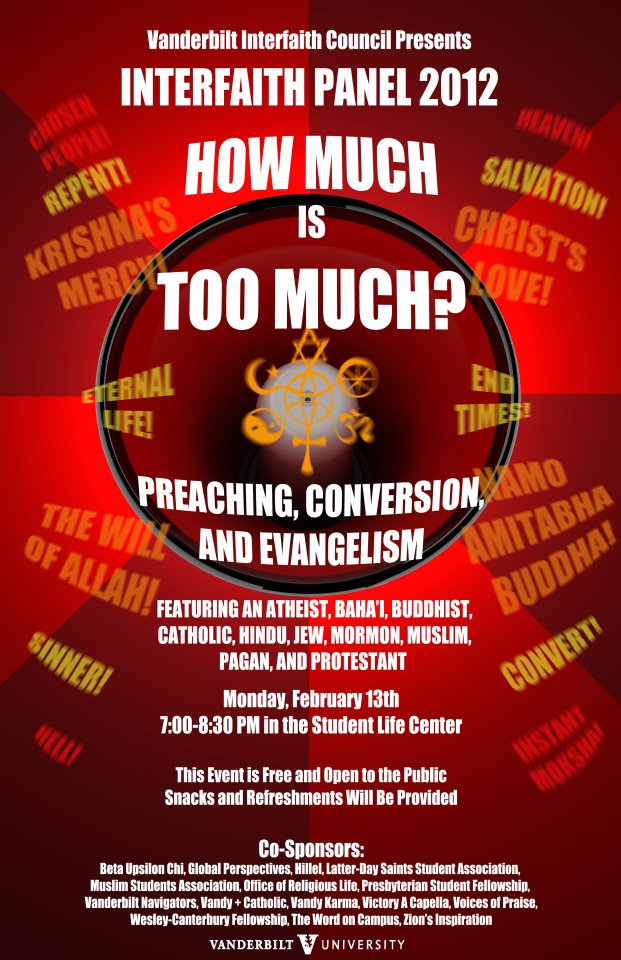 Eboo Patel
Tuesday, February 21st, 7pm in Langford Auditorium
Read more about Eboo Patel and Interfaith Youth Core here.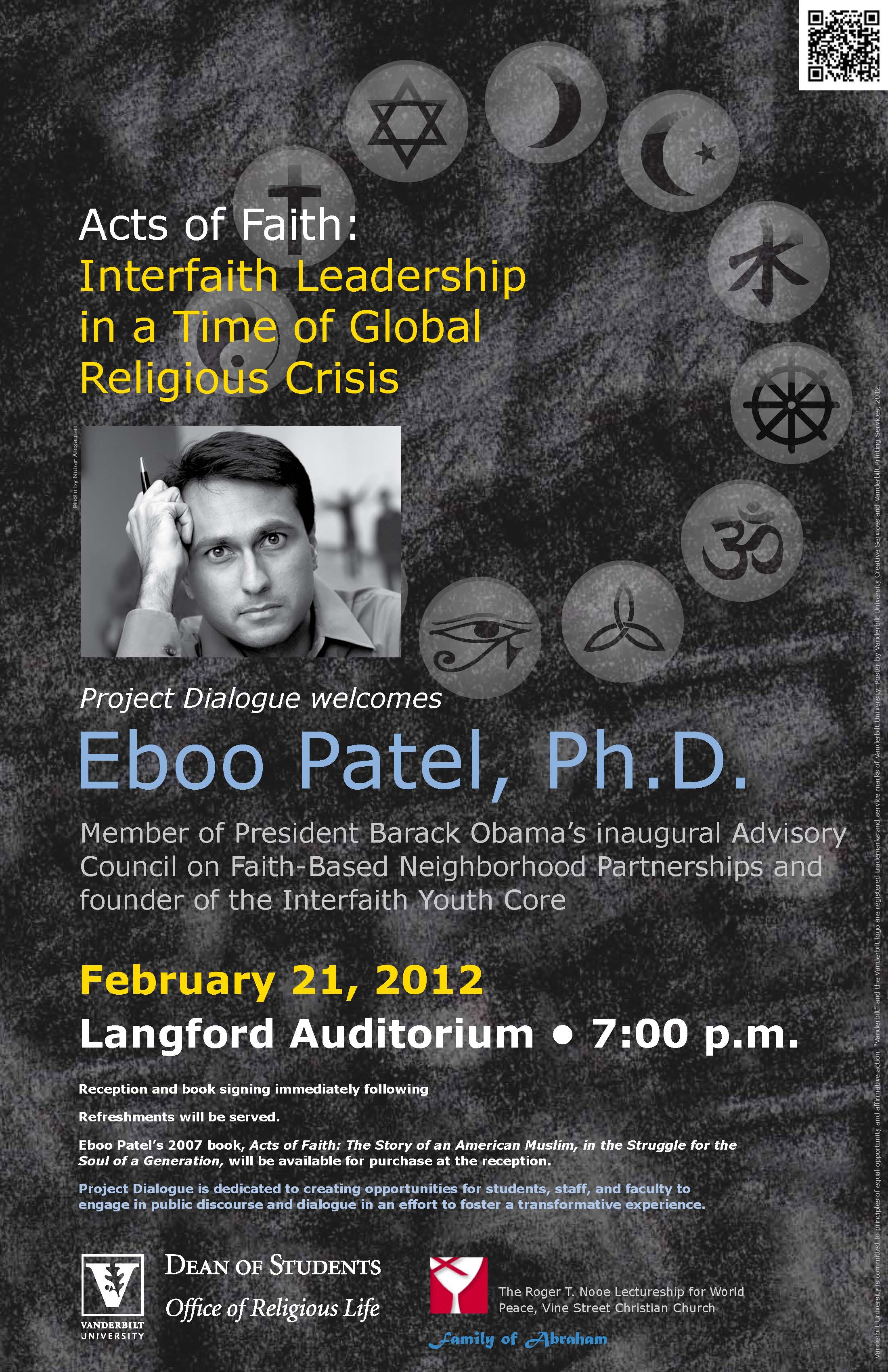 Ten Years Later: Commemorating September 11
Senior Day – Interfaith Welcome

Karthik Devarajan
Interfaith Day of Service – March 27
Join members of the Interfaith Council and The Commons in this Habitat build!
---
Interfaith Panel – "What is Your Compass?"
Tuesday, March 1, 6PM
Student Life Center
An annual tradition! Join members of the Interfaith Council as they welcome ten panelists representing ten faith traditions as each responds to the question, "What is your compass?" Following the opening question, the floor will be opened for questions from the audience.

Interfaith Panel – "A Day in the Life of …"
---
Talking, Eating, & Growing: An Interfaith Dinner & Discussion

Thursday, November 19, 6 PM
Ben Schulman Center for Jewish Life


Come out for VANDERBILT INTERFAITH COUNCIL's annual Talking, Eating, & Growing event! You will experience a great night of stimulating interfaith discussion as well as a free dinner from Grins Cafe!
QUESTIONS FOR ROUND TABLE DISCUSSION INCLUDE:
How has your personal faith changed/developed since you have come to Vanderbilt?
What are your views on interfaith marriage?
Do you see yourself raising your children strictly by your own faith tradition or would you allow them to choose a faith tradition for themselves?
Why do people change religions? Is it that they lost faith in their original belief system or something else?
Since faith and your relationship with your Higher Power is individual, what is the purpose of attending religious services?
Does talking about faith make you awkward?
---
Interfaith Soccer Tournament & BBQ!

Thursday, October 8, 4-7 PM
Rec. Center Fields
---
Council Representatives Meet Commencement Speaker

Mohsinah Usmani, Aniket Rali, Doris Kearns Goodwin, Nick Boyer and Neelam Khan
Representatives of various faith traditions offered prayers and words of hope for the Class of 2009. Prior to the Commencement service the soon-to-be- alumni spoke with Doris Kearns Goodwin who would deliver the Commencement address.
Interfaith Dining
Wednesday, April 15, 5:30 PM
You are invited to join members of the Interfaith Council for casual dinner and discussion at Mellow Mushroom on 21st Street (right across the street from the Vanderbilt law school). With finals so rapidly approaching, this is a busy time of the semester for all of us. But we still have to eat! So come by Mellow Mushroom on Wednesday for some good food and even better conversation!
Interfaith Chocolate Seder

Sunday, April 5, 3 PM
Ben Schulman Center for Jewish Life
8th Annual Interfaith Panel
"What Can God do for You?"
Tuesday, February 17
Sarratt Cinema, Sarratt Student Center
Representatives from ten different faith traditions will respond to the question, "What Can God do for You.?" After each has answered, the floor will be opened up for questions from the audience.
Talking, Eating & Growing
Wednesday, November 5
Ben Schulman Center for Jewish Life
Talking, Eating & Growing is a fundraising event where students share in meaningful conversations over a meal. Following the discussion, there is a beard auction to raise money for the Red Cross, Red Crescent and Magen David Adom societies. If you, or your organization, are interested and would like more information, or if you would like to volunteer your beard for a good cause, contact: Neelam Khan.
Sponsored by: Vanderbilt Interfaith Council
Congratulations to all who participated and raised over $300 for our charities!
Religious Organizations Fair

The 2008 Religious Organizations Fair was a gathering of numerous campus religious organizations each with information to distribute regarding their faith, gathering times and locations as well as an opportunity to meet with student and/or staff representatives. The fair was a chance to become more informed as to the broad variety of religious perspectives offered at Vanderbilt.
Senior Day

Josh Arenth, Muhammad Yunus, Greg Maurer-Hollaender & Stephanie Marineau address the Class of 2007
---
Interfaith Music and Culture Night
---
Coming Together Interfaith Conference at Princeton