Meet Affiliate Chaplains
A number of faith communities provide support to their members in the Vanderbilt community through affiliate chaplains.  These affiliate chaplains provide regular opportunities for worship and study; social activities and fellowship; and counseling and care to members of their particular faith communities on campus.  Affiliate chaplains also cooperate with the Center for Spiritual and Religious Life to offer relevant ecumenical and interfaith programs to the Vanderbilt community.
Imam Ossama Bahloul, PhD
Affiliate Muslim Chaplain
Muslim Student Association
Dr. Ossama Bahloul is the Resident Scholar at the Islamic Center of Nashville, as well as a member if the Fiqh Council of North America and the Affiliate Muslim Chaplain at Vanderbilt University.  He is a graduate of Al-Azhar University in Cairo, Egypt, where he earned a BA in Islamic Studies and a PhD in Comparative Religions.  Dr. Bahloul's interest in comparative religions has led to nearly 20 years of experience in interfaith dialogue and collaborations between Muslim organizations and leaders from other faiths.  Previously, Dr. Bahloul was imam at the Islamic Center of Murfreesboro, where he supported the community through severe Islamophobic attacks while building the only mosque in Murfreesboro.  Above all, Dr. Bahloul is a devoted husband to his wife Ivey Bahloul, and a caring father to his three children.
The Rev. Claire Berry
Affiliate Presbyterian (PCUSA) Chaplain
UKirk Nashville
Since 2021, Claire Berry has been the Executive Director of UKirk Nashville and Affiliate Presbyterian (PCUSA) Chaplain at Vanderbilt University. Born and raised in Nashville, Claire attended Yale University for her undergraduate degree. She then worked as a special education teacher and in the non-profit sector before attending Princeton Theological Seminary for her MDiv. Prior to joining our campus community, Claire served churches in Philadelphia, PA and Austin, TX. Ordained in the Presbyterian tradition, Clair is also a certified spiritual director, offering spiritual accompaniment to people of all faiths.
Ari Dubin
Executive Director
Vanderbilt Hillel
Ari Dubin began working as Executive Director of Vanderbilt Hillel in July 2005.  Originally from Houston, TX, Ari received his BA in Psychology from American Jewish University and MEd in Educational Psychology from the University of Texas.  Before coming to Vanderbilt Hillel, Ari was Assistant Director of Duke Hillel; the Youth and Camping Director at the JCC in San Antonio; and Director of Teen Services at MetroWest JCC in New Jersey
Tiffany Hudson
Affiliate Baptist Chaplain
Baptist Campus Ministry
Tiffany Hudson began her role as Director of Baptist Campus Ministry and Affiliate Baptist Chaplain at Vanderbilt University in summer 2019.  She has a BA in Religion from Averett University and a MDiv from New Orleans Baptist Theological Seminary.  Before coming to Vanderbilt, Tiffany served in various collegiate ministry roles at Tulane University, Loyola University, and Belmont University.  Tiffany and her husband live in Nashville with their four daughters.
Fr. Rhodes Bolster, STL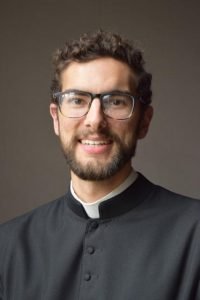 Affiliate Catholic Chaplain
University Catholic
Fr. Rhodes Bolster was born and raised in Nashville, TN. After graduation from Father Ryan High School, Fr. Bolster attended the Catholic University of America in Washington, DC. He then entered seminary at the Pontifical College Josephinum in Columbus, Ohio where he earned his B.A. in philosophy. He then attended seminary in Rome at the Pontifical North American College. He earned a Bachelor of Sacred Theology (S.T.B.) and a License of Sacred Theology in Liturgical Theology at the Pontifical University of the Holy Cross. He was ordained to the priesthood in 2019 and served at St. Philip the Apostle parish in Franklin, TN. Fr. Rhodes Bolster became Chaplain of University Catholic in 2022 and is also an Episcopal Master of Ceremonies.
The Rev. Nancy Hawthorne Parker
Affiliate United Methodist Chaplain
Vanderbilt Wesley Fellowship
Nancy Hawthorne Parker is a creative and energetic pastor in The United Methodist Church, who began working with Vandy Wesley in 2016.  She also spends her time as the young adult pastor at West End UMC, across the street from Alumni Lawn.  Nancy has a BA in Music from Florida State University and a MDiv from the Divinity School at Vanderbilt University.  Nancy frequently breaks into song and laughter.  When she's not pastorin' you can find her taking voice classes at the Nashville Jazz Workship, interviewing people for her podcast, or kayaking down the Harpeth.  Nancy is married to Geoff, who works to created young adult ministry resources at The Upper Room.
Rabbi Shlomo Rothstein
Affiliate Jewish (Chabad) Chaplain
Rohr Chabad House at Vanderbilt
Rabbi Sholmo Rothstein was raised in Baltimore, MD, the oldest of eight children.  He traveled the world for school, living in Chicago, Montreal, Melbourne, and New York before landing in Tennessee.  Shlomo is known for always having a smile on his face, and is guaranteed to make your day better when you are around him.  Shlomo lives in Nashville with his wife Nechama and their six children.
The Rev. Chase Daws
Affiliate Presbyterian (PCA) Chaplain
Reformed University Fellowship at Vanderbilt
Rev. Chase Daws has served as an RUF campus minister since 2017 – serving five years at the University of California, Berkeley, then onto Vanderbilt University in 2022. He has a BA from the University of Alabama, Huntsville, and an M.Div. from Westminster Theological Seminary. Prior to moving (back) to Nashville, he and his family spent the past ten years living coast-to-coast, from Philadelphia, PA to Berkeley, CA. He, his wife, and their three boys now reside (again) in Nashville.
The Rev. Becca Stevens
Affiliate Episcopal Chaplain
Nashville Canterbury
Becca Stevens has served as the Chaplain at St. Augustine's Episcopal Chapel for more than 20 years.  Becca attended the University of the South and the Divinity School at Vanderbilt; she has been conferred two honorary doctorates because of her work healing communities.  Becca is an author, speaker, priest, social entrepreneur, founder and president of Thistle Farms.  Her latest book, Love Heals, was released in fall 2017.  Becca lives in Nashville with her husband, Marcus Hummon, and their three sons.