Event Spaces
Vanderbilt University is an ideal spot for planning your next meeting or conference! With a variety of versatile event spaces, we can accommodate meetings of any size. The vast majority of spaces offer embedded audio-visual equipment including projectors, screens, and speakers.
Click HERE for a complete list of all of our event spaces.
Contact us today to start planning your special event!
Email: meet@vanderbilt.edu
Phone: (615) 343-0371
Featured Facilities:
Alumni Hall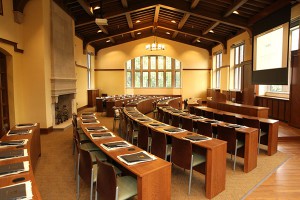 Originally opened in 1925 and known for its architectural significance, Alumni Hall became a member of the National Register of Historic Places. Following a renovation in 2012, Alumni Hall transformed its spaces and now includes a new café, lounge, writing studio, new classroom, and reading room. The versatile space is perfect for meetings, speakers, receptions, and much more.
Reservable Spaces:
The Lounge
Classroom
Memorial Hall
Reading Room
Kissam Center at the Warren & Moore College Halls
Kissam Center is located on the edge of campus right off of West End and 21st. There are small rooms for a more intimate meeting or special event and multipurpose, classroom, and great rooms for a larger crowd. They also offer technical and audio/visual support for your conference, meeting or event needs. With sleeping rooms available during the summer, this is the perfect spot to host your conference or special event!
Reservable Spaces:
Moore Great Room
Warren Great Room
Classroom
Multipurpose Room
Meeting Rooms
Langford
Langford Auditorium, situated in the heart of Vanderbilt's campus adjacent to the medical center, is a spectacular venue for conferences, concerts, theater performances and more. Langford is a 1,100 seat auditorium with state-of-the-art acoustics, fabulous sightlines, cutting-edge technologies and a 28'x60' stage.
Sarratt Student Centers/Rand Hall
Sarratt Student Center/Rand Hall is centrally located on Vanderbilt's campus and was initially two separate buildings. They were joined in 1986 and now boasts a fully functional cinema, complete dining hall, and a plethora of meeting rooms. Sarratt/Rand offers all of the benefits for a conference center.
Reservable Spaces:
Sarratt Cinema
Sarratt Gallery
Meeting Rooms
Lounge
Student Life Center
The Student Life Center is located off of 25th and Vanderbilt Place and houses our largest event space. It features over 18,000 sq. ft. of event space of which includes the Commodore Ballroom- perfect for dances, dinners, and other large social functions. It is capable of splitting into 3 smaller spaces, making it great for smaller meetings and events as well. In addition, the Student Life Center is home to the Board of Trust meeting room and additional meeting rooms, all supplied with the latest in A/V technology.
Reservable Spaces
The Commodore Ballroom
Board of Trust Room
Lower Level Meeting Rooms
SPECIAL EVENTS
Whether you are planning a conference, banquet, non-profit benefit, holiday party, or any other type of event, the Student Centers have the space to make your event great! With a plethora of reserve-able rooms, including the Student Life Center's 9,000 square foot Commodore Ballroom, we have a wide variety of spaces for groups from 10 to over 1000. Let our friendly and professional staff help make your special event everything you want and more!
Contact us today to start planning your special event.