Fall 2022
INTERNATIONAL LENS, a film series with a global perspective, provides a forum to promote conversation among Vanderbilt's diverse students, faculty, staff, and the greater Nashville community. International Lens endeavors to transcend geographic, linguistic, ethnic, religious, and political boundaries by encouraging conversation and greater cross-cultural understanding through cinema.
The series is coordinated by the Department of Cinema & Media Arts in collaboration with the College of Arts and Science, Dean of Students offices, and other departments, centers, and programs across the University.
There is no charge for admission.
Films are screened in Sarratt Cinema at 7:30 p.m. unless otherwise noted. 
Fall 2022 Schedule of Films
---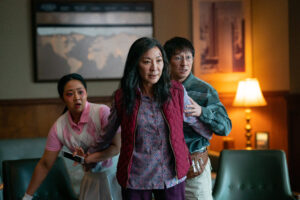 Everything Everywhere All At Once

Thursday, September 22
Presented in association with the Department of Cinema & Media Arts
USA (2022)  Dir: Daniel Kwon, Daniel Scheinert
With her laundromat teetering on the brink of failure, and with her marriage and other family relationships on the rocks, overworked Evelyn Wang struggles to cope with everything. And, as if facing a gloomy midlife crisis wasn't enough, Evelyn must brace herself up for an unpleasant meeting with an impersonal IRS auditor. However, as the stern agent loses patience, an inexplicable multiverse rift becomes an eye-opening exploration of parallel realities and Evelyn discovers she has to connect with parallel universe versions of herself to prevent a powerful being from causing cataclysmic destruction. Can she fathom the irrepressible force of possibilities, tap into newfound powers, and prevent an evil entity from destroying the thin, countless layers of the unseen world? English, Mandarin, Cantonese 139 min.
District 9
Thursday, September 29

Presented by Claire Sisco King, Associate Professor of Communications and Cinema & Media Arts
South Africa (2009)  Dir: Neil Blomkamp
Thirty years ago, aliens arrive on Earth — not to conquer or give aid, but to find refuge from their dying planet. Exiled to a slum and separated from humans on the fringes of Johannesburg in an area called District 9, the aliens are managed by Multi-National United, which is unconcerned with the aliens' welfare but will do anything to master their advanced technology. The government attempts to relocate the aliens, but when a company field agent contracts a mysterious virus that begins to alter his DNA, there is only one place he can hide: District 9.  English. 112 min.
Partner Screening with Belcourt Theatre
Thursday, October 6, 7:20pm @ The Belcourt Theatre
Moonage Daydream
Introduced by Jennifer Fay, Gertrude Conaway Vanderbilt Professor of Cinema & Media Arts and English at Vanderbilt University
USA (2022)  Dir: Brett Morgen
Told through sublime, kaleidoscopic, never-before-seen footage, performances and music, Moonage Daydream illuminates the life and genius of David Bowie, one of the most prolific and influential artists of our time. Guided by Bowie's own narration, this experiential cinematic odyssey explores David Bowie's creative, musical and spiritual journey, and is the first officially sanctioned film on the artist.  English. 134 min.
Writing With Fire
Thursday, October 20
Presented by: Mabel D. Gergan, Assistant Professor of Asian Studies; Akshya Saxena, Assistant Professor of English; and Samira Sheikh, Associate Professor of History and Asian Studies
India (2021)  Dir: Sushmit Ghosh, Rintu Thomas                      
Reporting from a social environment built to divide based on caste and gender, a fearless group of journalists maintain India's only women-led news outlet. The women of Khabar Lahariya ('Waves of News'), all from the Dalit ("untouchables") caste, prepare to transition the newspaper from print to digital even though many of their reporters don't have access to electricity at home. Armed with smartphones, Chief Reporter Meera and her team of investigative journalists confront some of India's biggest issues – exposing the relentless discrimination against women and amplifying the voices of those who suffer from the oppressive caste system. This documentary film chronicles the astonishing determination of these local reporters as they empower each other and hold those responsible for injustice to account. Reaching new audiences through their growing platform, the women of Khabar Lahariya redefine what it means to be powerful. Hindi with English subtitles. 92 min.
Filmmakers will be virtually in attendance for the post-screening discussion.
Medusa 
Thursday, October 27
Presented by Karen Amorim de Melo, PhD candidate in Spanish and Portuguese; and Benjamin Legg, Senior Lecturer in Spanish and Portuguese
Brazil (2022)  Dir: Anita Rocha da Silveira
Mari and her friends broadcast their spiritual devotion through pastel pinks and catchy evangelical songs about purity and perfection, but underneath it all they harbor a deep rage. By day they hide behind their manicured facade, and by night they form a masked, vigilante girl gang, prowling the streets in search of sinners who have deviated from the rightful path. After an attack goes wrong, leaving Mari scarred and unemployed, her view of community, religion, and her peers begin to shift. Nightmares of repressed desires and haunting visions of alluring temptation become undeniable and the urge to scream and release her paralyzing inner demons is more powerful than ever before. A neon-tinged genre-bender that gives provocative form to the overwhelming feminine fury coursing through modern life, this film dares us not to look away. Portuguese with English subtitles. 127 min.
Ver Vet Blaybn? (Who will Remain?)
Thursday, November 3
Presented by The Rev. Christopher Donald, University Chaplain and Director of Religious Life
USA (2021)  Dir: Christa P. Whitney, Emily Felder
Attempting to better understand her grandfather Avrom Sutzkever, Israeli actress Hadas Kalderon travels to Lithuania, using her grandfather's diary to trace his early life in Vilna and his survival of the Holocaust. Sutzkever (1913–2010) was an acclaimed Yiddish poet—described by the New York Times as the "greatest poet of the Holocaust"—whose verse drew on his youth in Siberia and Vilna, his spiritual and material resistance during World War II, and his post-war life in the State of Israel. Kalderon, whose native language is Hebrew and must rely on translation of her grandfather's work, is determined to connect with what remains of the poet's bygone world and confront the personal responsibility of preserving his literary legacy. As she strives to reconstruct the stories told by her grandfather, the film examines the limits of language, geography, and time. Hebrew, Yiddish, Russian, English. 60 min.
Filmmakers Christa Whitney & Emily Felder will be in attendance for a virtual post-screening discussion, along with Justin Cammy, Professor of Jewish Studies and of World Literatures from Smith College. Moderated by Allison Schachter, Associate Professor of Jewish Studies and English at Vanderbilt University.
Partner Screening with Belcourt Theatre
Thursday, November 10, 7:00pm @ The Belcourt Theatre
The Banshees of Inisherin
Introduced by Claire Sisco King, Associate Professor of Communication Studies and Cinema & Media Arts at Vanderbilt University
Ireland (2022)  Dir: Martin McDonagh
Set on a remote island off the west coast of Ireland, lifelong friends Pádraic and Colm find themselves at an impasse when Colm unexpectedly puts an end to their friendship. A stunned Pádraic, aided by his sister Siobhán and troubled young islander Dominic, endeavours to repair the relationship, refusing to take no for an answer. But Pádraic's repeated efforts only strengthen his former friend's resolve, and when Colm delivers a desperate ultimatum, events swiftly escalate with shocking consequences. English. 109 min.
Films are 7:30pm in Sarratt Cinema unless otherwise noted
There are no longer any masking requirements in Vanderbilt's campus buildings or in Sarratt Cinema. Please do not attend any of our screenings if you are feeling unwell, in order to keep our community safe.