Spring 2013
José and Pilar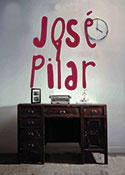 Wednesday, January 16
Presented by: Claudia Rei, Assistant Professor of Economics
Portugal, Spain and Brazil (2010) Dir: Miguel Goncalves Mendes. The film follows José Saramago, the Nobel-laureate Portuguese novelist, and his wife, Pilar del Rio. It shows their whirlwind life of international travel, his passion for completing his masterpiece, The Elephant's Journey, and how their love quietly sustains them. It unravels any preconceived notions about him, and proves that genius and simplicity are indeed compatible. A glimpse into the life of one of the greatest creators of the 20th century. Spanish and Portuguese with English subtitles. Unrated. 117 min. DVD.

Poachers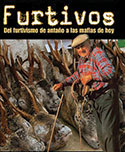 Saturday, January 19
Presented by: Andres Zamora, Associate Professor of Spanish
Spain (1975) Dir: Jose Luis Borau. In this complex drama, a drifter brings his new girlfriend home for a visit. The girl's real flame is an escaped convict, who looks her up, but before she can leave with her lover, the drifter's mother kills her. Even though the mother had an incestuous relationship with her son, the son is determined to kill his mother, believing that she killed his one true love. Grim and haunting, it is one of the best representations of the Spanish golden age of cinema. Spanish with English subtitles. Unrated. 82 mins. DVD. Funding provided in part by the Department of Spanish & Portuguese.

The Clay Bird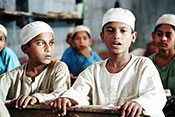 Thursday, January 24
Presented by: Vanderbilt International Student Association (VISA)
Bangladesh (2002) Dir: Tareque Masud. Set against the backdrop of unrest in East Pakistan in the late 60s leading up to the Bangladesh War of Liberation, a small family must come to grips with its culture, its faith, and the brutal political changes entering its small-town world. A young boy is sent off to a madrasah by his unbendingly devout father. His younger sister falls ill and dies because of the father's refusal to use conventional medicine. An emotionally powerful and tragically melancholy story as seen through the eyes of a child trying to understand the inhumanity attacking him from all sides. Bengali with English subtitles. Unrated. 89 mins.

La Vie En Rose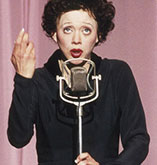 Saturday, January 26 @ 10 p.m. @ The Commons
Presented by: Global Perspectives Student Organization
France, Switzerland, and Germany (2004) Dir: Olivier Dahan. The life story of tragic French songstress Edith Piaf. Marion Cotillard portrays the superstar once raised as a young girl by her grandmother in a Normandy bordello, then discovered on a French street corner as a complete unknown by cabaret proprietor Louis Leplée. Segues breezily between various episodes from Piaf's life, and through it all, her ability to funnel personal tragedy into her vocalizations – dazzling audiences in the process. French with English subtitles. Rated PG-13. 136 mins. DVD. Funding provided in part by Global Perspectives Student Organization.

La Camioneta: The Journey of One American School Bus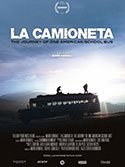 Tuesday, January 29
Presented by: Director Mark Kendall; co-sponsored by the Center for Latin American Studies
USA, Guatemala (2012) Dir: Mark Kendall. Every day dozens of decommissioned school buses leave the United States on a southward migration that carries them to Guatemala, where they are repaired, repainted, and resurrected as the brightly-colored camionetas that bring the vast majority of Guatemalans to work each day. LA CAMIONETA follows one such bus on its transformative journey: a journey between North and South, between life and death, and through an unfolding collection of moments, people, and places that serve to quietly remind us of the interconnected worlds in which we live. Spanish and English with English subtitles. Unrated. 72 mins. DVD.

Pop Goes The Easel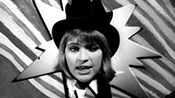 Monday, February 4
Presented by: Courtney J. Martin, Assistant Professor, History of Art
United Kingdom (1962) Dir: Ken Russell. Ken Russell's first full-length documentary for the BBC's arts series Monitor. It focuses on four British Pop Artists – Peter Blake, Peter Philips, Pauline Boty, and Derek Boshier. Revolutionary in his approach, he developed a whole range of new techniques to capture and reflect the excitement and energy of these young artists, which was cutting edge back in 1962, but are now part of the very heart of documentary-making. A beautiful film that captures these artists, their work, and the start of the swinging sixties perfectly. English. Unrated. 44 mins. DVD.
The Unknown Woman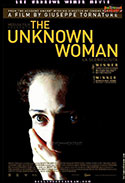 Tuesday, February 5
Presented by: Elsa Filosa, Assistant Professor of Italian, Department of French & Italian
Italy (2006) Dir: Giuseppe Tornatore. A Ukrainian woman named Irena calculatedly insinuates herself into the lives of a young, affluent Italian family. Stopping at nothing to become the couple's trusted maid and the beloved nanny to their fragile young daughter, Irena risks everything in her quest to uncover the truth about the family. Like an intricately constructed jigsaw puzzle, it reveals piece by piece the enigma of Irena's past. The final act is guaranteed to astonish and satisfy. Italian and Ukrainian with English subtitles. Rated R. 118 mins. DVD.

The Magic Life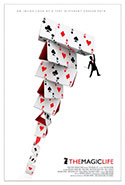 Sunday, February 10 @ 2 p.m.
Presented by the director of the film, Nelson Cheng
USA and China (2012) Dir: Nelson Cheng. Chronicling the journey of three magician hopefuls, the film depicts the challenges of following an unconventional career path. Forget about parents, family, or friends who may not understand or support your choices — there's almost an invisible societal pressure in terms of what types of jobs are acceptable. Those willing to risk everything to take the road not normally taken shows that sometimes the risk pays off, sometimes it doesn't. English and Chinese with English subtitles. Unrated. 71 mins. DVD.

Amreeka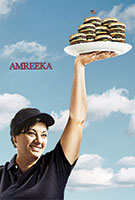 Tuesday, February 12
Presented by: Sherif Barsoum, Director, International Student & Scholar Services
USA (2009) Dir: Cherien Dabis. The immigrant experience gets a fresh, post-9/11 spin with a chronicling of Muna, a single mother who leaves the West Bank with her teenage son and dreams of an exciting future in small town Illinois. Although she has two degrees and 15 years of experience in banking, she settles for work at White Castle, which sustains the family until tensions arise due to the American invasion of Iraq in 2003. Defiantly upbeat in spite of unfathomable cultural barriers and anti-Arab xenophobia. English and Arabic with English subtitles. Rated PG-13. 96 mins. DVD.

Maestra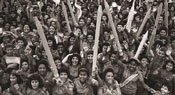 Tuesday, February 19
Presented by: Directory Catherine Murphy; co-sponsored by the Center for Latin American Studies
USA, Cuba (2011) Dir: Catherine Murphy. In 1961 Cuba, 250,000 volunteers taught 700,000 people to read and write in one year. 100,000 of the teachers were under 18 years old, over half of them women. This story is explored through the personal testimonies of the young women who went out to teach literacy in rural communities across the island and found themselves deeply transformed in the process. Spanish with English subtitles. Unrated. 33 mins. DVD.

Last Train Home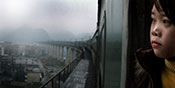 Thursday, February 21
Presented by: Vanderbilt Undergraduate Chinese Association
China (2009) Dir: Fan Lixin. Every spring in China, 130 million workers return home for the New Year – the world's largest migration, an epic spectacle of a modern country tied to a rural past. The Zhangs have embarked on this annual trek for almost two decades, visiting parents and, like many, the children they left behind for grueling factory jobs. These yearly reunions grow strained to the breaking point, as revealed in this intimate and starkly beautiful observation of one fractured family – and the human cost of China's economic miracle. Mandarin with English subtitles. Unrated. 85 mins.

The Chorus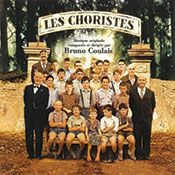 Saturday, February 23 @ 10 p.m. @ The Commons
Presented by: Global Perspectives Student Organization
France, Switzerland, and Germany (2004) Dir: Christophe Barratier. Wildly successful orchestra conductor Pierre Morhange returns home when his mother dies. He recollects his childhood inspirations through the pages of a diary kept by his old music teacher Clément Mathieu. Back in the late '40s, little Pierre is the badly behaved son of single mother Violette. He attends a dreary boarding school presided over by strict headmaster Rachin. New teacher Mathieu brightens up the place and organizes a choir, leading to the discovery of Pierre's musical talents. French with English subtitles. Rated PG-13. 97 mins. DVD. Funding provided in part by Global Perspectives Student Organization.

7th Annual Vanderbilt Student Film Festival
Sunday, February 24
This competitive festival, sponsored by the Film Studies Program and the Office of the Dean of Students, showcases the best student media works in all genres (experimental, nonfiction, fiction) by Vanderbilt students. For information on submission deadlines and the schedule of film screenings visit Film Studies at http://vandyfilmfest.co.nf/index.html
The Red Violin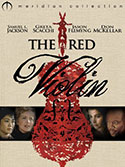 Tuesday, February 26 @ 7 p.m. @ Ingram Hall, Blair School of Music
Presented by: Jun Iwasaki, Concertmaster of the Nashville Symphony
Canada (1999) Dir: François Girard. The storied, sonically perfect violin with a troubled legacy, told through the experiences of its owners. The film features a fiery and passionate score by composer John Corigliano later adapted into Concerto for Violin and Orchestra. The piece has become a signature work for Finnish violinist Elina Vähälä. Vähälä will perform it with the Nashville Symphony under the direction of Leonard Slatkin, March 14–16 at the Schermerhorn Symphony Center. French, English, Mandarin, Italian, and German with English subtitles. Rated R. 130 mins. DVD. Co-sponsored by the Blair School of Music & the Nashville Symphony.

Meet the Fokkens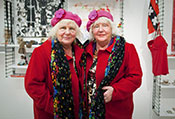 Wednesday, February 27
Presented by: Margaret Cuninggim Women's Center
The Netherlands (2011) Dir: Gabrielle Provaas and Rob Schroder. Louise and Martine Fokkens are 70-year-old identical twins and the oldest prostitutes in Amsterdam's Red Light District. They have been thrust into the spotlight with the release of this documentary about their lives in which they share secrets of selling sex. They freed themselves from the control of their pimps, ran their own brothel, and set up the first informal trade union for prostitutes. A rollicking and revealing look at the world's oldest profession in the 21st century. Dutch with English subtitles. Unrated. 80 mins. DVD.

Long Night's Journey into Day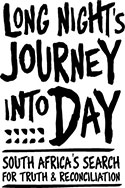 Tuesday, March 12
Presented by: Clive Mentzel, Director of the Office of Active Citizenship & Service, and Frank Dobson, Director of the Bishop Johnson Black Cultural Center
South Africa (2000) Dir: Deborah Hoffman & Frances Reid. This documentary tells four stories of Apartheid in South Africa, as seen through the eyes of the Truth and Reconciliation Commission. White soldiers who have killed ANC activists, black activists who have killed whites in political attacks: can there be forgiveness when the full truth comes out? Wrenching and powerful material. English and Afrikaans with English subtitles. Unrated. 94 mins. DVD.

Pray the Devil Back to Hell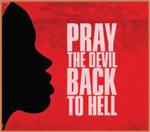 Wednesday, March 13th
Presented by: Vanderbilt Speakers Committee, Microfinance club, Manna, Grassroots and Global Poverty Initiative
Liberia, USA (2008) Dir: Gini Reticker. The extraordinary story of a small band of Liberian women who came together in the midst of a bloody civil war, took on the violent warlords and corrupt Charles Taylor regime, and won a long-awaited peace for their shattered country in 2003. English. Not rated. 72 mins. DVD. Presented as part of IMPACT Symposium 2013, themed "Dimensions of Peace and Conflict". Free dinner before the screening. Tickets for the Impact Symposium are free to Vanderbilt students, faculty and staff. Two free tickets may be picked up with a Vanderbilt I.D. at the Sarratt Student Center box office. Tickets for the general public are $10 at the Sarratt box office or any Ticketmaster outlet. Tickets also may be purchased at www.ticketmaster.com. Non-Vanderbilt students with a college or university I.D. may purchase tickets for $5 at the Sarratt box office or any Ticketmaster outlet.

An Evening with Robert Beavers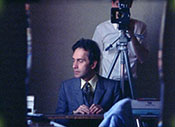 Thursday, March 21
Presented by: Chancellor Nicholas Zeppos and the Film Studies Program
USA Robert Beavers is an American filmmaker, born and raised in Massachusetts. He moved to New York in 1965 to pursue filmmaking, and lived there until 1967 when he and his partner, Gregory Markopoulos, left the United States for Europe, where they continued to live and make films until Markopoulos' death in 1992. Both filmmakers restricted the screenings of their films after leaving America, and instead held yearly screenings of their work from 1980–1986 in Greece. After Markopoulos' death, Beavers founded Temenos, Inc., a non-profit devoted to the preservation of Markopoulos' and Beavers' work. Screenings and discussion with Beavers present of The Stoas, The Ground, The Suppliant, and Pitcher of Colored Light. 71 mins.
Distant
Thursday, March 28
Presented by: Turkish Student Association
Turkey (2002) Dir: Nuri Bilge Ceylan. Superlatives are warranted for this Turkish arthouse drama which is filled with a palpable sense of loss and yearning. Written, produced, photographed, edited, and directed by Ceylan, it's the story of an unemployed young man from the countryside who comes to a wintry, present-day Istanbul in search of work on the ships. He stays with his divorced cousin, a successful yet cynical photographer, who's soon irritated at having his solitary routine disrupted by the presence of his rural relative. Turkish with English subtitles. Unrated. 110 mins.

Departures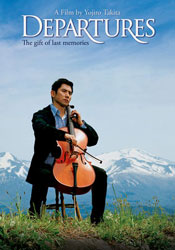 Saturday, March 30 @ 10 p.m. @ The Commons
Presented by: Global Perspectives Student Organization
Japan (2008) Dir: Yojiro Takita. An out-of-work cellist accepts a job as an undertaker in order to provide for himself and his young wife. Daigo answers a classified ad for a company called "Departures," mistakenly assuming that he will be working for a travel agency. Upon discovering that he will be preparing the bodies of the recently deceased for their trip to the afterlife, he accepts the position as gatekeeper between life and death and gains a greater appreciation for life. Japanese with English subtitles. Rated PG-13. 131 mins. DVD. Funding provided in part by Global Perspectives Student Organization.

678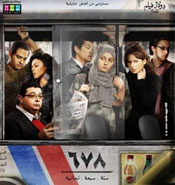 Tuesday, April 2
Presented by: Sherif Barsoum, Director, International Student & Scholar Services
Egypt (2010) Dir: Mohamed Diab. A raw side of Egypt that the world has barely seen. Unfolds the poignant story of three women and their search for justice from the daily plight of sexual harassment. When one of the women resorts to stabbing harassers in the groin, she becomes a phantasmal hero that causes a nationwide stir. Arabic with English subtitles. Unrated. 103 mins. DVD.

Kingdom Come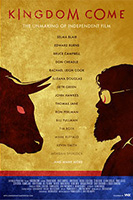 Friday, April 5 @ 7:30 p.m. @ Buttrick Theater
Hosted by: Jonathan Rattner, Assistant Professor, Film Studies Program
Presented by: John Lyons Murphy, co-director of the documentary and producer of Broken Kingdom
USA (2011) Dir: Paiman Kalayeh, John Lyons Murphy Kingdom. Come follows a first-time director (Daniel Gillies) as he tries to raise a million dollars to finance his first film, Broken Kingdom. This emotionally-charged journey is interwoven with over 30 rare interviews from acclaimed indie darlings including Mark Ruffalo, Illeana Douglas, Don Cheadle, Kevin Smith, Edward Burns, Tim Roth, Morgan Spurlock, Selma Blair, Robert Townsend, Bill Pullman and many more. English. Unrated. 87 minutes. DVD.

Return to Paradise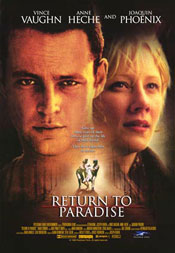 Tuesday, April 9
Presented by: Myrna Wooders, Professor of Economics
USA (1998) Dir: Joseph Ruben. A thriller that traps its characters in an exquisite dilemma involving life and death. Three Americans meet in Malaysia and fool around on the beach enjoying rum, girls, and hashish. Two return to New York while the third plans to go on for a Greenpeace project. Instead, he's arrested for possession of the leftover hash and sentenced to death. Poses a moral quandry that has awful consequences no matter what each man chooses to do. Dense, twisty, and smashingly potent. English. Rated R. 111 mins. DVD.

Tuesday, After Christmas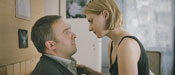 Wednesday, April 17
Presented by: Jennifer Fay, Director of Film Studies
Romania (2010) Dir: Radu Mantean. The Romanian New Wave of the past decade has yielded many internationally acclaimed gems. Add to them this elegant, emotionally resonant drama of a middle-class couple whose marriage is rocked by the husband's illicit affair with their daughter's sexy dentist. In scorchingly intense long takes, the power dynamics among these three are unpredictable and, in the end, devastating. The fact that the two leads are actually a married couple adds to the verisimilitude. Romanian with English subtitles. Not Rated. 99 mins. Funding provided by Nashville Premieres.