There are many ways to engage with the arts on and around campus! From author talks to exhibitions, dance classes to music performances, film screenings to painting nights, this page features events related to performing, visual, and literary arts.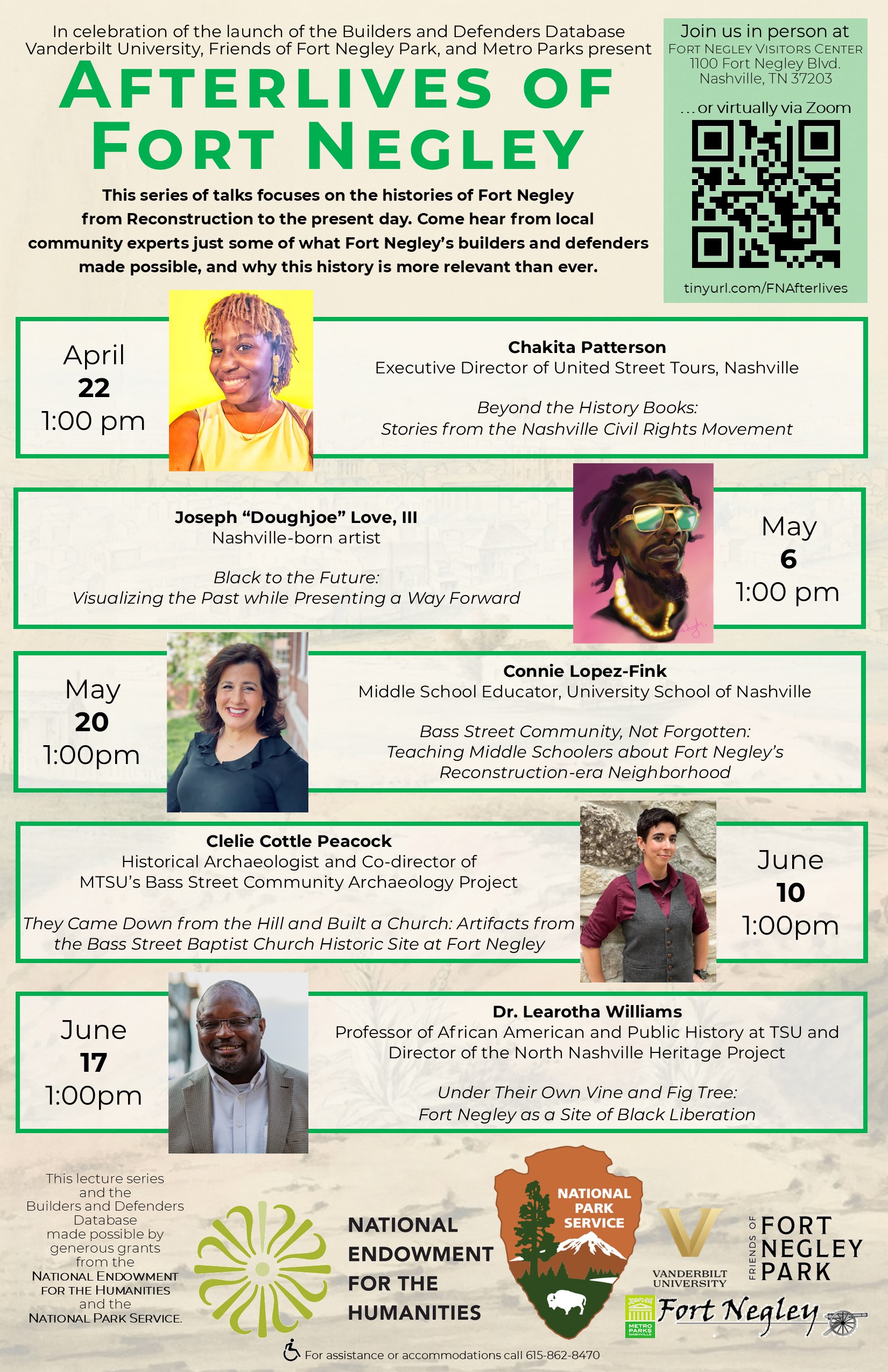 Afterlives of Fort Negley
In celebration of the launch of the Builders and Defenders Database Vanderbilt University, Friends of Fort Negley Park, and Metro Parks presents  Afterlives of Fort Negley! This series of talks focuses on the histories of Fort Negley from Reconstruction to the present day. Come hear from local community experts just some of what Fort Negley's builders and defenders made possible, and why this history is more relevant than ever.
All talks can be heard at 1 pm in person at Fort Negley's Visitor Center or on Zoom on the following dates:
Saturday, April 22 - Beyond the History Books: Stories from the Nashville Civil Rights Movement

Chakita Patterson, Executive Director of United Street Tours, Nashville

Saturday, May 6 - Black to the Future: Visualizing the Past while Presenting a Way Forward

Joseph "Doughjoe" Love, III, Nashville-born artist

Saturday, May 20 - Bass Street Community, Not Forgotten: Teaching Middle Schoolers about Fort Negley's Reconstruction-era Neighborhood

Connie Lopez-Fink, Middle School Educator, University School of Nashville

Saturday, June 10 - They Came Down from the Hill and Built a Church: Artifacts from the Bass Street Baptist Church Historic Site at Fort Negley

Clelie Cottle Peacock, Historical Archaeologist and Co-director of MTSU's Bass Street Community Archaeology Project

Saturday, June 17 - Under Their Own Vine and Fig Tree: Fort Negley as a Site of Black Liberation

Dr. Learotha Williams, Professor of African American and Public History at TSU and Director of the North Nashville Heritage Project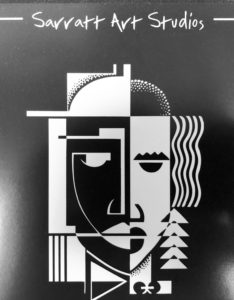 Sarratt Art Studio Summer Courses
Registration Now Open
A part of the Vanderbilt experience since the mid-1970s, Sarratt Art Studios offers a variety of noncredit art classes that are taught by artists from the Nashville area. Course offerings include photography, pottery, and watercolor. Classes meet once a week for eight weeks during the summer.
Sarratt Art Studios is open to Vanderbilt University students, faculty, and staff. The Summer Semester Art Classes begin the week of June 5, 2023, and registration opened earlier this month on Vanderbilt Marketplace.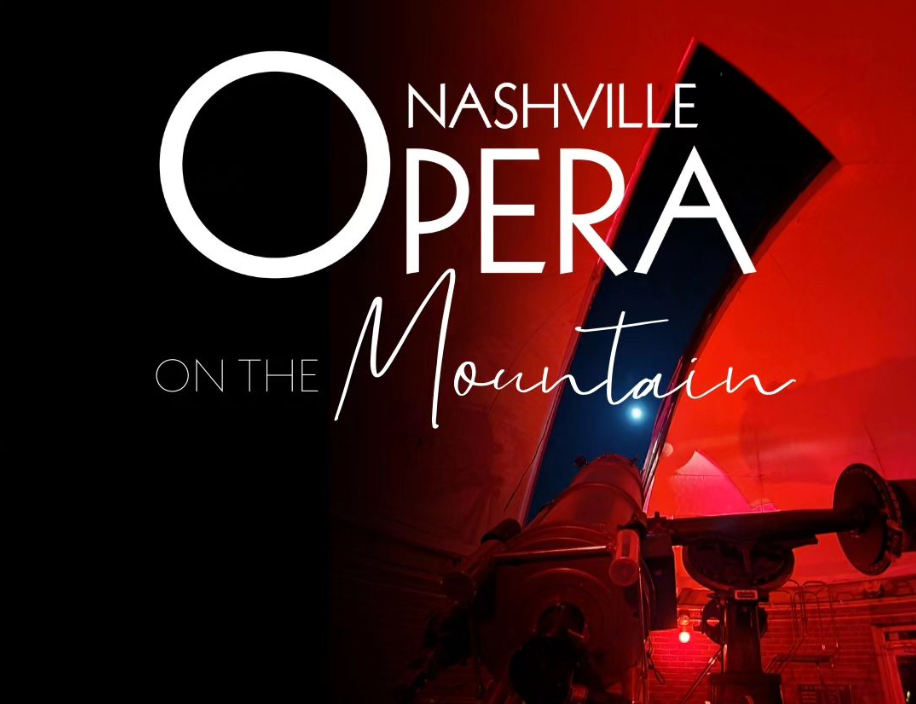 Opera on the Hilltop
Dyer Observatory hosts the Nashville Opera
The Nashville Opera will perform fun opera and musical-theatre favorites at Dyer Observatory on June 10 from 6-10 pm. This perennial family-friendly favorite invites you to pack a picnic basket and enjoy an evening of sky-gazing and music.
Belle da Costa Greene - Spring 2023 Programming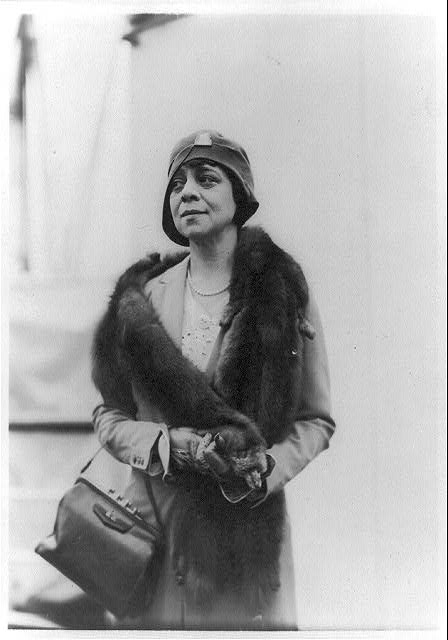 The Reinvented Life of Belle da Costa Greene
The Spring 2023 exhibition and programming relates to Belle da Costa Greene, one of the most well-known American librarians and experts in illuminated manuscripts (incunabula) in the early-mid twentieth century, who helped create the Morgan Library in New York. She accessed the rarefied worlds of the Morgans and Vanderbilts by "passing" as a white woman. In exploring her reinvented life, this month-long series of events will engage questions of race, color, class, gender, and passing. 
---
Exhibition in Special Collections February 14 - May 14, 2023
If you missed seeing the exhibition, you can still check it out through the digital exhibition.
We want to feature as many arts related events as possible. Is your event not featured? Be sure to tag it "Incunabula."