Make March Meaningful
#BeYouAtVU
Thank you to all who attended the return of Vanderbilt's OUT in Front conference on February 23rd! On pause since COVID, this hybrid conference welcomed hundreds of students, faculty, staff, non-profit workers, and community members from across the U.S. to discuss queer/trans community care, particularly in The South. We look forward to seeing you this month for events to celebrate Women's History month, National Disabilities Awareness month, and Bisexual Health Awareness month, such as our virtual panel about disability, race, gender, and sexual identity on Thursday, March 2nd. March also kicks off our Transgender and Nonbinary Author Series featuring Lydia Conklin, an Assistant Professor of Fiction at Vanderbilt, and a reading from their collection of stories Rainbow Rainbow on March 24. From a panel about Justice in Action to drop-in online P.R.I.D.E. Training, this month has an event for everyone! Stay tuned for more information about ways to honor International Trans Day of Visibility on March 31st. 
Lastly, we encourage you to consider nominating LGBTQI students, faculty, and staff who have made a meaningful, positive contribution and/or impact within the LGBTQI+ community. Nominations can be submitted by March 24th by clicking here! Award winners will be honored and celebrated during our Lavender Graduation ceremony taking place on May 4th. If you have any pictures or videos you've taken over the last school year, please email them to us to feature at Lav Grad! If you are interested in serving on the Lavender Graduation Planning Committee, please email Steph Mahnke. 
–Office of LGBTQI Life
---
LGBTQI LIFE EVENTS
---
Spring 2023 Banned Book Initiative Reading Groups
Join us for any Spring 2023 Reading Groups. Facilitators will reach out closer to the group's start with information about accessing the books and the logistics of the meetings. If you have questions, feel free to reach out to lgbtqi@vandebilt.edu or any of the other participating offices. Find out more and sign up here.
---
3/2 Disability Panel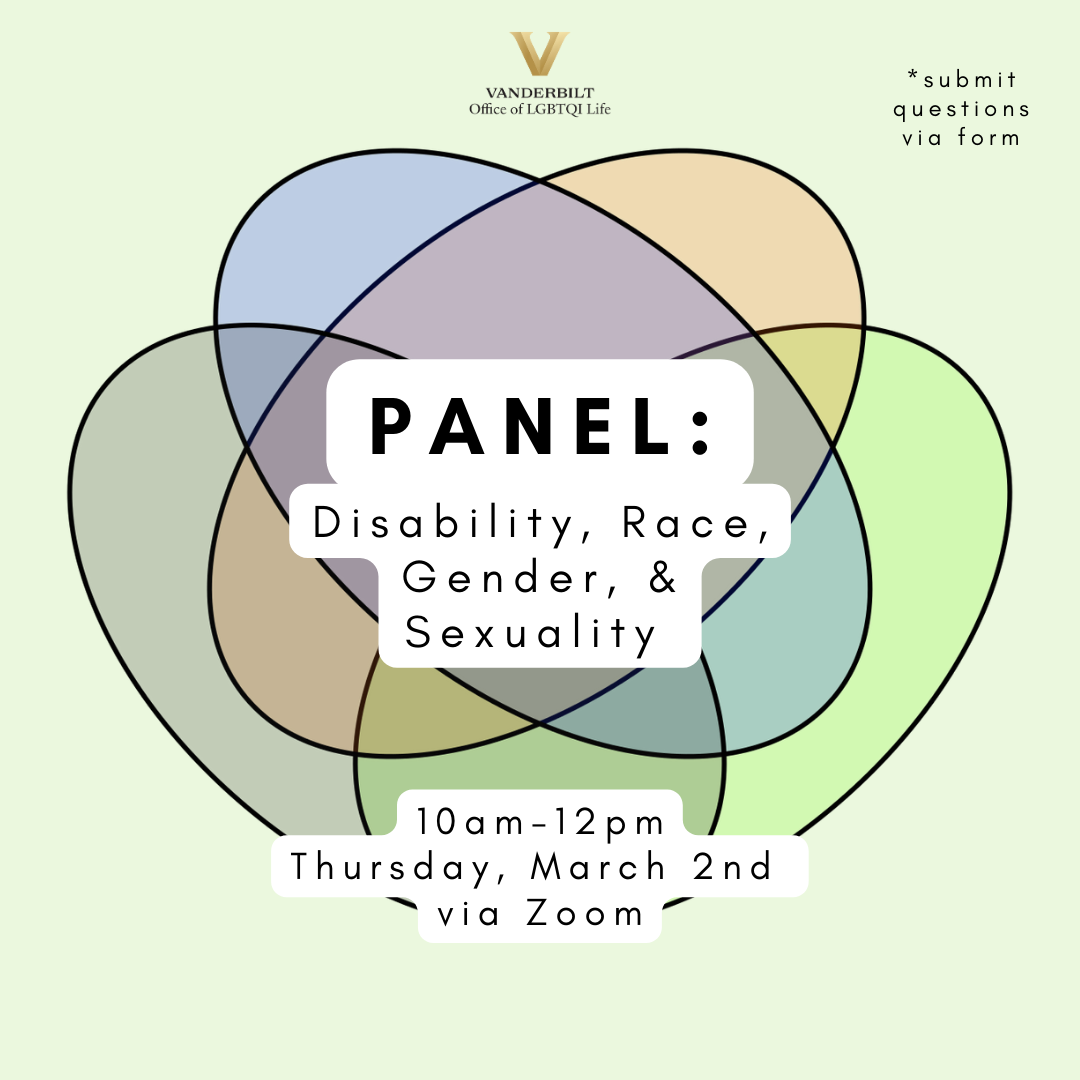 All are invited to a panel about the intersections of disability, race, gender, and sexuality on Thursday, March 2nd from 10am-12pm online. RSVP and/or submit questions for our panelists.
---
3/6 Justice in Action: Narratives of Black Activists in Nashville
Join CSRL, LGBTQI Life, and the Women's Center as we host a panel of Black activists in the Nashville area to hear their stories. Panelists:
Odessa Kelly, Co-founder of Stand Up Nashville and Former Candidate for Congress (TN-07)
Jordan Scruggs, Communication & Social Media Consultant and Steering Committee Member of Healthy and Free Tennessee
Phillis Sheppard, Director, James Lawson Institute for the Research and Study of Nonviolent Movements
Lunch will be provided on a first-come, first-served basis. RSVP here.
---
3/9 and 3/23 Banned Book Reading Group: The Bluest Eye by Toni Morrison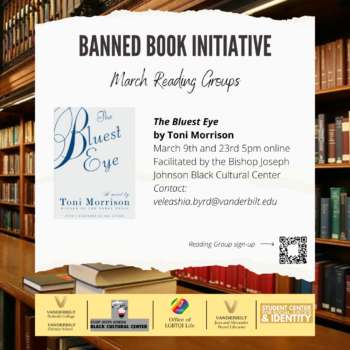 Join the BCC's March reading groups for The Bluest Eye by Toni Morrison on 3/9 and 3/23 virtually at 5pm. Facilitated by the Bishop Joseph Johnson Black Cultural Center. Contact Vee Byrd for more information.
---
3/22 Commons Service Week: Supporting Survivors
The 2023 Commons Service Week Forum for all first-year students will take place on Wednesday, March 22 from 7:00-8:00 p.m. in The Commons Multipurpose Room. This is a great opportunity for conversation surrounding individual identities and privilege, how sexual assault prevention shows up for marginalized communities, the resources we have at Vanderbilt, and how to support survivors. RSVP here.
---
3/24 TGNB Author Series: Lydia Conklin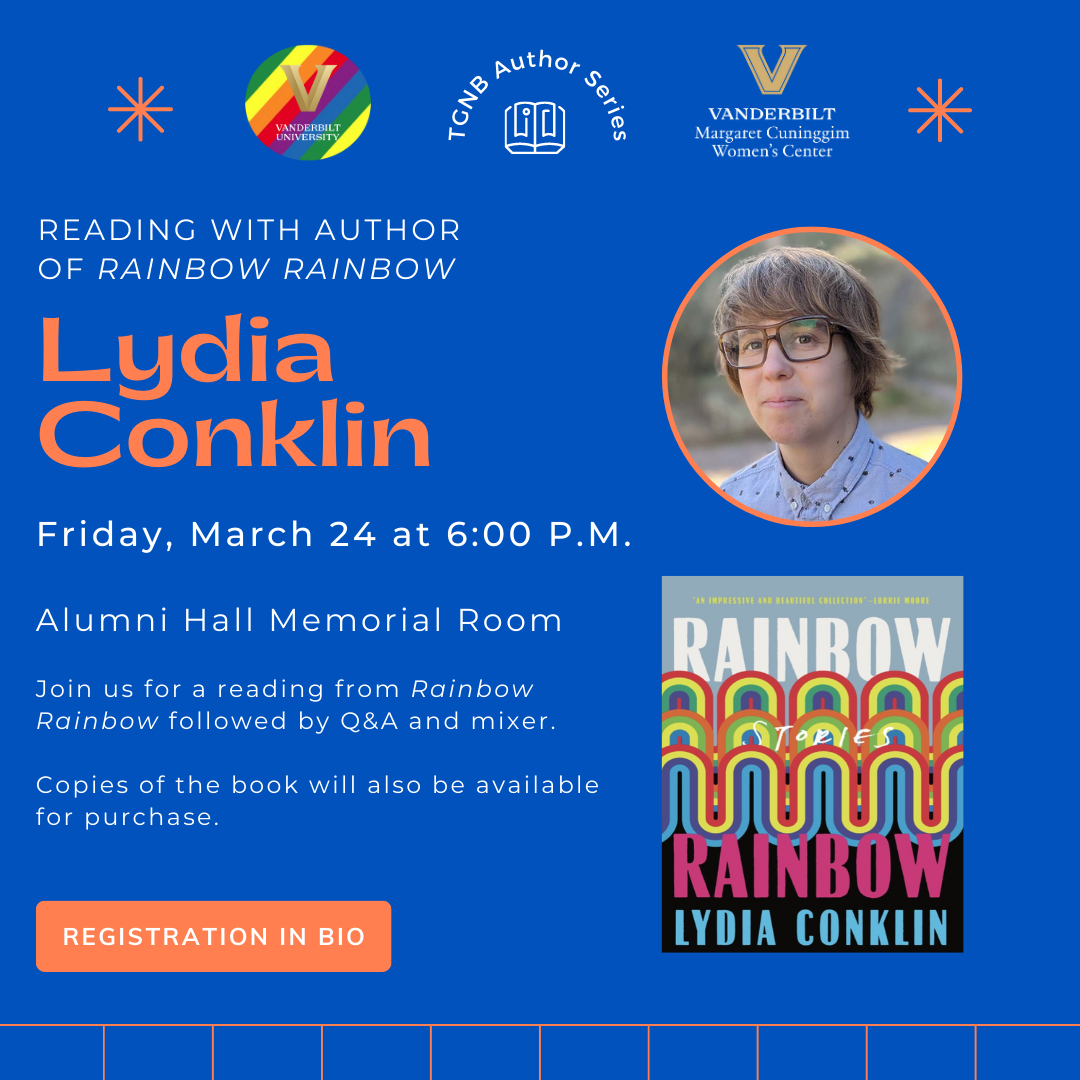 For the first event in our Trans & Nonbinary Author Series, LGBTQI Life will host Lydia Conklin for a read from Rainbow, Rainbow and a Q&A followed by mixer. RSVP here! We have chosen this book to correspond with Women's History Month in its exploration of the diversity of women-aligned character representations in the queer community.
---
3/30 Online P.R.I.D.E. Training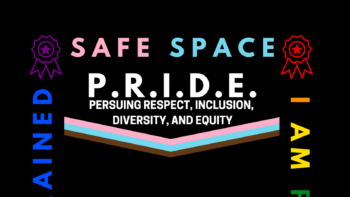 Join us for a drop-in P.R.I.D.E. Training online on Thursday, 3/30 from 6-9pm and receive a display placard. RSVP here.
---
LGBTQI Life Programming Survey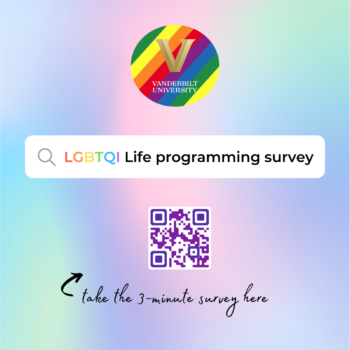 What do you need from us? Complete our short 3-minute survey to provide input on our LGBTQI Life events and programming.
---
3/24: Lavender Graduation Award Nomination Submission Deadline
We are introducing a new Outstanding Student Organization award this year! All award submissions are due by March 24th. Register to attend here. Interested in helping us plan our annual Lavender Graduation ceremony on May 4th? Contact Steph Mahnke to join our planning committee!
---
CAMPUS EVENTS AND OPPORTUNITIES
---
The Inclusive Connector

To learn about news, events, and happenings related to Equity, Diversity, and Inclusion, sign up for the Inclusive Connector. Please sign up here.
---
3/1 Women's History Month 2023 Kickoff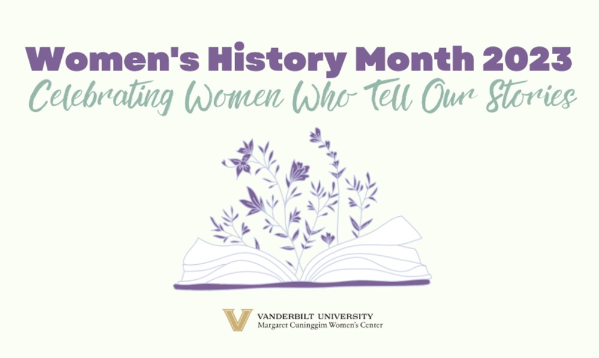 Join the Margaret Cuninggim Women's Center to kick off the start of Women's History Month! This event will feature several giveaways, including refreshments and a printed events calendar. See this and all WHM events here.
---
3/1 Thom Rutledge Speaker Event: Talking Back to an Eating Disorder
Come join Vanderbilt NEDA Campus Warriors for a speaker event with Thom Rutledge LCSW, who is a psychotherapist, author, speaker, and workshop facilitator based in Nashville, Tennessee on 3/1 from 7-8pm at Buttrick 309.. Come listen to him speak about why eating disorders develop as well as strategies for learning how to overcome them. This presentation will be helpful not just for people who have struggled personally, but also for friends and family members of those who have struggled to gain better insight. Thom will be focusing on "How to Talk Back to An Eating Disorder." GME credit available. 
---
3/2 Under the Rainbow: Lesbian and Gay Parenting Today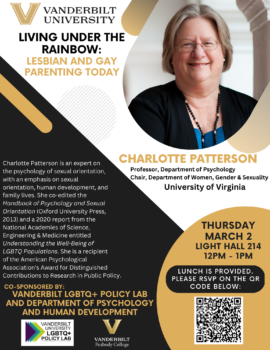 The LGBTQ+ Policy Lab at Vanderbilt will host Dr. Charlotte Patterson, Chair of the Department of Women, Gender, and Sexuality at the University of Virginia for an invited lecture. Dr. Patterson's talk will take place on Thursday, March 2 at 12pm in Light Hall 214. You can also RSVP for free lunch at the QR code in the flier. Feel free to reach out to Dr. Kirsty Clark with any questions.
---
3/3 Mindfulness Yoga with Vandy NEDA
Join us for a Mindfulness Yoga Session to close out our programming for Eating Disorder Awareness Week on Friday, March 3rd from 4:45-5:45 at the Community Event Space! This yoga class will encourage self-acceptance and peace and help you experience your body in a different way. Rather than focusing on external appearance, this class will face away from the mirror and help you experience your body internally, mindfully, and non-judgmentally.
---
3/3, 3/10, 3/24 Women's Center: Free Book Friday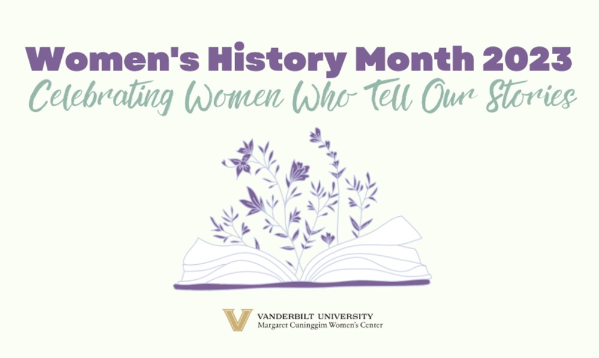 Stop by the Women's Center on Fridays in March to celebrate Women's History Month by picking up a free book! A few available books include: Saved by a Song, Their Eyes Were Watching God, The Bluest Eye, How to Raise an Adult, Your Turn: How to Be an Adult, Vanguard, Period, and many more! We hope to see you there!
---
3/16 Faculty, Staff & Post-Docs Free Tour: Frist Art Museum Exhibition of Jeffrey Gibson: The Body Electric
The Jeffrey Gibson: The Body Electric exhibition at Frist runs 2/3-4/23. This major exhibition is devoted to one of today's leading artists, whose multidisciplinary practice combines aspects of traditional Indigenous art and culture with a modernist visual vocabulary. Faculty, staff, and post-docs are invited to join the Office for Equity, Diversity and Inclusion, with support from the Student Center for Social Justice & Identity and the Studio Arts department, for a free tour of the upcoming exhibition of Jeffrey Gibson's The Body Electric on 3/16.
---
Survey: VU+ VUMC Menstrual Products Initiative
A Vanderbilt medical student is working on a VU/VUMC campus initiative advocating for inclusive, gender-neutral language. Specifically, trying to change the signs on restroom waste bins from their current "Place feminine products here" and visuals of a stick figure in a dress, to a more inclusive label of "Place menstrual products here" with gender-neutral visuals. Please provide feedback about this initiative here.
---
Vanderbilt Peer Guide Program
Have you heard about the Peer Guide Program? Peer Guides (PGs) are undergrad students trained in wellbeing coaching and program facilitation. PGs bring a shared understanding of Vanderbilt and the student experience in an affirming and judgment-free space. They can help you enhance stress relief skills, learn organizational strategies, hone time management abilities, develop healthy sleep habits, and more! To schedule a PG coaching appointment, email healthydores@vanderbilt.edu or call 615-322-0480.
---
Vanderbilt's PRISM Queer Students of Color in STEM (QSOC-STEM) paid research study

PRISM (Power, Resistance & Identity in STEM Education) research lab is recruiting for a paid research opportunity. Undergraduate Black, Latinx, and Asian LGBTQ+ students pursuing STEM majors at Vanderbilt can express their interest as a participant by going the recruitment form. Student participants will be paid $20/hour in online Amazon gift cards.
---
UPCOMING COMMUNITY EVENTS
---
Nashville Launch Pad Volunteer Opportunities
Nashville Launch Pad's Emergency Shelter needs MANY volunteers to make it run smoothly, such as evening shift, laundry service, meals and one-time projects. On-site volunteering in the shelter requires attending a 2 hour training. Please feel free to contact NLP with questions.
---
3/1 Storytime at Clarksville LGBT Celebration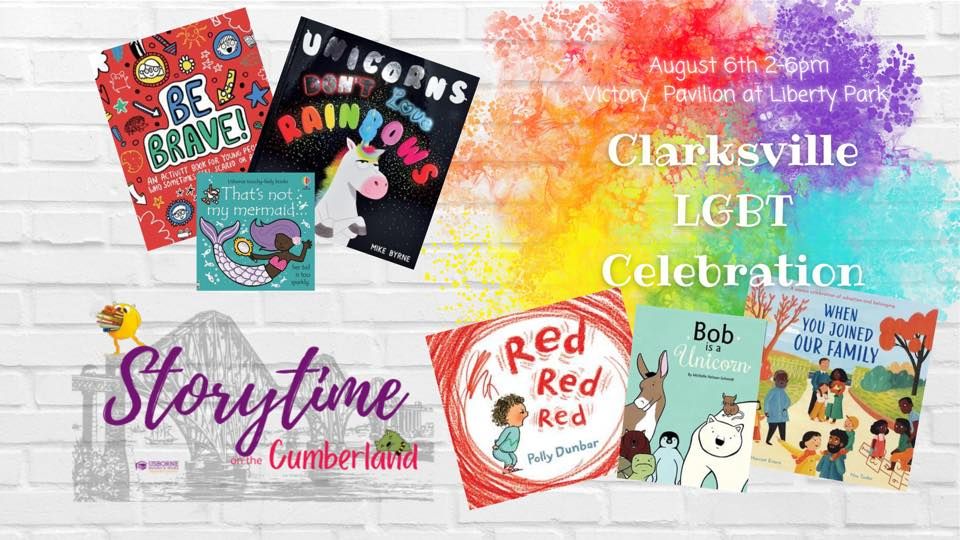 Join Storytime on the Cumberland (with Usborne Books and More) for stories on the rug and all the books at the Victory Pavilion in Liberty Park as we  celebrate and support the community. Find out more here.
---
3/2-3/4 Unruly Bodies Pedagogy Conference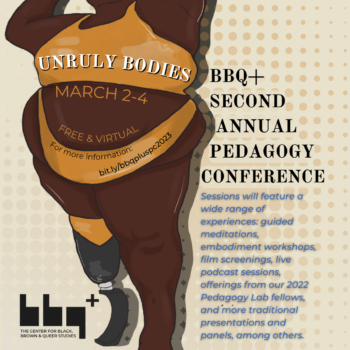 Unruly Bodies, the second annual pedagogy conference from the Center for Black, Brown, and Queer Studies (BBQ+), will take place March 2-4, 2023. The conference is fully virtual, free to attend, and open to all. You'll find the experience especially relevant if you engage with pedagogy and teaching in some way, whether within traditional higher education or anywhere else.
This conference seeks to address the following emerging questions in our pedagogical landscape: How can Black, brown, disabled, fat, and queer bodies, consistently under threat, find pleasure and joy? How do we go about showing up in digital spaces, in classrooms, and in intellectual communities with our vulnerable and powerful bodies?
---
SHINE Strong Training Program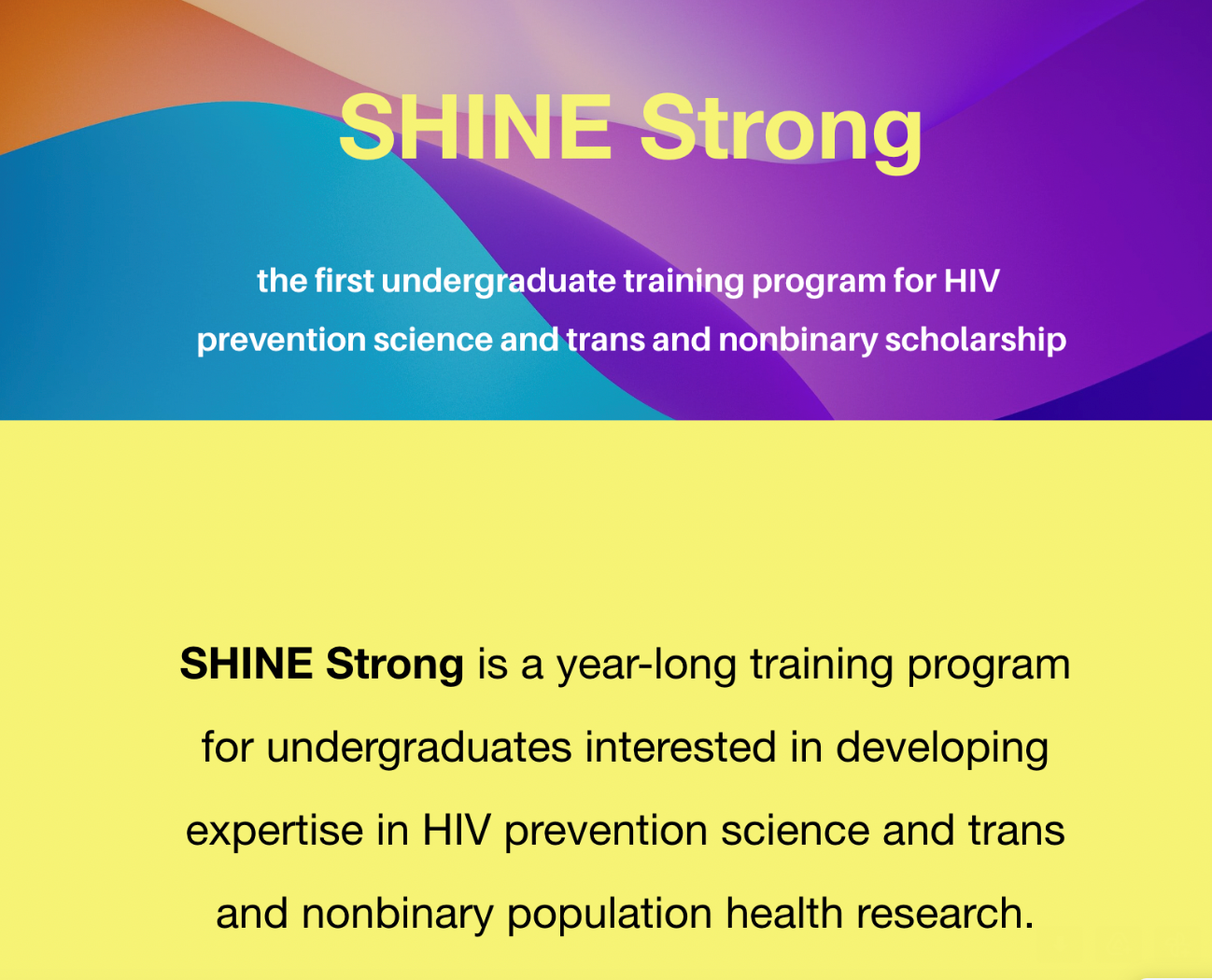 SHINE Strong is a year-long training program for undergraduates interested in developing expertise in HIV prevention science and trans and nonbinary population health research. Submit your application here by 4/14.
---
3/1-3/31 Tennessee Equality Project Campaigns
Follow Tennessee Equality Project's Campaigns for March to follow weekly advocacy events related to bills affecting LGTBQIA+ people in Tennessee.