2023 OUT in Front Conference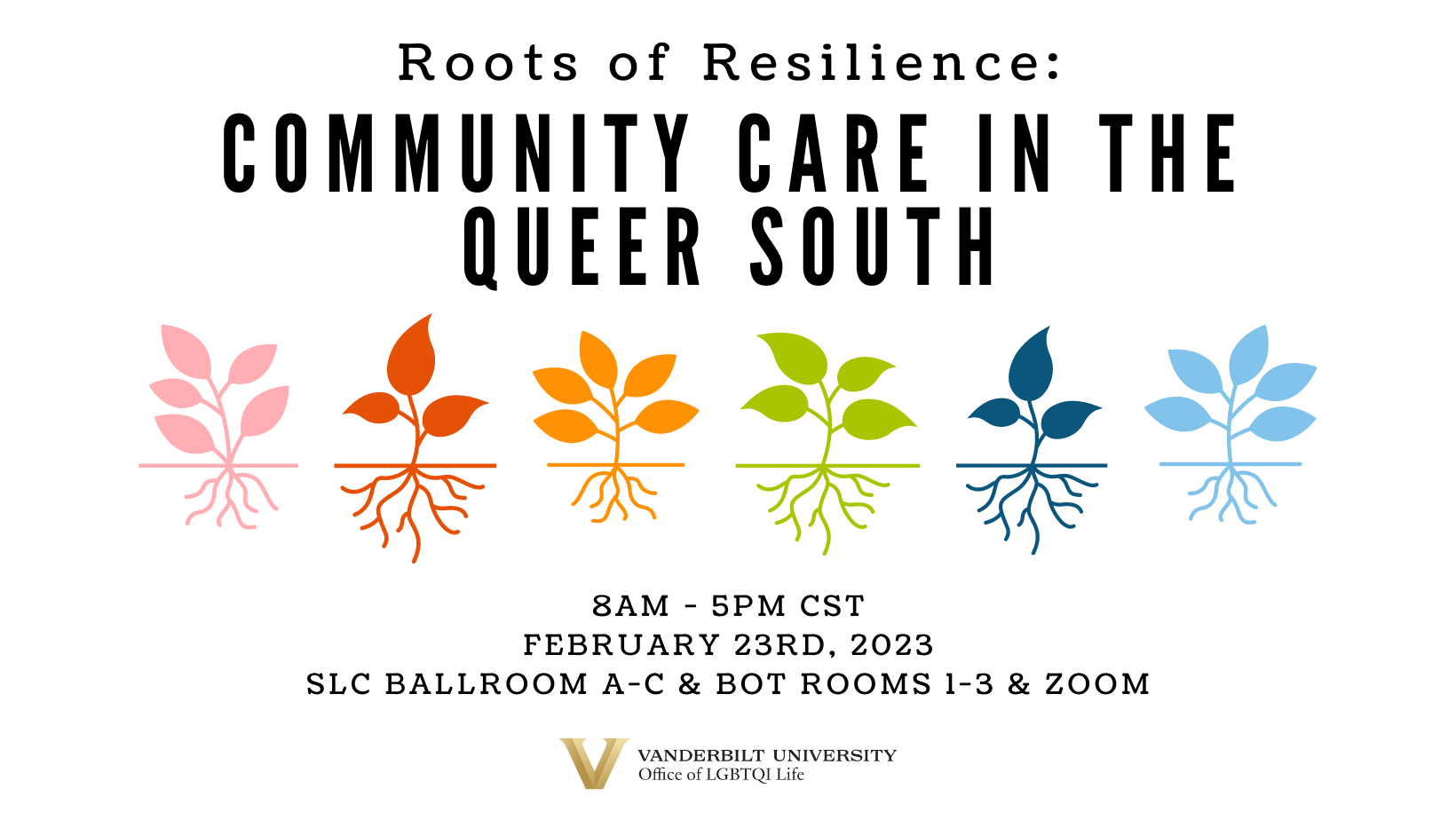 2023 OUT in Front Conference: Roots of Resilience: Community Care in the Queer South
RSVP to attend in-person or virtually here by February 22. 
Theme: Roots of Resilience: Community Care in the Queer South
February 23, 2023
Vanderbilt University Student Life Center Ballroom, Board of Trust Room, and Meeting Rooms 1-3
Nashville, Tennessee
OUT in Front LGBTQI and Ally Student Leadership Conference is a conference wherein student leaders, graduate students, staff, and faculty have the chance to meet and network with peers from across the United States to share resources, develop leadership skills, and foster a strong community of LGBTQ2S+ and allied leaders. The mission of OUT in Front is to engage students, faculty, and staff from across the region in issues relevant to the LGBTQ2S+ community and society at large through an all-day conference event with a guest keynote speaker. This year's esteemed keynote speaker will be TAYLOR ALXNDR.
TAYLOR ALXNDR (they/she) is an Atlanta-based musician, drag performer, multi-media artist, and community organizer.
ALXNDR is the co-founder and current executive director of Southern Pride Queer Pride (SFQP), a queer + trans, arts + advocacy organization centering Southern queer communities. They are also the mother of the House of ALXNDR, an Atlanta-based drag family and events hub, creating drag-centered, inclusive events.
As a musician, ALXNDR released their debut EP, NOISE, in 2017, followed by HOLOGRAM, in November of 2018. It was listed as one of the top 10 albums from Atlanta artists. They just released their new EP 1993 on March 11th 2022.
TAYLOR's work has been featured in Vice, Forbes, Out Magazine, Vogue, them., and more. Bandcamp called them an "underground drag icon". They were voted as Atlanta's Best Drag Queen & Best LGBTQ Performer in 2019.
Parking
Vanderbilt Parking (presenters, tablers): We have secured parking for presenters and tablers in the Student Life Center garage. For attendees needing accessible parking, handicap spots closest to the Student Life Center are located in lots 64, 71, and 40. You may access the full parking map and read more about accessible parking on Vanderbilt's Parking Services website. Building access to the Student Life Center are located on the southwest and southeast side of the building (see map below).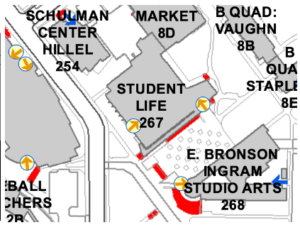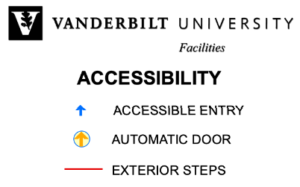 Vanderbilt Parking (attendees): Park at 25th Ave. Garage by entering on Highland Ave. Parking is $3.50/hour.  All pay by phone transactions will incur a $0.45 transaction fee, including each extension of parking. Download Park Mobile parking app for contactless payment. See options below:
Download the Park Mobile app on the App Store and Google Play
Scan the QR code on the signs where you park
Text PARK to 77223
Individuals without smartphones can call 877-727-5015
Directions to Student Life Center from Garage: When following the blue dotted line on the below,
leave the 25th Avenue Garage Highland Avenue Entrance and turn left (West) on Highland Avenue.
Once you arrive to the streetlight take a right (North) on 25th Avenue South. The Vanderbilt University Student Life Center/SLC will be on your right (East side of 25th Avenue South).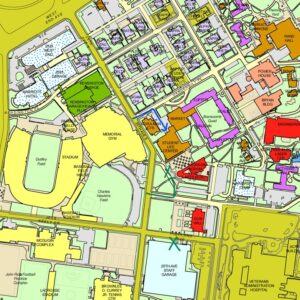 For more information, contact lgbtqi@vanderbilt.edu.
Accessibility
Virtual Accessibility: Once you register, you will receive a master zoom link to the conference, with access to breakout rooms designated for each of the conference rooms. The designations are as follows:
Main zoom room: Student Life Center Ballroom

Breakout Rm 1: Meeting Room 1

Breakout Rm 2: Meeting Room 2

Breakout Rm 3: Meeting Room 3

Breakout Rm 4: Board of Trust Room
Registered attendees will have virtual access to all panels and workshops, but not the in-person caucuses.  Virtual participation in caucuses will be separate from the in-person caucuses, and new breakout rooms with their respective caucus groups will be listed in the main zoom call from 3:30 – 4:30 p.m. You can also view the virtual program here.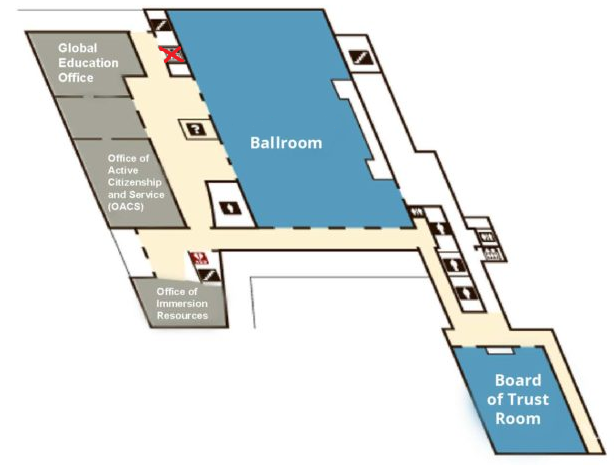 Accessibility: There are two ramp entrances to the Student Life Center. The Student Life Center/SLC Ballroom and Board of Trust/BoT rooms are on the main level while Meeting Rooms 1, 2, and 3 are on the lower level. There are two elevators and staircases, with the main one being by the entrance to SLC facing 25th Ave. (see red X on map). Signs will be posted to direct you to the elevator and different rooms.
COVID-19: Masks are encouraged but not required. We will provide masks and hand sanitizer. We will be serving lunch in individual boxes, and will have a table reserved for distanced seating for those that need that. Workshop leaders are encouraged to distance as much as possible.
Interpreting and Closed Captioning: Materials for workshops and panel presentations can be found in the program, and closed captioning is on for all videos. Accessibility services have been secured based on registration responses. If you did not put an accommodation request in your registration before the deadline, staff at the check-in table will locate a staff member/volunteer to help with accessibility needs. 
Sensitive Materials: Workshop leaders have listed content warnings in the program, and we will have counseling services from Hampton House available for the duration of the conference. If, at any point, you feel activated or need a safe place to process, staff at the check-in table will be able to route you to our on-site counselor and safe space location. 
Food Accessibility: Lunch catering is by Taziki's on West End. We have secured meals for the dietary restrictions and allergies reported on the registration forms. Staff can direct you to the special request meals, which will be labeled based on restriction. Taziki's switched surfaces, gloves, grills, and took several other measures against cross-contamination for the orders.
Restrooms: There are four gender-neutral bathrooms on the first floor. Additional restrooms are also located next to Meeting Room 3 on the lower level.
Accessibility Help: See staff at check-in table or any volunteer with a sticker on their name tag or email lgbtqi@vanderbilt.edu. 
Hotels near vanderbilt
There are several hotels near Vanderbilt, such as:
LGBTQI+ Life in Nashville
Looking for fun LGTBQI+ nightlife in Nashville? Check out:
What to do in nashville
New to Nashville? Check out some of these destinations while in town: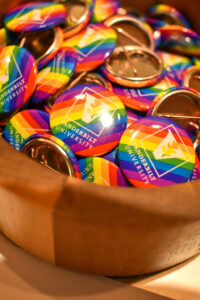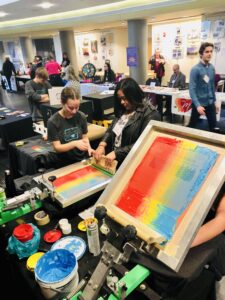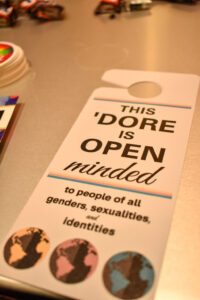 Photos by Jazz Johnson
RSVP to attend in-person or virtually here by February 22. As always, OiF is free to attend.
Please consider donating to LGBTQI Life.