Space 204 Gallery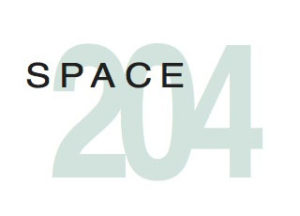 Gallery Coordinator: Jerry Phillips
Phone: 615-343-0237
Physical Address:
Space 204 Gallery
Vanderbilt University/Department of Art
E. Bronson Ingram Studio Arts Center
1204 25th Avenue South
Nashville, TN 37240

The main gallery space for the Department of Art, Space 204, is located on the second floor of the E. Bronson Ingram Studio Arts Center in Room 204.
Space 204 exhibits contemporary art from local and national artists as well as the annual Margaret Stonewall Wooldridge Hamblet Award thesis exhibitions from Vanderbilt senior major students. Featuring high gallery walls (approximately 12ft high) backed with plywood, Space 204 offers the capability to serve the majority of art media including video projection, installation, sculptural, and framed wall work. The lighting system is set into a welded steel light track frame that is approximate 12 feet above the gallery floor.
Exhibitions are selected by a rotating committee of the Department of Art faculty members.
Current Committee Members:

Mel Ziegler (Committee Chair), Jonathan Rattner
Please use the link below to learn about the most current 2022 gallery programming:
Space 204 is back to operating on a regular gallery business hours.
Gallery Hours are Monday-Thursday 10am to 4:30pm.
Gallery map (click for full image):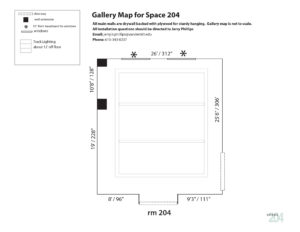 Current Exhibition:
Up Coming exhibitions:
* To Whom It May Concern, Vitus Shell, October 12 – November 9, 2023.
Previous Exhibitions:
2023
* Shaman in the Loop, Chalet Comellas in collaboration with Clint Sleeper, August 24 – September 21, 2023.
* Out of Ideas: 2023 Senior Show, The Margaret Stonewall Wooldridge Hamblet Thesis Exhibitions, April 14 – May 12, 2023. Featuring: Portia Jones, Avery Bradley, Ben Damir, Adam Alwan, Teal Caudle, and Won Jun Seok. https://www.vanderbilt.edu/arts/out-of-ideas/

* Chronicle of Actions, Vanessa Mayoraz, March 6-23, 2023, Tennessee Triennial: Re-PAIR Nashville Highlight Week, https://tennesseetriennial.org/community-venues/space-204
*  Where You Find Rest, I Keep Watch, Emily Kopec, Recipient of the 2021 Margaret Stonewall Wooldridge Hamblet Award, January 12 – February 10, 2023
2022
* Branding Conflict, a group design exhibition, November 8 – December 8, 2022
* Entropic Systems, Laleh Mehran, September 8 – October 20, 2022
* The Water Carrier Died, June 13, 2022 – August 30, 2022. Exhibition Artists: Bassam Habib, Keria Nashed, Mohsen Ramsis.
* Keep It Together! Senior Show 2022, April 15 – May 13, 2022. The Margaret Stonewall Wooldridge Hamblet Thesis Exhibitions. Exhibiting artists: Josanda Addo, Liv Donofrio, Erica James Jeshow Skidmore, Mariam Walid Fuad Ismael Nadi, Navya Thakkar, Olivia Forrester, Elise Driver, Yanxi Yu, Adeliza Grace, and Cat LeMaster. Exhibition website: https://www.vanderbilt.edu/arts/keep-it-together-senior-show-2022/
* Crossing Surda, Emily Jacir (Film/Video), March 1 – 24, 2022.
* Pressing Pearls in My Fist, Rebecca Arp, January 13, 2021 – February 10, 2022.
2020 recipient of the Margaret Stonewall Wooldridge Hamblet Award.
Closing Reception: February 10, 2022; 4pm to 6pm
2021
* Witness to the Rain, Fidencio Fifield-Perez, September 9 – October21, 2021
* Sightlines, a group exhibition of Austin Peay State University Art + Design Faculty, featuring Amir Agharebparast, Astyr Minic, Billy Renkl, David Walker, McLean Fahnestock, Patrick Vincent, Rachel Bush, Virginia Griswold, Wansoo Kim, and Paul Collins. June 14 – August 27, 2021.
inseparable: Senior Show 2021, featuring Emily Kopec (Merely), Julia Nahley (The Space Between), Cayla B. Mims (Home), and Colleen Rose McHugh (Peaces).  April 23 to May 15, 2021 in Space 204 with virtual exhibitions available at https://www.vanderbilt.edu/arts/inseparable/
* to cast a shadow, Aiden Layer (virtual exhibition)  space204.org.
Aiden Layer, 2019 Recipient of the Margaret Stonewall Wooldridge Hamblet Award.
2020
* Deliberate Acts: Art and Incarceration, featuring Dan Paz, Lorenzo Triburgo, and Sherrill Roland (Virtual Exhibition); on view fall 2020.
* A recurrence of forms, Dawit L. Petros (Virtual Exhibition);  on view beginning September 17 to December 20, 2020. http://space204.org/dawit-landing
* Worlding: Senior Show 2020, featuring Alexis Bray, Sydney Kaemmerlen, Fei Yang, Rebecca Arp, Peter Hill, Sophie Stark, Kirsten Bailey, Arezou Moosavi, and Ted Maertens.
Online Exhibition: https://worlding.myportfolio.com

* Nate Young, February 24 – March 13, 2020

* kwa:kanaval:kwazyè – January 9-30, 2020, Joshua A. Forges, 2018 Recipient of the Margaret Stonewall Wooldridge Hamblet Award
2019
* CHARACTER STUDY, October 31 – December 5, 2019. Reception November 14, 2019. Featuring: John Donovan, Brian Somerville
* Studio Art Sessions: 2019 Department of Art Faculty and Staff Exhibition, September 12 – October 18, 2019. Featuring the work of Alejandro T. Acierto, Alex Blau, Maria Magdalena Campos-Pons, Farrar Hood Cusomato, Patrick DeGuira, John Donovan, Jana Harper, Mark Hosford, Vesna Pavlovic, Jerry Bedor Phillips, Jonathan Rattner, Sophia Stevenson, John Warren, and Mel Ziegler.
* Don't Slam the Door, Kristi Hargrove, June 13 – August 29, 2019. Closing Reception August 29, 2019.
* Senior Show 2019: Have You Thought About Scale?, April 12 – May 10, 2019. Featuring Yanrong Chen, Melanie Leigh Rosenblatt, Jerry Madlock, Aiden Scott Layer, Laur Sobota, Taylor Alexander Raboin, and Matt Machado.
* Taming a Wild Tongue, Hương Ngô, video/performance/sound/image, (install)
– "Critic's Pick March 7, 2019," Sara Lee Burd. Nashville Scene. https://local.nashvillescene.com/event/vanderbilts-space-204/hng-ng
* My Brother's Favorite View – Conor Bloomer, 2017 Recipient of the Margaret Stonewall Wooldridge Hamblet Award
2018
* Unreal Expectation, Althea Murphy-Price, November – December 2018 (install)
* MANIFEST, Kristine Potter, September 13 – October 18, 2018 (install)
* Fish Hotel, Sarah Phyllis Smith and Douglas Degges, June – August 2018 (install)
* Senior Show 2018: Spicy – Nia Warren, Tori Chitwood, Lauren Ballejos, Connie Ge, Katie Stark, Josh Forges, Hannah Albers, and Cecilia Kim
* OUTTA BOUNDS – Brandon Donahue (install)
* Open Studio – Vibhu Krishna (install), 2016 Recipient of the Margaret Stonewall Wooldridge Hamblet Award
2017
* Vanishing Points,Michael Sherwin (install)
* So all of this is my fault? – Elaine Bradford (install)
* Borrowed Light – Susan Bryant
* Senior Show 2017: Are we here to see art or eat noodles? – Marguerite P. Zabriskie, Ashlin Dolan, Alison Chen, Tongi Wang, Marcelle A. Coronel, Lee Setili, Conor G. de Mari, Qinyuan Sun, Sophia M. Day
* Frontier – Farrar Hood Cusomato
* Sign of the Diaspora – Alexis Jackson, 2015 Recipient of the Margaret Stonewall Wooldridge Hamblet Award
2016
* Working Through It: Visualizing Hope and Recovery Through Art – Lyndsey Lybrand
* Regina Galindo – Comunidad Programming
– "A State of Pain:  Regina José Galindo at Vanderbilt in Nashville," Joe Nolan,  Burnaway, December 1, 2016.
* Meanders – Ben Fox-McCord
* A Red Wheel Barrow – Glenn Merchant
* Senior Show 2016: A Piece of Us – Christine M. Hartnett, Lucy Rahner, Lucy Gonzalez, Michael E. Oberti, Jake Lee, Vibhu Krishna, Julie Choi, Diana Zhu, Morgan Pinkleton, Lili Valcarenghi, David C. Brandon III, Jeffrey Gao
* INK INDEFINITE – David Krenz, 2014 Recipient of the Margaret Stonewall Wooldridge Hamblet Award
* Backstory: Exploring the Boundaries of the Book: 2016 College Book Art Association Members Exhibition

2015
* middleground – Adrienne Miller
* Phantom Engineer – John Warren
* La Strega – Duane Paxson
* Senior Show 2015: A Little Show – Alexis Jackson, Emily Neal, Sara Alavi, Madeline Santulli, Liyan Hou, Chelsea Velaga, Celeste Jones, Allyson Patterson, Christopher B. Hayes, Blair Tramel
* Shape of Flight – Suzanne Stryk
* Abandon/Perception – Hanna Rodgers, 2013 Recipient of the Margaret Stonewall Wooldridge Hamblet Award
* Forest for the Trees – Erin Harmon
2014
* The Gift: 30 Years of the Margaret Stonewall Wooldridge Hamblet Award
* Frill – Kimberly Winkle
* Intersections: MTSU – Michael Baggerly, Barry Buxkamper, John Donovan, Sisivahn Houghton
* Senior Show 2014: So Long Farewell – Margaret Elle Burnette, Anisha Patel, Demi L. Landstedt, David Krenz, Kelsey Creel, Lesley Hill, Desiré Hough
* You Call It A Cloud – Jana Harper
* Index: Women of Auschwitz – Hannah Stahl, 2012 Recipient of the Margaret Stonewall Wooldridge Hamblet Award
2013
* Career Highlights: 40 Years in Clay – Susan DeMay
* work/work – John Watson
* Where Do All the Memories Go? – Jeremy Jones
* Somehow, I Guess – Jerry Bedor Phillips
* Senior Show 2013 – CJ Rhoades, Helen Robinson, Daniel Litzow, Julie Choi, Wenhao Liu, Ariela Atwell, Adriana Salinas, Hanna Rodgers
* Tucumcari – Jeremiah Ariaz
* The Dreams of Architects and Poets – Jered Sprecher
* YUJA – Jean Kang, 2011 Recipient of the Margaret Stonewall Wooldridge Hamblet Award
2012
* Dead Spawn (Head Wrong) – Annmarie Ho (film screening)
* Dark Matter – Lakes Were Rivers
* Slow No Dust – Nicole Lavelle
* Mind Reader – Sarah Applebaum
* The Other Side – Nick DeFord
* No Going Back – Barbara Yontz
* Aesthetic Predicaments – Quintin Owens
* Senior Show 2012 – Rosie Andrews, Grace Burnworth, Xi Chen, Stephanie Falcone, Katy Jaramillo, Lauren Jopling, Wei Kong, Patrick Louis, Kate Manire, Hannah Stahl, Ricky Don Taylor Jr., Yeon-sil Yi, Lucia Alvarez Zeevaert
* Apparent Light – Rebecca Cummins
* By Self and Others – Eric Ehrnschwender, 2010 Recipient of the Margaret Stonewall Wooldridge Hamblet Award
2011
* She Would Have Thought Twice, Possibly Three Times – Mara Sprafkin
* they see themselves from the inside – Justin Braun
* My mind is telling me know, but my body is telling me yes… – Curated by Willard Tucker (COOP Curatorial Collective)
* Imagine by Hand – Faculty and Artist-In-Residence from the Appalachian Center for Craft