Adeliza Grace – Reanimated: The Modern Cartoon Woman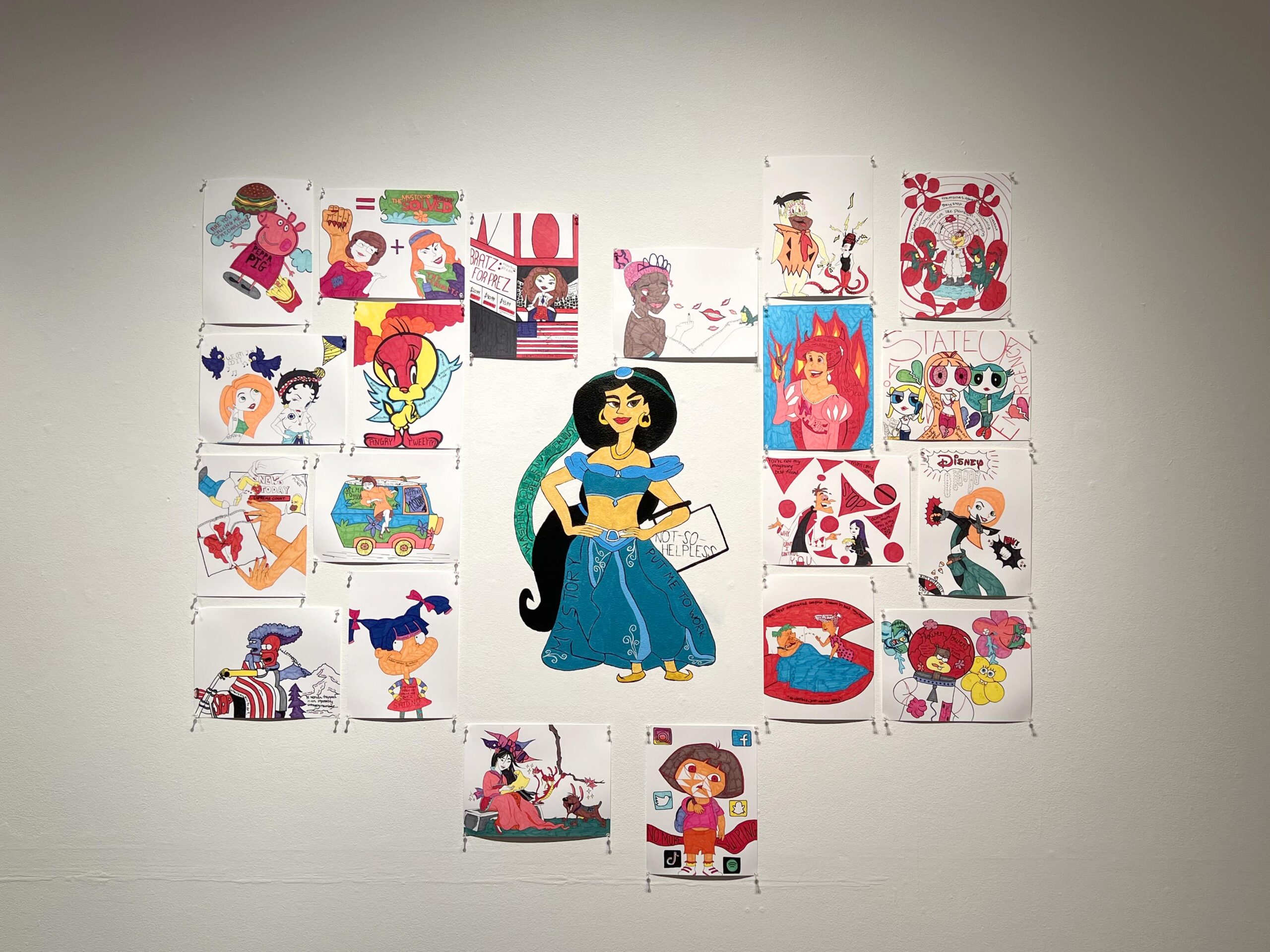 Statement
My senior show is centered around the way that art interacts with, engages in, and makes commentaries on society. I am specifically interested in exploring the role of feminism in art and society, and leveraging my art to raise awareness about the enduring sexism in our society – in America and the world generally. My idea is rooted in manipulating different cartoons to reflect societal issues, and encourage people to recognize social norms which undervalue women that are inherent to our society. I am interested in exploring imagery and phrases with underlying or explicit discriminatory references. My project concept originated from my interest in exploring the marginalization of women in American society, and how this marginalization was both subconsciously and consciously present in my adolescence.
Based on my further research, collage explorations, and critiques with various members of Vanderbilt's art faculty, I shifted my approach to examine my various childhood role models. Through the modernized cartoons I've created during my thesis, I aim to restructure the meaning of the original works, in which I incorporate compelling, progressive feminist messages. I looked for any cartoons I particularly enjoyed and characters with whom I felt connected, and then began exploring how I could transform these images either by altering visual elements or by adding punch words to convey my message regarding my personal experiences and feelings surrounding issues of gender discrimination. The graphics I've created distort how these cartoon icons of popular culture are portrayed, emphasizing emotions through intentional color choices – such as red insinuating anger at the system and social biases, with the goal of having people notice the cartoons and become curious – taking a closer look and ultimately contemplating their layered meaning, which is both personal to me and reflective of elements of society as a whole. I hope these subverted cartoons will draw awareness to the issues about which I feel so strongly and in doing so, promote feminist ideals.
Some elements I wrestled with during my thesis' formation include: size and quantity of my work, the medium on which to realize my redefined cartoons – including cloth, walls, and ultimately paper, an exploration of fonts, and how to incorporate humor into my work while maintaining a serious tone. The final exhibit is structured in an informal manner, with cartoons pinned up using push pins, and a mix of mediums with a slight variation from size uniformity, given the one larger cartoon painted directly onto the gallery wall. This style of exhibition was intentional given the role of childhood reminiscence in creating these pieces. My project is about: gender equality, female empowerment, targeting discrimination in society, and changing the narrative by raising awareness.
There are a variety of reference sources which I used to develop my research base, including books, articles, photo archives, and advertisements, as well as work from other artists such as Jenny Holzer, Barbara Kruger, Gabriel Orozco, and Teresa Margolles. I have also explored different portrayals of the female body through looking at artists such as Cecily Brown, Jenny Saville, and Nicole Eisenman. As I considered my personal influences and experiences with discrimination, objectification, and sexism, and incorporated themes of: sarcasm and irony, subvertisement, and cartoon exploration, I turned to the Guerrilla Girls, Julia Wertz, and Carla Fernández for inspiration. I continued to clarify my direction by examining cartoons and reviews of cartoons – from prints to films and online narratives. Going forward, I will continue growing my contextual understanding of women's movements and of art in the public sphere through the artists I mentioned, many of whom produce public works surrounding societal issues. My project engages in the linear historicism of art language by ultimately making a direct commentary on the perception and treatment of women in American society and the world beyond. I strove to engage various existing human and societal problems and their relative movements, such as: the feminist movement, the Me Too movement, and the troubling way in which society portrays women to adolescent children.
My project is important for anyone who believes in equal rights, and identifies as a feminist, as well as for myself. I decided to pursue this project because I value learning about controversies in our history and parsing through my own difficult experiences, in order to ensure that neither repeat themselves. By learning about the inner workings of discrimination and feminism in the world, exploring the nature of this movement both in the U.S. and across the globe, I aspire to shed light on how these issues persist into the present. Ultimately, I aim to successfully create a narrative about the importance of propelling equal rights for women and in doing so, jumpstart more discussion about how to achieve this common goal.
---
Biography
Adeliza Grace is a senior at Vanderbilt University, majoring in Art and minoring in Business. She was born in New York City (NYC) in 2000, and looks forward to working there following her graduation this spring. Adeliza attended Deerfield Academy (DA) for high school between 2014-2018, before starting her college career at the University of Michigan, in the Penny W. Stamps School of Art and Design. After her freshman year, Adeliza decided to transfer from the University of Michigan to Vanderbilt University, in the hopes of achieving a more well-rounded undergraduate experience. Nashville has provided in which to take advantage of art and culture.
Adeliza was interested in art from an early age. When she was living in NY, her great aunt Lolo – an artist herself, would accompany her to restaurants or parks and together they would sketch live people and scenery. After moving to Palm Beach, FL, Adeliza proceeded to take drawing classes both in school during middle school, and after school, at the Armory Art Center. Over the course of her four years in high school, Adeliza pursued art – beginning with Intro to Studio Art in ninth grade, through AP Studio and Topics Tutorial in her sophomore and junior years, and finally Post-Topics Tutorial in her senior year. Adeliza's art teacher throughout high school – Mr. Dickinson was also her advisor and tennis coach, and a crucial part of her development as an artist thanks to his constant support and motivation as her work evolved.
Deerfield Academy was where Adeliza's artwork was first exhibited, during student exhibitions in the von Auersperg and Reed art galleries. Her pieces were exhibited both in her junior year spring, and again in her senior year fall semester. Her entries were also published in Deerfield's student-run newspaper – The Deerfield Scroll. At Vanderbilt, Adeliza artwork has been shown through posters around campus which she designed for events held by Vanderbilt's Women in Business organization. Her work will be shown at Vanderbilt University's 2022 Senior Show this spring.
---
Exhibition