Undergraduate Research Spotlight: Andres Dones
Undergraduate Research Spotlight: Andres Dones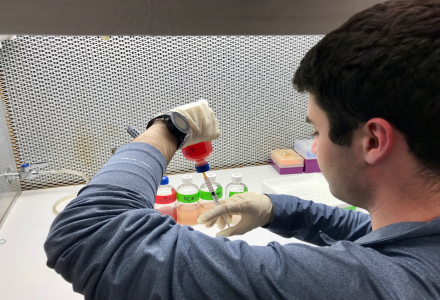 Q. What inspired you to pursue undergraduate research at Vanderbilt?
A. My brother, Alex, has hemophilia, a chronic disease without a cure. Watching him grow up with a coagulation disorder fueled my desire to search for better treatment options and possibly even a cure. I reached out to the Hemophilia Treatment Center (HTC) at Vanderbilt University Medical Center, hoping to participate in their work.The research director at the HTC was very supportive and assisted me in finding a research position at a coagulation lab with Dr. David Gailani.
Q. How did you get involved?
A. Dr. Gailani partnered me with two postdoctoral fellows working in his lab. They helped me to plan and carry out my project.
Q. What do you think has made your undergraduate research experience meaningful thus far?
A. Working with the postdoctoral fellows was a special experience. They were patient with me despite my initial lack of experience and taught me many lab techniques, including utilizing recombinant DNA technology, culturing cells, and performing protein chromatography. Furthermore, working in Dr. Gailani's lab has made me feel like I am making a difference in the lives of those who have a coagulation disorder, including my brother.
Q. How do you think your experience has prepared you for your future goals beyond Vanderbilt?  
A. My Immersion research experience has helped me to meet many people at the Vanderbilt University Medical Center. My experiences with all of these individuals has prepared me to be a better scientist and a better physician in the future.