2014 Greenhouse Gas Emissions Inventory Update, Published October 2015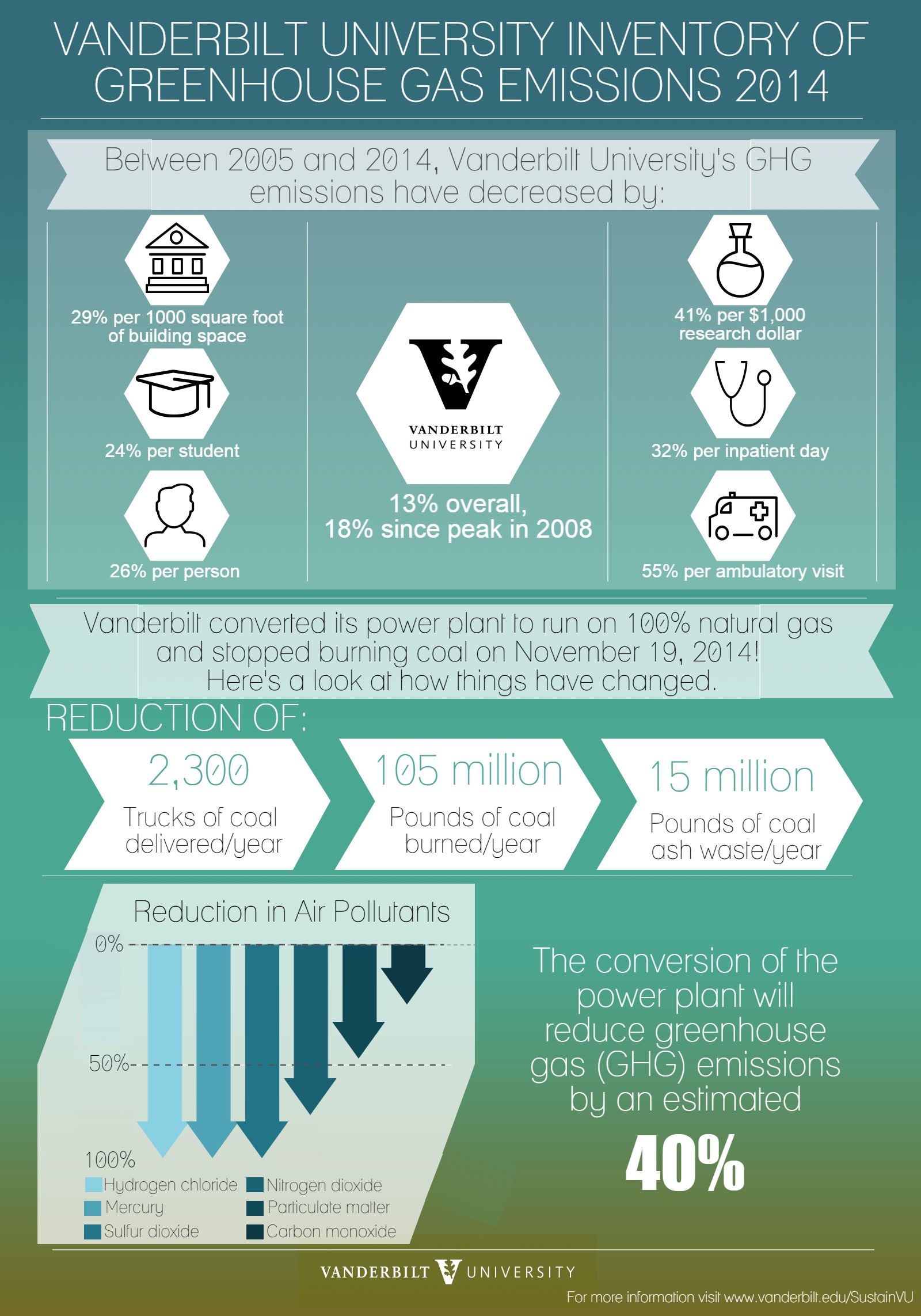 Vanderbilt University and Vanderbilt University Medical Center's greenhouse gas (GHG) emissions decreased by 18 percent from its peak in 2008 and by 13 percent overall from calendar years 2005 to 2014.
Taking into account Vanderbilt's significant growth in square footage, students, patient care and research dollars over the tracking period, GHG emissions have been reduced by almost 30 percent per square foot of building space and by 41 percent per sponsored research dollar since 2005.
The conversion of Vanderbilt's power plant to 100 percent natural gas fuel in November 2014 has increased operational efficiency while also contributing significant environmental benefits. Greenhouse gas emissions from the power plant dropped 10 percent from 2013 to 2014 and, moving forward, may decline by as much as 40 percent.
The conversion also decreased the emission of particulate matter by more than 50 percent and virtually eliminated emissions of mercury, hydrogen chloride, sulfur dioxide and other air pollutants. Vanderbilt also eliminated the delivery of 2,300 trucks of coal each year, 15 million pounds of coal ash waste produced by the plant and the burning of 105 million pounds of coal each year. Other benefits include a reduction of noise pollution and elimination of associated fuel use and emissions from trucking coal to the power plant.
2014 Greenhouse Gas Emissions Inventory Update, Published October 2015
2014 GHG Emissions Inventory Cover Infographic
2014 GHG Emissions Inventory Executive Summary
2014 GHG Emissions Inventory Full Report – Color
2014 GHG Emissions Inventory Full Report – Black & White