2013 Greenhouse Gas Emissions Inventory Update, Published October 2014
Read the Vanderbilt News story here.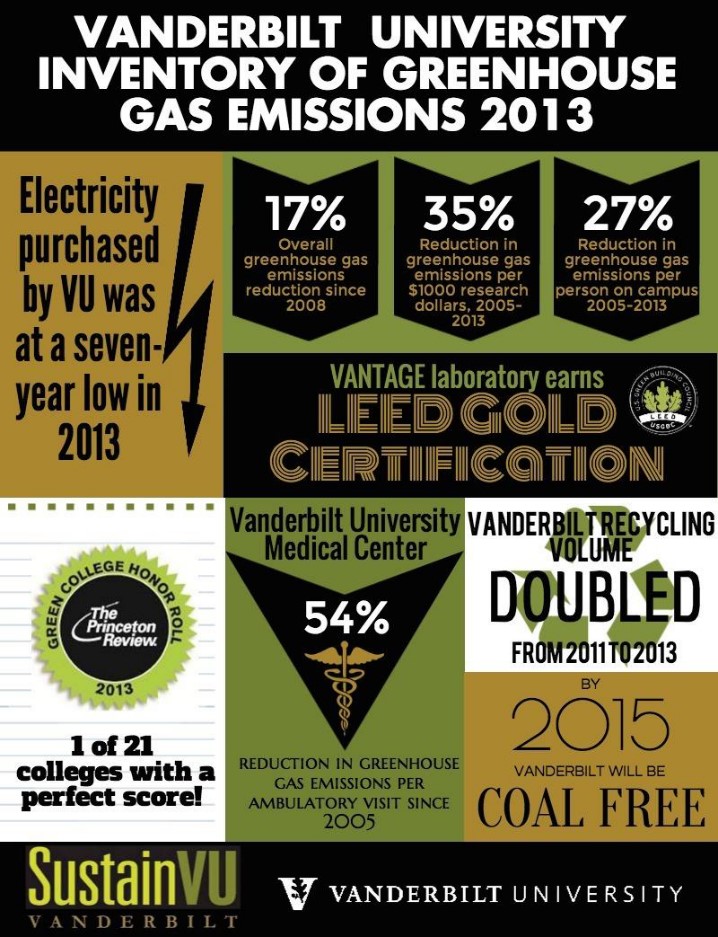 Overall greenhouse gas (GHG) emissions from the campus and medical center decreased by 17 percent from the all-time high reached in 2008 and by 12 percent from 2005 to 2013, even though VU has seen significant growth in square footage, students, patient care, and research dollars during this time. When growth is taken into account, GHG emissions have been reduced by more than 27% per person on campus and by 35% per research dollar since 2005.
Overall GHG emissions are up by 2% from the year before, but this minor increase resulted from a small change in the mix of on-campus fuel use for power production vs. off-campus purchased electricity and in tracking data available for Vanderbilt-funded airline travel miles.
One major improvement already in the works is the conversion of Vanderbilt's power plant from being fueled by both coal and natural gas to being fueled entirely by natural gas.  "The co-generation facility conversion to all natural gas modernizes and improves the efficiency of our plant and will also significantly reduce our GHG emissions in the future", explained Mark Petty, assistant vice chancellor of Plant Operations.
2013 Greenhouse Gas Emissions Inventory Update, Published October 2014
2013 GHG Emissions Inventory Cover Infographic
2013 GHG Emissions Inventory Executive Summary
2013 GHG Emissions Inventory Full Report – Color
2013 GHG Emissions Inventory Full Report – Black & White