Vanderbilt survey shows shifts in commuting patterns, new trends in mobility
Vanderbilt University has released findings of the 2022 survey on commute and transportation practices, conducted to help inform mobility and transportation efforts and expand Vanderbilt's understanding and support of the community.  
In 2019, a similar commute survey informed goals for MoveVU, a strategic transportation and mobility plan that's part of FutureVU, Vanderbilt's comprehensive campus plan. Much has changed in worldwide commuting patterns since 2019; the 2022 survey results reveal trends for the Vanderbilt community that will be reflected in updates to university goals and guide future policies and initiatives. Although paused during the height of the COVID-19 pandemic, a commute survey now will be sent every fall to enable Vanderbilt's Transportation & Mobility Office to closely track the results of MoveVU efforts.  
The survey was distributed to all faculty, staff, graduate/professional students and postdoctoral scholars, a total of 13,090 people, and had a 41 percent response rate.  
Key Findings 
Overall, 40 percent of respondents reported they worked entirely on campus and 53 percent selected "hybrid" as their work status.

 

The percentage of commuters driving alone to campus decreased from 79 percent of all commuters in 2019 to 52 percent in 2022. 

 

Approximately 12 percent of respondents say walking is their primary mode of transportation to campus. This is an increase of 10 percentage points from the 2019 survey, when only 2 percent of respondents reported walking as their primary transportation method. This increase was primarily driven by graduate/professional students and postdocs.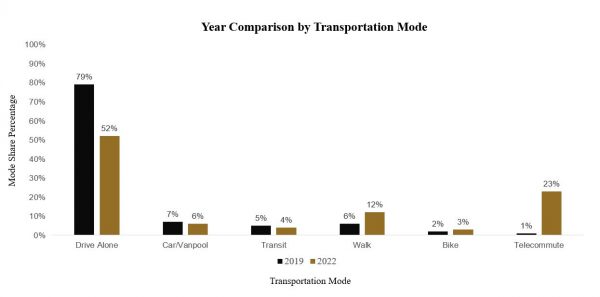 Staff have the longest commutes overall compared with other university roles but, on average, are on campus fewer days per week.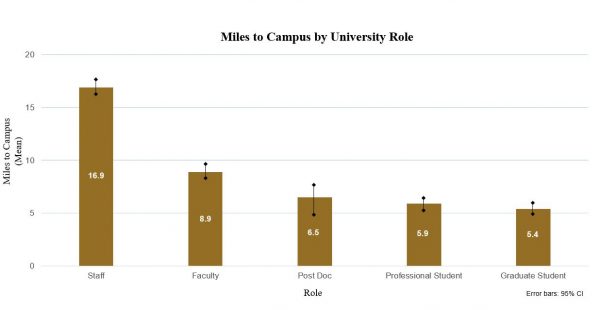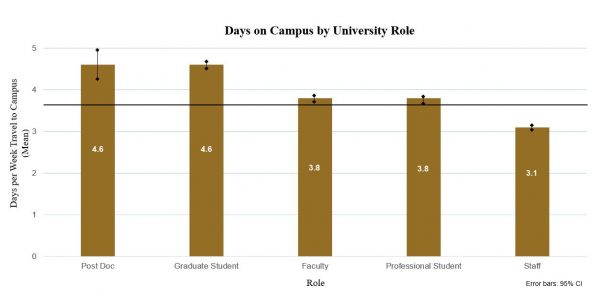 Higher paid employees overall have shorter commutes. Employees, faculty and staff in the lower two pay bands have a longer commute than the higher two pay bands. 
Next Steps   
The Transportation & Mobility Office will explore findings from this survey by conducting additional research, communicating with existing committees, including the Transportation & Mobility Standing Committee, and using the feedback received to shape outreach and develop goals.  
This year, in addition to this survey, the university engaged in a housing study and a staff census. Both requests for information are contributing to the university's efforts to enhance the student, staff and faculty experience. Results from these surveys will also inform future transportation and mobility initiatives. 
As Vanderbilt's campus transforms with the continued implementation of FutureVU, there is a strong need to understand mobility challenges and the role of transit services in achieving sustainability goals and in supporting the Vanderbilt community in an equitable and inclusive way. Learn more about MoveVU goals and current initiatives at vu.edu/movevu.