Redesigned sustainability report expands focus to include holistic environmental efforts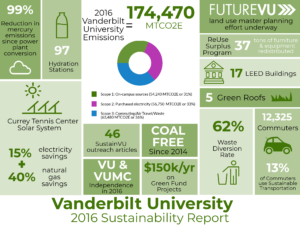 Vanderbilt displays a new emissions baseline in a redesigned version of its annual sustainability report that outlines the university's environmental impact in 2016.
The university's GHG emissions come from three evenly split sources. Natural gas for the on-campus power plant and individual buildings represents 31 percent; 33 percent is power purchased from Nashville Electric Service; and 36 percent comes from commuting, air travel, recycling and waste disposal.
"Vanderbilt remains committed to being a sustainability leader in Middle Tennessee and beyond," Chancellor Nicholas S. Zeppos said. "Setting an example for responsible environmental stewardship ties directly to our humanistic values.  Our efforts to improve our energy use have significantly reduced our environmental impact and we are actively exploring new strategies to further demonstrate sustainable and responsible energy use."
Past reports were solely limited to GHG emissions and included data from Vanderbilt University Medical Center. This year's comprehensive version provides data on a number of sustainability-related areas, such as water use, food and dining waste and the Vanderbilt Green Fund.
Developed by the Sustainability and Environmental Management Office with assistance from Digital Strategy and Development, the report also features projects designed to reduce the university's environmental impact. These include the BlueSky Vision study, launched in November 2017 and focused on potential building sites and energy efficiency, and the renewable energy study which kicked off September 2017.
To mitigate environmental impact, Vanderbilt leaders are aligning sustainability efforts with the guiding principles of FutureVU, the university's land use planning initiative. The FutureVU campus plan includes recommendations for storm water management, water conservation, energy use reductions and alternative transportation options.
"FutureVU provides a comprehensive vision for the university's footprint and inspires a spirit of careful stewardship that enhances our academic mission. The plan is a holistic and sustainable vision for the physical development of campus during the next 20 to 30 years," Vice Chancellor for Administration Eric Kopstain said.
The online sustainability report gives users the opportunity to interact with the graphs through data pop-ups. Andrea George, director of the sustainability office, led the redesign effort.
"Our team has worked to improve the user experience with this new report design and we hope it better communicates the positive impacts of Vanderbilt's sustainability programs and initiatives. We welcome feedback from the campus community regarding this updated design," George said.