Our Staff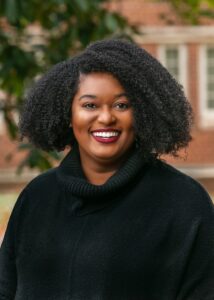 Dr. Ashley L. Brown | Director | Sarratt 335 | She, Her, Hers
Dr. Ashley L. Brown, originally from Texas, spent the last 5 years living in Atlanta, GA before recently moving to Nashville, TN. Although born in the United States, Dr. Brown is a first-generation American as both of her parents are from Jamaica. As a first-generation student, she earned her Bachelor of Public Administration from Texas State University and her Masters of Arts in College Student Personnel from Bowling Green State University. Recently, Dr. Brown finished her Doctorate of Education in Student Affairs Leadership at the University of Georgia where she studied undocumented students' sense of belonging on college campuses. Dr. Brown's profession and research interests are related to cultural competency, art-based pedagogy, social justice education, and liberation pedagogy. Outside of work and school, Dr. Brown is a proud member of Alpha Kappa Alpha Sorority, Inc. and a dog mom to a rescue dog named Lucy. Dr. Brown is a Qualified Administrator for the Intercultural Development Inventory through IDI, LLC. She is also an active member in National Association of Student Personnel Administration (NASPA) and the American College Personnel Association (ACPA).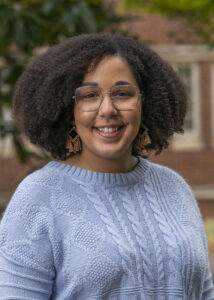 Brittany Pomilee | Assistant Director | Sarratt 335 | She, Her, Hers
Brittany Pomilee, originally from St. Louis, MO, serves as the Assistant Director in the Student Center for Social Justice and Identity (SCSJI) at Vanderbilt University. As a first-generation college student, she received her B.S. in Biology (Pre-Medicine) from Maryville University and was heavily involved in the Office of Diversity and Inclusion on campus. Brittany's undergraduate student involvement included serving as the President of the Association of Black Collegians (ABC) and a Dr. Donald M. Suggs Multicultural Scholar. Her passion for diversity, equity, and inclusion influenced her to pursue her M.Ed. in Student Affairs Leadership from the University of Missouri (MU). While at MU, Brittany served as the Graduate Assistant of Tiger Pantry & Truman's Closet within the Office of Student Engagement. She also served as the President of her graduate student association as well as a NASPA Graduate Associate. Based on her collegiate experiences, Brittany's interests include leadership development, intersectionality, and diversity peer education. She is a scholar-practitioner currently working on diversity peer education-based research and has recently co-authored a study regarding the assessment of summer bridge programs. In her free time, Brittany enjoys listening to music, dancing, and spending time with her friends and family. Anchor Down!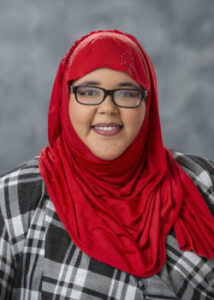 Kauthar Gaber | Program Coordinator | Sarratt 335 | She, Her, Hers
Kauthar Gaber, born and raised in Starkville, MS serves at the Program Coordinator in the Student Center for Social Justice and Identity at Vanderbilt University. Prior to her position at Vanderbilt, she has worked as an AmeriCorps for Volunteer Starkville and interned at the American University of Kuwait. She holds a Bachelors of Biochemistry and a Master of Educational Leadership – Student Affairs and Higher Education from Mississippi State University. As a openly identifying Muslimah, she is passionate about integrating interfaith practices to better support religious and spiritually diverse students. Since graduating, her interests focus on diversity/equity/inclusion work, social justice education, intersectionality, and multicultural student support. Outside of work, Kauthar enjoys spending time with family and friends, painting, and embodying all things nerdy!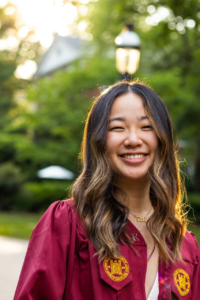 Miso Kim | Graduate Assistant | Sarratt 335 | She, Her, Hers
Miso Kim, from Apex, North Carolina, is a Graduate Assistant with the Student Center for Social Justice & Identity. She received her B.A. in Psychology at Elon University. While at Elon, she conducted multi-year undergraduate research centered around Korean and Korean-American parents and early math skills. She focuses a large majority of her time on how she can best support the Korean-American community in the mental health space, leading her to Vanderbilt to pursue her Masters in Clinical Mental Health Counseling. In her free time, Miso enjoys watching comfort shows like New Girl, going to group workout classes, and spending time with friends and family.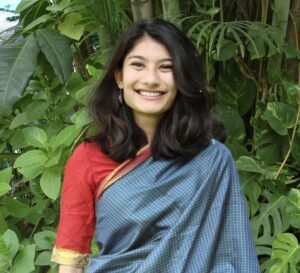 Aarushi Dutt
| Graduate Assistant | Sarratt 335 | She, Her, Hers
Aarushi Dutt, from Hyderabad, India is a Graduate Assistant for the Student Center for Social Justice and Identity. She received her bachelor's degree in Psychology and Biochemistry from SUNY Plattsburgh. After graduating, Aarushi taught ESL and Humanities at an international school in India. While working at the school, Aarushi worked closely with the cultural education exchange program between students from Africa and Asia. Her interest in intersectionality, equity, and community well-being has led her to pursue her master's in International Education Policy and Management at Vanderbilt. Aarushi is an avid hiker and just completed the Everest Base Camp trek. In her free time, she enjoys listening to classic rock and watching thrillers and romantic comedies.