Discovery Vanderbilt will catalyze new knowledge, soaring ambitions and the fearless pursuit of vital solutions to the world's greatest challenges. Discovery Vanderbilt builds upon Opportunity Vanderbilt and Destination Vanderbilt by committing major resources to dramatically increase faculty, student and staff engagement and success in pursuing bold new ideas through disciplined, rigorous inquiry.
Discovery Vanderbilt aims to achieve three specific outcomes:
Engagement: We will expand opportunities for faculty, students and staff to engage as researchers, scholars, innovators and problem-solvers. Where initiatives like Opportunity Vanderbilt and Destination Vanderbilt have recently expanded our community of world-class talent, this new initiative will increase the number of faculty and students who can pursue groundbreaking new ideas through rigorous, disciplined inquiry.
Reach: We will develop partnerships that allow us to extend the impact of our research and innovation locally, nationally and globally. This will be benchmarked by the range and type of partnerships that faculty and students are able to build in public and private sectors, as well as by a dramatic increase in multiple forms of tech transfer.
Funding: We will expand and diversify funding for research and innovation, maximizing the university's ability to secure new, larger, higher-impact awards. As so well demonstrated by our recent rise in the global Times Higher Education rankings, Vanderbilt's research plays a central role in our global impact and reputation.
In 2022–23, Discovery Vanderbilt will make targeted investments, totaling more than $50 million in the first year, across the schools and colleges to support current research efforts while positioning the university to expand and diversify research activities, innovation and entrepreneurial scholarship. Early activities will include: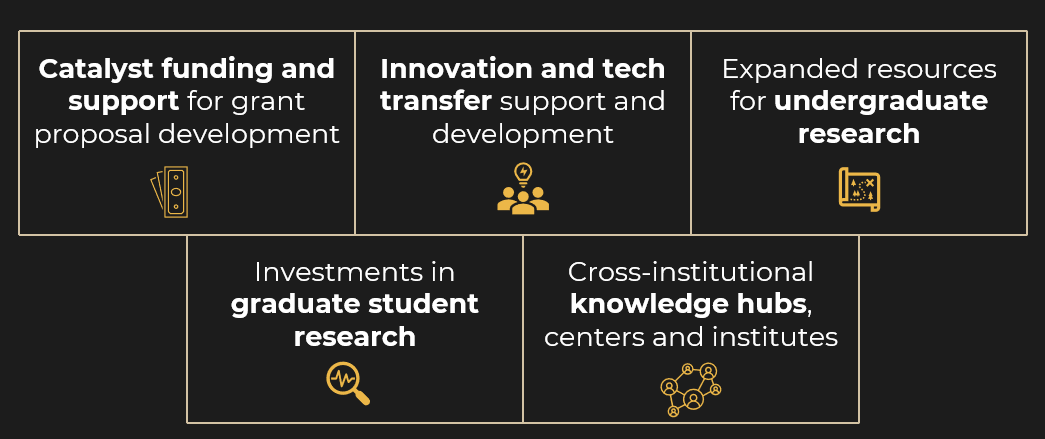 Vanderbilt's approach to scholarship and the creation of knowledge is rigorous and collaborative, and Discovery Vanderbilt will further catalyze the engagement, reach and impact of scholars' cutting-edge work across all the university's schools and colleges.
This initiative commits significant resources to dramatically increase faculty, student and staff success in pursuing bold new ideas and extending the global reach of discoveries made by researchers and innovators in all parts of the university.
News related to Discovery Vanderbilt