Padma Raghavan, Ph.D.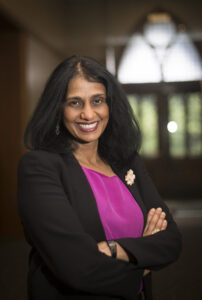 Research and Innovation at Vanderbilt Website
 Padma Raghavan is the Vice Provost for Research and Innovation, Senior Advisor to the Chancellor, and Distinguished Professor of Computer Science at Vanderbilt University. As Vice Provost for Research and Innovation, Raghavan oversees the advancement of the university's research and innovation portfolio, ranging from technology transfer and commercialization across Vanderbilt University and Vanderbilt University Medical Center, to the development of long-term strategic partnerships spanning higher education, government, and the private sector. Examples of these partnerships include Ancora Innovation, a partnership with pharmaceutical giant Deerfield Management to accelerate the development and delivery of life-changing therapeutics, and the Pathfinder project, a partnership with the U.S. Army to rapidly develop mission critical solutions. Prior to joining Vanderbilt in 2016, Raghavan served as the Associate Vice President for Research and Strategic Initiatives, the founding Director of the Institute for Computational and Data Sciences, and Distinguished Professor of Computer Science and Engineering at Penn State. 
In her faculty role, Raghavan specializes in high-performance computing (aka supercomputing), with a focus on new algorithms to achieve parallel processing at scale, enable fault-tolerant and energy-efficient computing, and gain scientific insights through computational modeling and simulation. Raghavan has received several recognitions including the National Science Foundation's CAREER award, and elevation to Fellow of the Institute of Electrical and Electronics Engineers (IEEE) and Fellow of the American Association for the Advancement of Science. She is also active in the profession, currently serving on the advisory committees of the Computing and Information Science and Engineering Directorate and the Office of International Science and Engineering at the National Science Foundation, and on the Board of Governors of UT-Battelle, which operates the Department of Energy's Oak Ridge National Laboratory. In 2022, Raghavan was appointed to a two-year term on the President's Committee on the National Medal of Science, which evaluates the nominees for the National Medal of Science award, which is the highest recognition the nation can bestow on scientists and engineers. 
Contact:
Padma Raghavan
121 Kirkland Hall
615-343-5800