Big love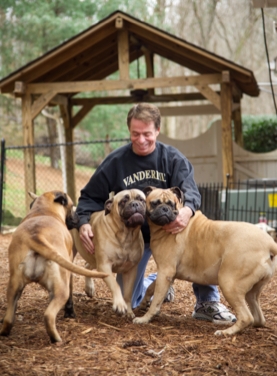 Walk into Scott Hoffman, M.D.'s office, and it's clear you are in the domain of a dog lover.
There are photographs of dogs framed and displayed on shelves, and hanging on the wall. There is other dog artwork: some drawings, a woodcarving, even a dog's image rendered in copper.
Hoffman has known the heights of the dog show world. His bullmastiff Liam won Best in Breed twice at the Westminster Kennel Club Dog Show at Madison Square Garden in New York.
But as impressive an achievement as that is, Hoffman, associate professor of Clinical Anesthesiology and medical director of VUH operating rooms, says his true passion is in rescuing dogs and finding them homes. He and his partner Gerald Greer, adjunct artist teacher of violin at the Blair School of Music and associate concertmaster of the Nashville Symphony Orchestra, have opened their Franklin home to 20 (!) dogs (most of them bullmastiffs, but also some others, including French bulldogs), and helped find homes for 50 more dogs in the past year. They even founded a rescue organization, a nonprofit 501 (c)(3) for bullmastiffs, www.bullmastiffrescuers.org.
More than a ton of canines
A household with 20 dogs—some live in the house, some in a kennel back of the house, all get to run in the yard—requires some carefully thought out living arrangements. In order to keep that many dogs fed and exercised and cleaned up after, Hoffman and Greer have a household employee, a "dog nanny," as he put it, to help. As for the food and vet bills—don't ask. In the thousands.
But none of the 20 dogs are being fostered for future adoption; they are all already home. "I chose these dogs, and part of the commitment when they came into my house is that they will be cared for," Hoffman says.
Hoffman's association with bullmastiffs, most of which weigh between 90 and 140 pounds and have heads the size of toaster ovens—came about by a confluence of planning and happenstance.
Hoffman says he had always loved dogs beginning in his boyhood in Portland, Ore., but, as all dog lovers know, some dogs are just really special. For Hoffman and Greer, one of those special dogs was Caesar, a Rottweiler. He was part of the household for years. And when he died, Hoffman says getting another Rottweiler just didn't seem right.
"We talked about getting another [Rottweiler], but we thought we would never find another one like Caesar," he says. "So we started researching other breeds and kept coming across bullmastiffs."
When Hoffman and Greer decided to take the plunge and buy a bullmastiff, the breeder sold the dog with the expectation that he would be entered in dog shows.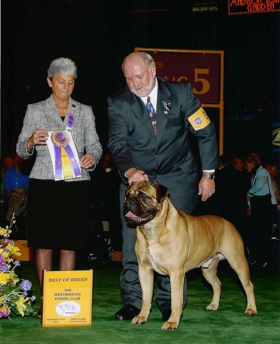 "That was our introduction into the dog show world," Hoffman says, adding ruefully, "We are now on our fourth motor coach."
The most famous rider in the motor coach to dog shows all over the U.S. was Liam. Or, more formally, "American/Canadian CH Bastions Music in the Glen, RN, CGC." Liam was born in 2002, and when he was entered in shows, "This dog started winning and just didn't stop."
It was Liam who won Best of Breed twice at Westminster, and he was also only the fifth bullmastiff in the history of the show to win a Group placement, coming in fourth in the Working Group category in 2008.
Part of the sadness of loving big dogs is that big dogs tend to have short lives. Liam died last year, but Hoffman reports that "Puppies of his continue to do well in shows all over the world. We have three of his offspring and a grandpup of his."
Living in the moment
But as proud as he is of Liam, it is with even more emotion that he talks about another bullmastiff, Darcy.
Darcy had been abandoned and mistreated, was sick and skinny and was placed  at Hoffman and Greer's house by a mastiff rescue agency to see if a recovery was possible. It was not. She lived only two more weeks.
"But those last two weeks," Hoffman says, pausing to collect his emotions before continuing: "She had good food, a warm clean bed, and a lot of love."
And he knows that two good weeks don't seem like much after a life of suffering, but he also knows this: "Dogs live in the moment—not yesterday, and they don't fret about tomorrow—now." When she died, she knew she was loved. "Her urn rests on the dresser in our bedroom," he says.
So, in addition to the dog show travels and the 20 dogs at his house, Hoffman and Greer started a nonprofit dog rescue organization for bullmastiffs, so that any dog who comes into their care will be assured of living the rest of his or her life knowing love. And even those who can't adopt a dog can drive one to a new home, or care for a dog until a permanent home can be found, or help buy a little food or pay for some vet care.
"There are a lot of animals that need help and lots of ways people can help," he says.
It's a rigorous process, requiring home visits, references and follow-ups. Bullmastiffs are sometimes used in the cruel illegal practice of dogfighting, so extra care is needed to be sure that every adoption is to a loving home.
He wants that, because he's a dog lover, and he knows what it's like to come home to wagging tails and happy barks.
"There are always three or four or five dogs to greet me when I get home," Hoffman says with a smile. "It's always a nice feeling."