So many people did so much

It was teamwork that helped Karl Boehme, Ph.D., and his family get through those chaotic first days after their Bellevue home took on three feet of water in last May's historic flood.
And it was teamwork that helped them get through the months-long rebuilding process.
Family members, friends and co-workers in the Division of Pediatric Infectious Diseases, where Boehme is a postdoctoral fellow in the lab of Terence Dermody, M.D., helped Boehme and his wife, Kathy, day in and day out for the four months that it took to restore their home to a suitable condition. They did much of the work themselves, and between replacing flooring, hanging drywall, painting and installing insulation, there was a lot of work to do.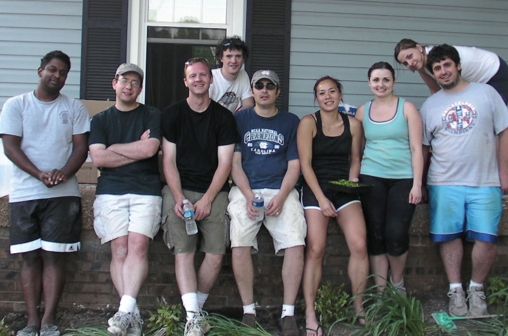 "We became like their pet project," Boehme said, referring to his colleagues. "Whenever we needed help, no matter what it was for, three or four people would be there.
"It was amazing to see everyone – family, friends, neighbors, people from work, people we didn't know – come together and help. And it lasted for months and months."
That's the thing that struck Boehme and his wife the most; that all these people kept helping, kept working and kept supporting long after the flood recovery efforts left the daily news.
"Here we are a year out, and that's the biggest thing we'll remember. So many people did so much to help us and we are incredibly appreciative of everything that everyone did." Boehme said. "It really restores your faith in humanity to see people respond like that."
The Boehmes were able to rent an apartment during the construction process, which was just fine by their children, Charlotte, now 6, and Nathan, now 4. They treated it like a long camping trip. Plus, the apartment complex had a pool.
"They were real troupers. It was a tough few months, but they really helped us get through it," Boehme said.
—Doug Campbell