Mary Teloh, overseer of History of Medicine room, retires after 38 years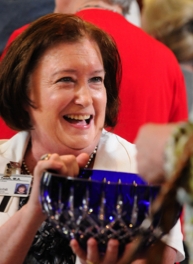 Mary Teloh, who worked for 38 years as a librarian at the Eskind Biomedical Library and its predecessor, the Medical Center Library, proudly shows off a crystal bowl she received at a retirement reception May 27.
Teloh is known for her devotion to the history of medicine, and the history of VUMC, and was the librarian in charge of the historical collection and the History of Medicine room at the library. She has helped numerous writers, researchers and journalists working on projects, and during her tenure the collection grew from fewer than 2,000 books to more than 15,000.
"I am especially proud of this room and collection, which continues to amaze and delight all who visit," she said.
photograph by Mary Donaldson