Health and Wellness
The Occupational Health Clinic—For everything from programs to monitor exposure to workplace hazards to treatment for work-related injuries, the OHC protects faculty and staff at work. For sniffles, sneezes and other minor ailments, Occupational Health provides Express Care. With a convenient location and walk-in service, Vanderbilt faculty and staff get the care they need without leaving the Vanderbilt campus.
For sniffles, sneezes and other minor ailments, Occupational Health also provides Express Care as a benefit for Vanderbilt faculty and staff, a complimentary walk-in clinic for minor injuries and illnesses.
A Health Risk Assessment—Health Plus offers a complimentary Health Risk Assessment as part of its wellness program. The Health Risk Assessment helps you understand what your health risks are and what you can do to become as healthy as possible. Do it every year to track health changes.
Group fitness classes—Health Plus offers group fitness classes for all levels and interests at the Kensington Garage location and at locations on the main campus, One Hundred Oaks and Green Hills. Among the classes are Functional Fitness, Step, Aqua Aerobics, Yoga, Zumba, Pilates, Kickboxing, and even a track class for runners…just to name a few. All classes are available at no charge to full and part time regular faculty staff.
From the farm to your work—A weekly Farmers' Market is offered each summer and fall by Health Plus, in collaboration with Monroe Carell Jr. Children's Hospital at Vanderbilt and the Nashville Farmers' Market. Stop by Medical Center Plaza (across from Langford Auditorium) to purchase fresh fruits, vegetables, locally farmed meat, cheeses and bread. And coming soon, a One Hundred Oaks Farmers' Market.
Watch, learn, eat—Looking for something healthy to prepare or maybe you just need a little inspiration? Health Plus offers two-to-three minute videos in The Healthy Kitchen Cooking Video Library for a variety of ideas for healthy menu items in no time.
Health Plus' fitness facility—Full and part time regular faculty and staff have access to a fully equipped fitness center, located atop the Kensington Garage, at the corner of 25th Avenue South and Kensington Avenue. The facility includes cardiovascular equipment, weight equipment, group fitness classes, showers, help from fitness professionals and much more.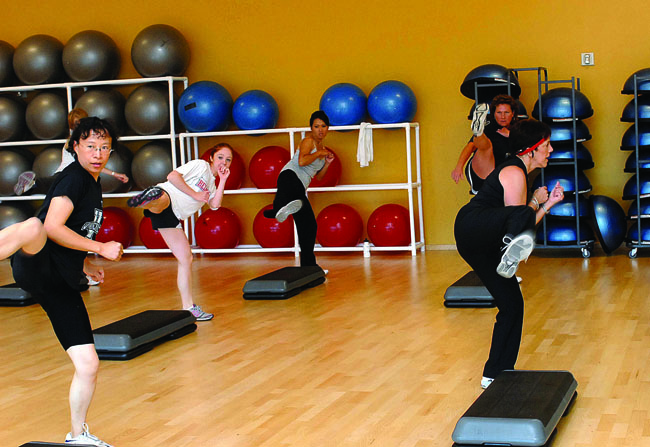 Discount on Dayani membership—The Kim Dayani Center is a medically-based fitness center on the Vanderbilt campus, complete with exercise facilities, classes, a swimming pool and fitness classes. It is the first Medical Fitness Association-certified center in Tennessee. Individual, couple and family memberships are all discounted for Vanderbilt people.
Student Recreation membership—Vanderbilt employees are eligible to join the Student Recreation Center, and have access to its exercise facilities and pool.
Vanderbilt Orthopaedics Institute membership—Vanderbilt employees are eligible to join the Vanderbilt Orthopaedics Institute's fitness center, located in the South Tower of Medical Center East. The facility has exercise equipment, classes, and specializes in helping people with knee, back, shoulder or ankle pain.
A Portal to access your health and wellness information—Faculty/Staff Health & Wellness has a Health and Wellness Information Portal where you can log in and see what preventive exams are recommended for you based on your age and gender. You can also check your Go for the Gold status; view your measurements for height, weight, BMI and blood pressure done by Health Plus as well as your participation history in Health Plus activities; check compliance and print immunization records with Occupational Health; complete a confidential mental health screening; find back-up care for adults and children; or view your account status, if you have a child in one of Vanderbilt's Child Care Centers.
Flee from flu for free—The Occupational Health Clinic offers flu shots to all faculty and staff at no charge each fall. They also offer vaccines for other communicable diseases based on occupational risk as well as the OHC Comes to You program, a service that brings the service to you on or off campus, day shift nights or weekends.
A holiday weight maintenance challenge—Health Plus challenges all faculty and staff each fall to weigh-in before Thanksgiving and again after the New Year. If you maintain your weight within 2 pounds, you will be entered into a drawing for great prizes to be given away. Everyone receives tips for succeeding and recipes.
A rewards program for lap swimmers—The Health Plus Lap It Up Club will reward you for your laps, help you increase the distance you swim, and help you reach your personal goals. All you have to do is record the number of laps you swim each time you visit any pool and you can win great prizes such as swim caps, duffle bags, goggles and more. And remember, there are two pools on campus, at the Dayani Center and at the Student Recreation Center—both of which offer memberships for Vanderbilt staff and faculty.
Learn to swim—The Vanderbilt Swim School has been teaching children and adults to swim for more than 40 years, so if your kids need to learn to swim, or you've grown up without learning how, there's a place to get the skills to have fun in the water. Private lessons are available, too. 322-7946.
Start!—The Start! Physical Activity Program rewards faculty and staff with great prizes for achieving quarterly challenges. Log your activity on the online tracker and enjoy motivation emails, walking trails and special events. There is even a walking club, Walking Wednesdays, that meets for six weeks each spring and fall.
Free anonymous online mental health screening—The Mental Health Self-Assessment, offered by Work/Life Connections-EAP is divided into sections that ask participants about either depression, post-traumatic stress, anxiety, bipolar disorder and/or alcohol abuse. If the results suggest significant potential mental health symptoms, the program will direct you to additional resources. 936-1327.
Weight Watchers at Work Partial Reimbursement—Health Plus offers full-time staff and faculty a Vanderbilt Weight Watchers at Work Credit of $25 each time you register, pay for, and participate in a 10-week Vanderbilt Weight Watchers at Work Program.
Weight management workshop for adults—This program of the Dayani Center, in conjunction with Health Plus, offers a holistic approach to weight loss: nutrition, physical activity, empowerment, motivation and well-being. Sounds almost like life management.
QuitRx for smoking cessation—The Occupational Health Clinic QuitRx Program offers counseling and treatment services, including medication prescriptions, when recommended. OHC: 936-0955.
Smoking cessation and prevention workshops—The Dayani Center's Smoking Cessation and Prevention Workshops are offered in individual or group formats, and meet for eight weeks. Individual sessions can even be scheduled for flexible times. 322-4751.
Wellness Program for Nurses—The Work/Life Connections-EAP Nurse Wellness Program provides psychological support to nurses. It includes counseling, workplace outreach, and promoting wellness and is available to registered nurses, advanced practice nurses, graduate nurses, licensed practical nurses and their spouses or domestic partners.
Faculty and Physician Wellness Program—The Work/Life Connections-EAP Faculty and Physician Wellness Program provides psychological support to faculty of all 10 University Schools as well as house staff, spouses and domestic partners.
Self-conducted workstation ergonomics evaluation—Everybody should be able to work in comfort and safety, and the Occupational Health Clinic's Ergonomics Program is devoted to helping. You can conduct your own office ergonomics workstation evaluation online, print it and share it with your supervisor.
The Go for the Gold program—Vanderbilt's award-winning Go for the Gold program is a comprehensive health promotion program designed to help faculty and staff and their families lead healthier and more productive lives by identifying health risks and taking action to reduce those risks. A wellness credit of up to $240 per year is available to faculty and staff paying for Vanderbilt Health Plan benefits.
Online workouts—Can't make it to an exercise class? Choose from a variety of Health Plus online workouts that are great ways to boost physical activity. Do them in your office, at your desk, at home or when traveling.
Wellness podcasts—Listen to Health and Wellness Wellcast interviews, tips and tidbits on a variety of health and wellness topics ranging from grilling safety to crock pot cooking to relaxation techniques. Listen from your MP3 Player or your computer.
Know Your Numbers—The Know Your Numbers program measures blood pressure, weight and body mass index. These numbers can be used on your yearly Health Risk Assessment and compared throughout the year for changes. The Know Your Numbers events are held at convenient locations on and off the main campus monthly and by appointment in departments.
Handle your anger—and more!—The Work/Life Connections-EAP Career Ladder Training Series is for anyone wanting to sharpen customer service skills and is great for front line staff. These free classes include such topics as Handling Anger, Resolving Conflict and Difficult Conversations.
A Walk-in Clinic for Minor Illnesses—Faculty/Staff Express Care is operated by the Occupational Health Clinic and provides care for minor illnesses at no charge to faculty and staff.
Meet your wellness coach—Health Plus coaches work with people as they identify areas of their health and well-being they want to improve and support them as they set goals around those identified areas and begin to take action to achieve them.
My Health at Vandy—Those who are patients as well as employees can check lab values, send messages to their health care provider, request prescription refills, schedule appointments, and do other things, all in a secure web portal.