An eight-feet-high foundation

She would get the remodel she always wanted. That's the positive spin Sandra Davis-Carter, program coordinator for the Human Simulation Center, tried to put on things following last year's flood, which left her house nearly underwater.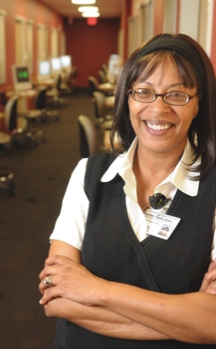 She now has proof of the power of positive thinking. In the last week of December 2010, she and her husband and three dogs moved into their dream home, complete with her favorite feature – a jet tub.
They salvaged as much of their soggy possessions as they could, and then moved in with Davis-Carter's 75-year-old mother for the eight months it took to demolish and rebuild. Due to new flood plain building codes, the foundation is now 8 feet high, with 16 steps to the front door.
"I'm blessed to have family and friends, a loving husband, a beautiful daughter and a new grandson Bradley, who is now walking and loves the new house," Davis-Carter said. "It saddens me though for those who lost everything and were not as fortunate as we to be able to rebuild and return home. May God bless those who are still going through the process."
—Leslie Hill