Anne Karpay, Ph.D.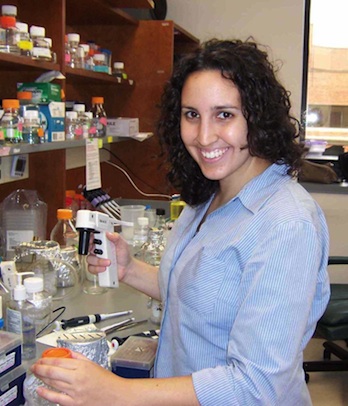 Anne Karpay was born in Tampa, Florida, in 1981, and attended school in Land O'Lakes. Even as a young girl, she was an accomplished competitor. She played volleyball at Pineview Middle School, ran track and captained the swim team for Land O'Lakes High School and swam for both the University Swim Association and the Pasco Suncoast Swim Team where she was also team captain. Anne placed 7th in breaststroke in the Florida State competition while attending LOL High School and set many school swim records that still stand. She competed numerous times at the Florida Junior Olympics, was a Florida Academic Athlete and also represented Pasco County in the statewide Dreamers and Doers competition. Anne was a winner of the Florida Young Scientist Award, spending a summer internship studying at Florida State University in Tallahassee. She found time to play the flute in the school band, but her love was playing the piano. Anne graduated from Land O'Lakes High School as Class Valedictorian in 1999 and attended Vanderbilt University, majoring in both biology and history and graduating with honors. She was a Vucept board member and president of the Vanderbilt Hillel. Anne entered the Vanderbilt University graduate school PhD program in the department of Biochemistry, where her studies focused on membrane protein structural biology under the simultaneous direction of Profs. Chuck Sanders, Tina Iverson and Richard Breyer (one advisor was not enough!). Anne was a true devotee of the scientific method. Not only did she pursue her own projects with talent and voracious zest, she also delighted in the big picture of scientific discovery, following and celebrating the research accomplishments of others. Anne was also known and loved in the Center for Structural Biology for being a passionate and generous friend. She continued to carry out research even through early December of 2007 and was posthumously awarded her Ph.D. degree in Biochemistry in 2009.
All who knew Anne admired her competitive spirit and winning personality. From academics (grades, speech contests, science fairs, scientific presentations, research and scientific presentations made both nationally and internationally) to sports (water skiing, white water rafting, swimming, running, triathlons, bicycling), Anne knew no limits; she knew only how to succeed and excel. Anne was very strongly self motivated and lived her too short life to the fullest. One of Anne's proudest achievements was running and completing the 26.2 mile Music City Marathon while she had cancer. She also traveled widely, studying at the University of London in the United Kingdom and touring Europe; Anne had her Bat Mitzvah on the mountaintop fortress of Masada in Israel. Anne loved activities such as camping, hiking on the Appalachian Trail in the Smokies and hiking to Angels Landing in Zion National Park; she was equally at home at the theatre, ballroom dancing, attending the symphony and dining with Nobel Laureates from her field in science. Anne fought a heroic 4-year battle against breast cancer before passing away in January 2008. The Karpay Award in Structural Biology was established in 2010 to honor her memory.
---
Give to the Karpay Award in Structural Biology Endowment Fund.

To give via credit card, click the 'Give Now' button.
For more ways to give, please visit the Karpay Giving page.