CSB Cryo-EM Directors receive Research Excellence Award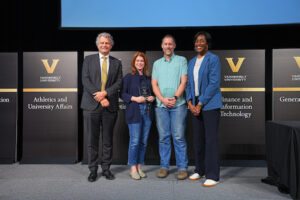 Melissa Chambers and Scott Collier were recently recognized with the Research Excellence Award at the 2023 Fall Staff Assembly.
The Cryo-EM co-directors were honored for their research support, which has made a significant impact on the process of discovery and the pursuit of knowledge at Vanderbilt. They created a road map for the future of Cryo-EM at Vanderbilt, provided scientific expertise to acquire the necessary Cryo-EM instruments and did the administrative work of establishing a business model, equipment rates and billing system for this shared resource.
Read more about this special recognition.