Helping Others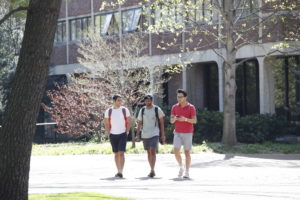 A student's life can be stressful. During your time at Vanderbilt, you may have a friend or peer who is in distress and could benefit from wellness support and professional resources. It's important to remember that you are not alone. We have numerous resources available to support students and we encourage you to reach out to Student Care Coordination for assistance.
Early detection and intervention is important. You may notice changes in a student's academic performance, physical appearance, behavior, or an event that could be triggering.
Don't be afraid to approach the student to express care and offer support. Be calm, compassionate, and willing to listen.
Refer the student to Student Care Coordination to get connected to available resources and professional assistance. You may even offer to help the student complete the initial assessment, help them make the initial phone call, or walk with the student to the SCC during their office hours.
Faculty, staff, students, other community members, and family members can also report their concerns pertaining to the personal, physical, or emotional wellbeing of a student using the Student of Concern Form.
Read more about how you can help your fellow Commodores here.