Maria Magdalena Campos-Pons
Professor of Fine Arts
Cornelius Vanderbilt Endowed Chair of Fine Arts
Drawing, Performance, Installation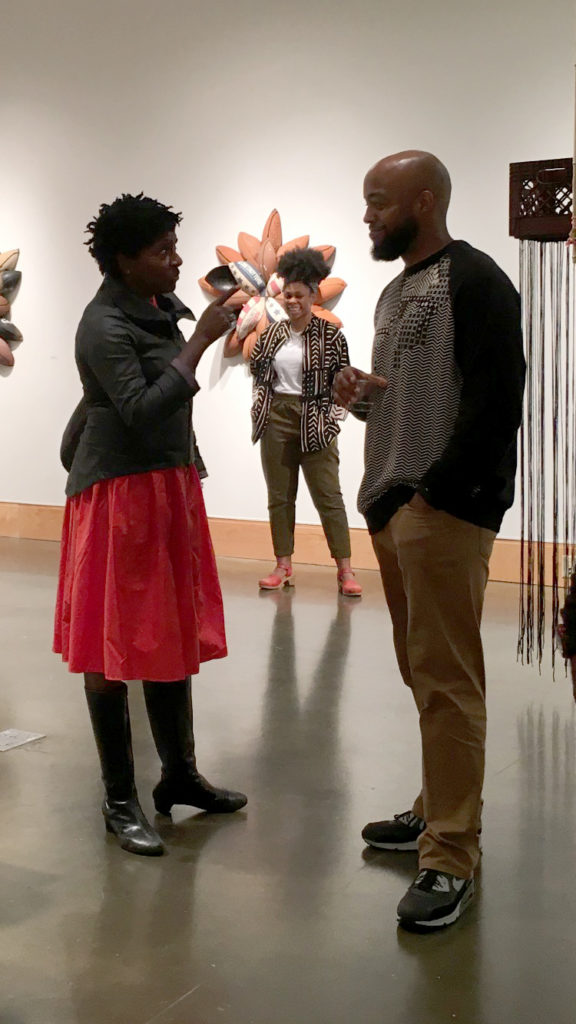 Department of Art
E. Broson Ingram Studio Arts Center
Office 324
email: maria.m.campos-pons@vanderbilt.edu
"María Magdalena Campos-Pons was born in in 1959 in the province of Matanzas, in the town of La Vega, Cuba. She grew up on a sugar plantation in a family with Nigerian, Hispanic and Chinese roots. Her Nigerian ancestors were brought to Cuba as slaves in the 19th century and passed on traditions, rituals, and beliefs. Her polyglot heritage profoundly influences Campos-Pons' artistic practice, which combines diverse media including photography, performance, painting, sculpture, film, and video. Her work is autobiographical, investigating themes of history, memory, gender and religion and how they inform identity. Through deeply poetic and haunting imagery, Campos-Pons evokes stories of the Trans-Atlantic slave trade, indigo, and sugar plantations, Catholic and Santeria religious practices, and revolutionary uprisings.
In the late 1980s, Campos-Pons taught at the prestigious Instituto Superior de Arte in Havana and gained an international reputation as an exponent of the New Cuban Art movement that arose in opposition to Communist repression on the island. In 1991, she emigrated to Boston, where she continues to live and work. She has had solo exhibitions at the Museum of Modern Art in New York, the Indianapolis Museum of Art, the Peabody Essex Museum, and the National Gallery of Canada, among other distinguished institutions.  She has presented over 30 solo performances commissioned by institutions including the Guggenheim and The Smithsonian's National Portrait Gallery. She has participated in the Venice Biennale, the Dakar Biennale, Johannesburg Biennial, Documenta 14, the Guangzhou Triennial and is included in Pacific Standard Time: LA/LA and Prospect.4 Triennial.  In October 2017 she will receive the endowed Cornelius Vanderbilt Chair at Vanderbilt University in Nashville, Tennessee.
Campos-Pons' works are in over 30 museum collections including the Smithsonian Institution, The Whitney, the Art Institute of Chicago, the National Gallery of Canada, the Victoria and Albert Museum, the Museum of Modern Art, New York, The Museum of Fine Arts, Boston, the Perez Art Museum, Miami and the Fogg Art Museum."
– Gallery Wendi Norris
San Francisco, CA
For more information:
* Brooklyn Museum
* Gallery Wendi Norris
News:
* Spotlight on Matanzas: María Magdalena Campos-Pons and "Ríos Intermitentes." Cuban Art News, May 1, 2019.
* Campos-Pons strengthens Vanderbilt-Cuban cultural ties through art exhibition, Ann Marie Deer Owens, Vanderbilt News, April 22, 2019.
* Art, Democracy and Justice Series with Campos-Pons to Launch, Ann Marie Deer Owens, Vanderbilt News, November 10, 2018.
* Gibbes Museum's Society 1858 announces finalists for southern art award, Katie Lyons, Charleston City Paper, June 2018.
* Notes on Sugar/Like the Lonely Traveler, a two-part exhibition curated by Neon Queen Collective, January 25 – May 5, 2018 and September 21 – December 8, 2018.
* "Through the Fire: International Acclaimed Artist Puts Down Roots in  Nashville", Sara Lee Burd, Nashville Arts Magazine, February 2018.
* "María Magdalena Campos-Pons at Gallery Wendi Norris, San Francisco," The Editors of ARTNews, Art News, January 12, 2018.
* "Must-See Art Guide: San Francisco," Tatiana Berg, Art Net News, January 11, 2018.