Josanda Addo – Delineation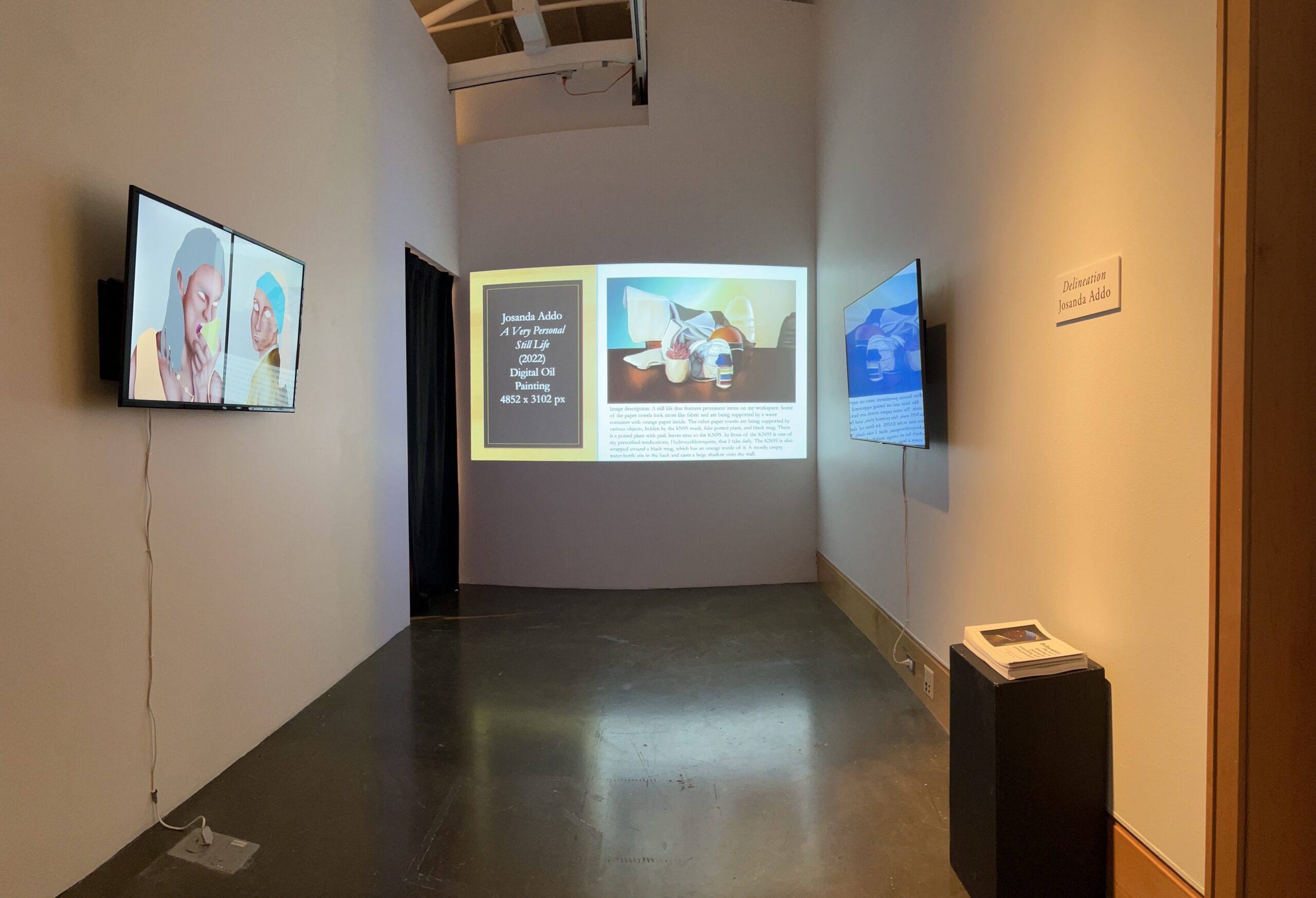 Statement
In my exhibition Delineation, I am investigating the intersectionality between race, gender, ableism, and entertainment through my own experiences as a chronically-ill black woman. This semi-autobiographical series depicts the type of art I would have wanted to see while I was growing up.
In researching western European art history, I did not identify any art pieces that depicted authentic black women. My digital illustrations mimic the oil painting aesthetics of the Renaissance, such as chiaroscuro. This body of work is a response to not seeing enough accurate depictions of black women in a positive light.
I am someone who values representation, and inclusivity is my biggest motivator when it comes to creativity. Seeing proper representation gives me a sense of pride. I want to see more art with black women displaying a wide range of emotions.
I am a digital artist because it is an accessible art medium for someone like me. A lot of tangible art mediums could potentially exacerbate my health problems, and digital art allows me to avoid these possibilities. The timelapses give an insight into how I approach my creativity.
I want the audience's eyes to travel when viewing my art as an immersive journey. I value the artistic process just as much as the finished product. Every move I make is essential, and I am embracing these moves rather than hiding them.
Biography
Josanda Addo is a Nashville-based digital artist. Her art explores the intersectionality between race, gender, history, ableism, and entertainment through her own experiences. In today's climate, there is little representation for chronically ill, dark-skinned black women, who are fundamental characteristics of who she is. Her main motivation for producing art is to create a body of work that her younger self would have wanted to see while growing up.
Addo began taking drawing seriously when she was 12, after watching Youtube tutorials on how to draw cartoons. She replicated what she saw in the videos using pencils, pens, and markers. These drawings helped make the transition to digital drawing at 18 a lot smoother and more accessible. The techniques used in both art mediums are similar, like how to hold and apply pressure to the drawing utensil being used. Since Vanderbilt does not currently offer any classes where they formally teach digital illustration, she has had to self-teach in order to overcome the various learning curves that digital art has. Overall, Addo has over 60 completed digital art pieces created over a 3 year period.
Clip Studio Paint (CSP) is the digital art software that Addo uses. The program allows her to make adjustments to size and color conveniently. Physical art mediums such as oils, pastels, and charcoal are not convenient to use because long-term use of these materials could potentially exacerbate her health problems. CSP has brushes that mimic the textures of those physical art mediums, which are instrumental to achieving the current artstyle that she has. Time-lapses are recorded with just one click on the program, and little to no video editing is needed with them.
Notable classes taken at Vanderbilt were Drawing and Composition, Painting, British History and Art, History of Western Art: Ancient to Medieval, and Sources of Contemporary Art. Influential art movements that had a major impact on her artistic style include the Renaissance, Modernism, and Post-Impressionism. Johannes Vermeer, Caravaggio, Stuart Hall, Lynette Yiadom-Boakye, Frida Kahlo, and Vincent Van Gogh are some of the artists who inspired her to produce bodies of work.
Addo has some experience making graphic design posters for campus organizations and has volunteered to draw cards for vulnerable populations in Nashville. She has also done commissions for a small business and taught people the basics of CSP with positive feedback.
---
Exhibition