Space 204 welcomes "To Whom It May Concern" exhibition by Vitus Shell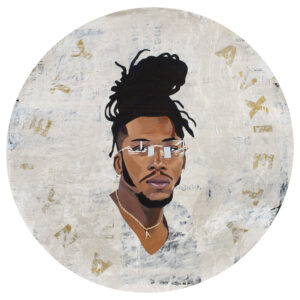 The Vanderbilt University Department of Art is proud to welcome a new exhibition, To Whom It May Concern, by mixed media collage artist, Vitus Shell to Space 204 in October 2023.
To Whom It May Concern presents the recent works of Louisiana artist, Vitus Shell focusing on the black experience while giving agency to the community through powerful imagery deconstructing, sampling, and remixing identity, civil rights, and contemporary black culture.
Shell strives to bridge the gap between the older and younger generations by exploring and uncovering factors that contributed to the unfortunate relationship breakdown between the two.
Visually combining in mixed media works, Shell experiments with portraiture, acrylic paint, oversized photocopies of early 20th century vintage advertisements and foam cutting techniques.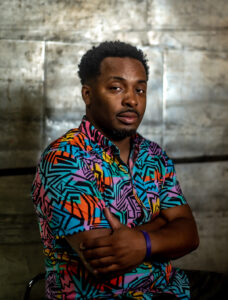 About the artist:
Vitus Shell is a mixed-media collage painter born in Monroe, LA, where he lives and works. His work is geared toward the black experience, giving agency to people from this community through powerful images deconstructing, sampling, and remixing identity, civil rights, and contemporary black culture. He received a BFA from Memphis College of Art in Tennessee, 2000 and an MFA from University of Mississippi, 2008. 
Vitus Shell has been in residence at the Crosstown Arts, Anderson Ranch, Bemis Center for the Contemporary Arts, Mass MoCA, Joan Mitchell Center, New Orleans, Skowhegan School of Art, Tougaloo Art Colony, and Masur Museum of Art, Monroe, LA. To date, he has accumulated an impressive list of achievements, some of which include: participating in exhibits at universities, museums, and private galleries across the country including Soo Visual Arts Center, Minneapolis, MN, Thelma Sadoff Center of the Arts, Fond da Lac, WI, Tone Memphis, Art Center Sarasota, FL, Hilliard Art Museum, McKenna Museum of African American Art, New Orleans, LA, Gallery Aferro, Newark, NJ, New Orleans Museum of Art, University of Louisiana at Monroe, LA, Philander Smith College, Little Rock, AR, Cue Art Foundation, NYC, Stephen F. Austin University, Nacogdoches, TX, University of Minnesota at Minneapolis, Tennessee Art Commission Gallery, Nashville, TN, Miami University, Oxford, OH ; painted murals for the National Civil Rights Museum's NBA Pioneers exhibit, Indianola City Pool in Indianola, MS, Union Parish Elementary School in Farmerville, LA, the City of Coldwater, MS, the city of Senatobia, MS; and being commissioned to do public art by the Memphis UrbanArt Commission. Shell has received numerous grants including the Joan Mitchell MFA Award and Camille Hanks-Cosby Scholarship and was named Louisianan Artist of the Year by Louisiana Life magazine for 2021. As of 2020, Vitus Shell is currently a Visiting Assistant Professor at Louisiana Tech University. 
Learn more about Vitus Shell through his website: http://theshellofvitus.com/index.html
To Whom It May Concern will open on Thursday, October 12, 2024 with a reception from 3pm to 5pm in Space 204 the contemporary gallery located on the 2nd floor of the E. Bronson Ingram Studio Arts Center (Vanderbilt University). For more information, please contact the Vanderbilt University Department of Art at artdept@vanderbilt.edu.