Announcement: 2023 Hamblet Award and Merit Award Recipients
The Department of Art at Vanderbilt University is proud to annouce the recipients of the 2022 the Margaret Stonewall Wooldridge Hamblet Award and Merit Award.
Every spring, the senior art majors finish their senior year experience installing their thesis exhibitions in Space 204, the contemporary art gallery located in the E. Bronson Ingram Studio Arts Center, the home of the Vanderbilt University Department of Art.
The students who mount their exhibitons are given the opportunity to compete for two grants made possible by the Margaret Stonewall Woodridge Hamblet Endowment. This competition is a three part process – a written proposal, an exhibition of works, and interviews with a panel of jurors.
---
The 2023 Margaret Stonewall Wooldridge Hamblet Award Recipient

Adam Alwan
Queer Bodies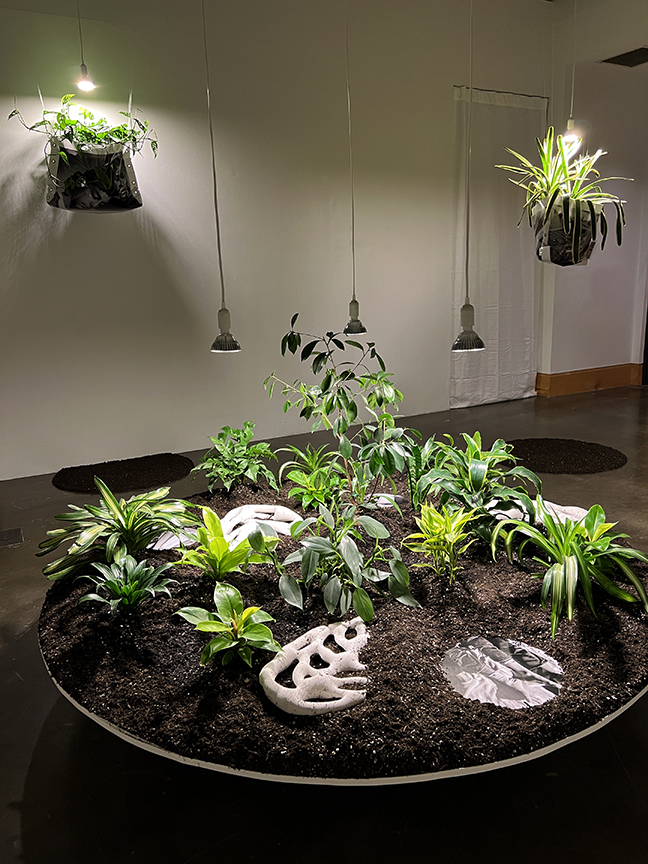 Adam Alwan is a multidisciplinary artist from Glenview, Illinois.
Alwan's work sparks conversations surrounding the ecological and queer humanitarian crisis through photography, nature, and other mediums. His art is a testament to his passion for social and environmental justice, reflecting his deep concern for the world and the people who inhabit it. His interdisciplinary practices create a sense of vitality and attentiveness that speaks to our innate desire for growth and renewal. With a keen eye for detail and an acute sensitivity to the natural world, Alwan's work reveals the interconnectedness of all things, prompting us to reflect on our relationships.
His recent work at Vanderbilt University includes group exhibitions, including but not limited to Out Of Ideas at Space 204 in Nashville, TN (2022) and Studio Life at E. Bronson Ingram Studio Arts Center in Nashville, TN (2021-22). Out of Ideas is the exhibition for senior art majors at Vanderbilt University; his work Queer Bodies is the culmination of his work during his senior year of college.
Alwan's describes his exhibition:
"To plant a garden is to believe in tomorrow" (Audrey Hepburn), and to care for one is to nourish hope for the future of humanity.
Inspired by my time with my grandmother in our garden, I use mediums from childhood as vehicles to address queerness as an adult. Using a multidisciplinary approach that includes nature, photography, and sculpture, my work engages the audience in the ecological and queer humanitarian crisis.
In my work, the photograph becomes the home, the site, and the root of growth. My photography captures vulnerable moments in the daily life of queer identities and relationships. By incorporating these photographs with living houseplants, seeds, and soil, I create a sense of vitality and attentiveness that speaks to our innate desire for growth and renewal. Watering these plants is simultaneously an act of caring for queer people, thus amplifying the profound issues facing the queer community.
---
The 2022 Margaret Stonewall Wooldridge Hamblet Merit Award
Avery Bradley
Do you have any scrap metal I could use?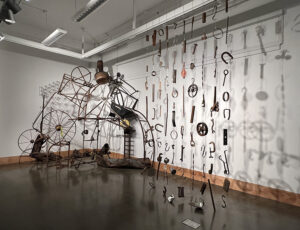 Avery Bradley was born in Houston, TX before moving to Atlanta, GA where she grew up. Since a young age she has retained both an interest in 3D art, seen in fascinations with origami and legos, and an interest in antique materials, fostered by her dad's love for flea markets. In high school, Avery participated in the International Baccalaureate Diploma Program, where she studied visual arts formally for the first time. In college she continued her found passion for sculpture and mixed media art by minoring in fine art and ultimately deciding to pursue the major in studio art at Vanderbilt University.
Bradley writes about her exhibition in her statement:
Over the past months, I traveled around rural Middle Tennessee and asked one important question: Do you have any scrap metal I could use?

The answer was clearly a yes.
My senior exhibition is an exploration of how these materials – old, rusted, and discarded – can become something monumental. I became interested in how our relationship to these scraps, once bound by gravity, changed as they were suspended above our heads.
---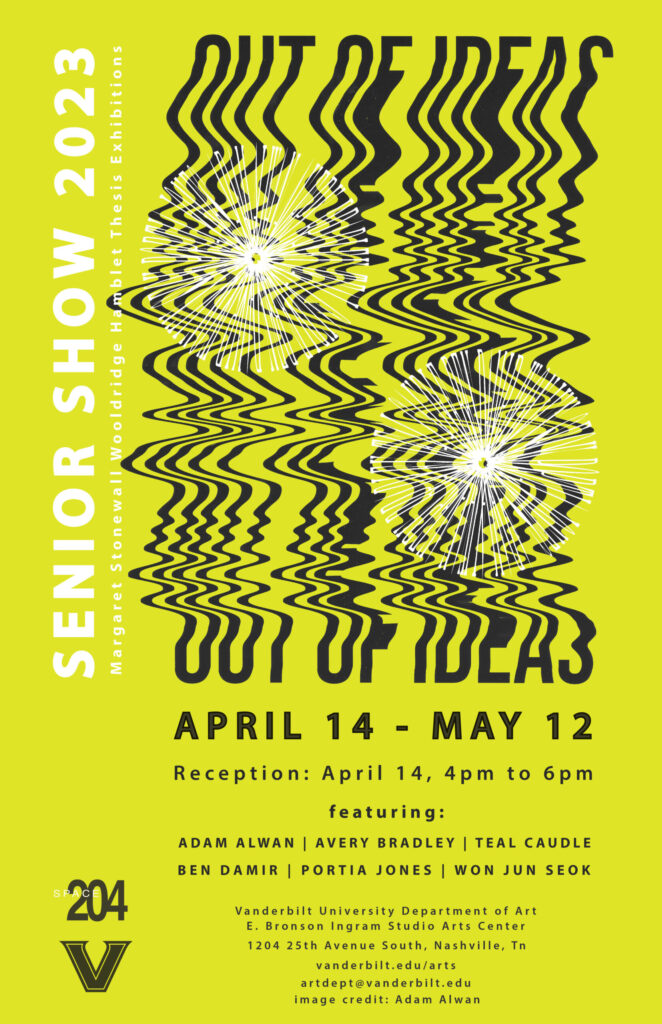 The doors between the gallery spaces of Space 204 will slide open on Friday, April 14, to showcase the hard work of Vanderbilt University's graduating studio art majors and their Margaret Stonewall Wooldridge Hamblet Senior Thesis exhibitions collectively showing under the title OUT OF IDEAS.
The exhibiting student artists are Portia Jones, Ben Damir, Teal Caudle, Avery Bradley, Adam Alwan, and Won Jun Seok.
The 2023 Senior Shows will be on display to the public from Friday, April 14 until Friday, May 12, in Space 204, the contemporary exhibition space in the E. Bronson Ingram Studio Arts Center.
Gallery hours are Mondays thru Fridays, 10am to 4pm.
---
---
About the Hamblet Award
Established in 1984, the Margaret Stonewall Wooldridge Hamblet Award has changed the lives of many of the recipients as well as helped to build the studio art program at Vanderbilt. The gift allows a graduating senior, who is serious about pursuing art, to travel and have time to create. In 1984, this was a surprising gift to a department without an art major although many students did thoughtful and interesting work over the years. Receiving the Hamblet Award gave most of the students the confidence and the time to build a body of work, to pursue graduate degrees, or to develop their own art studios.
In 2005, with new facilities, additional faculty and support from the administration, Vanderbilt began to offer a Bachelor of Arts degree in studio art. The Margaret Stonewall Wooldridge Hamblet Award became an important element in the development of our art major. The competition and the accompanying art exhibition have created a capstone experience for our seniors serving as a natural extension of a senior thesis. The gift also enriches the senior major experience throughout the entire senior year, with guest artist visits as well as an art-viewing trip to a city with a vibrant art community for all the majors.
A year and a half after graduation, the winner of the Hamblet competition returns to campus to mount a solo exhibition of the work he or she has completed during the award year. Happily, in 2002, the department was able to add a merit award as well. The Department of Art is grateful to the Hamblet family for providing such a remarkable opportunity for our students.