ARTS Digital Animation students collaborate with Vanderbilt Percussion Group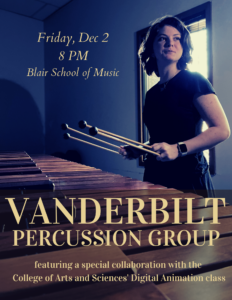 Vanderbilt Art Lecturer Jose Luis Benavides and his digital animation class (a new course for our department) have been collaborating with the Blair School of Music, Professor Hye Jung and the Vanderbilt Percussion Group (VPG) all semester preparing for joint performance event.
Benavides and his students worked as a group to conceive an animation work that will be the projected component for the upcoming VPG event directed by Professor Jung (Blair School of Music).
The event is scheduled for Friday, December 2, 2022 at 8PM in Turner Hall at the Blair School of Music. This event is free and open to the public.