Student Gallery starts 2022 -2023 academic year with "sunprints"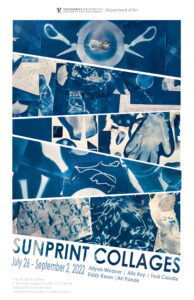 The Student Gallery, located on the first floor of the E. Bronson Ingram Studio Arts Center (Vanderbilt University), opens the 2022-2023 academic year with an exhibition from the Summer II ARTS1101 – Introduction to Studio class titled Sunprint Collages. The exhibition features student artists Aliyah Weaver, Alix Roy, Teal Caudle, Eddy Kwon, and Ari Pande. The course is taught by Lecturer in Art, Patrick DeGuira.
The students learned about the cyanotype process as part of their course work. Gathering materials that were readily accessible and utilizing their parts of their bodies, the student artists used the sun as their light source to cast shadows on photosensitive prepared paper. After the exposures were completed the finished prints were then used as collage materials for their finished 30in x 22in works in the gallery.
To see the exhibition photos visit The Student Gallery page at vanderbilt.edu/arts/student-gallery.
"Cyanotype is a photographic printing process that produces a cyan-blue print. Engineers used the process well into the 20th century as a simple and low-cost process to produce copies of drawings, referred to as blueprints. The process uses two chemicals: ferric ammonium citrate and potassium ferricyanide." – https://en.wikipedia.org/wiki/Cyanotype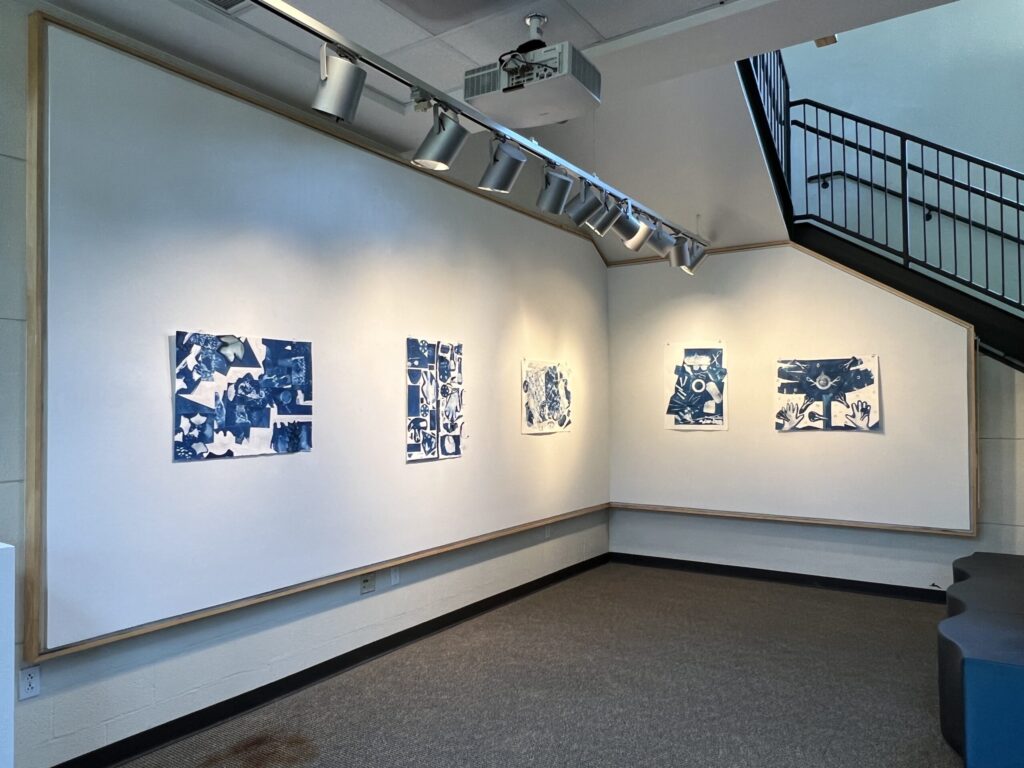 Sunprint Collages is on view in The Student Gallery from July 26 – September 2, 2022. The gallery is free and open to the public. Gallery hours are 9am to 4pm Mondays thru Fridays.
For more information contact The Vanderbilt University Department of Art via email at artdept@vanderbilt.edu or visit vanderbilt.edu/arts/student-gallery