Space 204 enter virtual world with Dawit L. Petros exhibition
On September 17, 2020, Space 204 launched its first virtual exhibition for the 2020-2021 exhibition year with a show of works from Studio VU Lecturer, Dawit L. Petros, and curated by Professor Alejandro T. Acierto.
A recurrence of forms traces the legacies of colonialism within African diasporic populations as they linger across multiple spatial, temporal, and formal boundaries. Addressing the complexities of mobility and displacement, Petros's work is rooted in research and travels across East Africa, southern Europe, and North America between 2012-2019. Comprised of a series of images, sound, and screenprints, this exhibition invites viewers to engage in the living processes and reiterations of colonialism that continually shape the contemporary moment. This exhibition will be viewable online from September 17 to December 17, 2020.  Link to the exhibition below.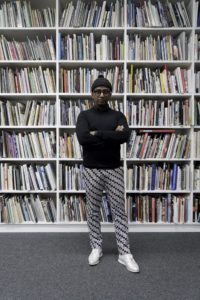 Dawit L. Petros is an Eritrean-Canadian visual artist, researcher and educator. He completedthe Whitney Independent Study Program, NYC; an MFA (Visual Art) as a Fulbright Fellow atTufts University/School of the Museum of Fine Arts, Boston; a BFA (Photography) at ConcordiaUniversity, Montreal, QC and a BA (History) at The University of Saskatchewan, Saskatoon, SK.Petros is a co-founderwith Heba Y. Amin of the Black Athena Collective. Recent exhibitionvenues include Addis Foto Fest, Addis Ababa, Ethiopia; Bamako Biennale, Bamako, Mali; DePont Museum, Tilburg, The Netherlands; Fowler Museum at UCLA, Los Angeles, CA; HavanaBiennial inMatanzas, Cuba; Museum of Contemporary Art, Chicago, IL; Oslo Kunstforening,Oslo, Norway
; Prospect.4, New Orleans, LO; and Studio Museum in Harlem, NYC, NY. A soloexhibition travels from The Power Plant Contemporary Art Gallery in Toronto, ON and opensatUniversity Buffalo Art Galleries on September 26th.Dawit L. Petros is an Assistant Professor inthe Department of Photography at The School of the Art Institute of Chicago. He is representedby Tiwani Contemporary, London.
In a first for Space 204, the exhibition exists in a virtual gallery where visitors are invited to move, interact, and hear the exhibition in a simulation of a physical experience.
Firefox or Chrome desktop browsers are recommended for the best viewing experience while in the exhibition. Navigate the gallery using the arrow keys to move around and your mouse to pivot.
To see the show and for more information please visit:
space204.org/dawit-landing
Downloads:
flyer