Three new residential colleges planned for Highland Quad
Vanderbilt University is embarking on the next phase of its residential colleges program with the reenvisioning of Highland Quadrangle along 25th Avenue South. The initiative, which includes construction of three new residential colleges for upper-division students, will build upon the successful living-learning environments already in place on The Martha Rivers Ingram Commons and in the West End Neighborhood.
"Our residential colleges create a collaborative and inclusive culture that empowers our students to thrive as thinkers, leaders and engaged citizens," Chancellor Daniel Diermeier said. "The Highland Quadrangle development will create even more opportunities for Vanderbilt students to learn from different perspectives, engage in informed discourse and expand their thinking about the world."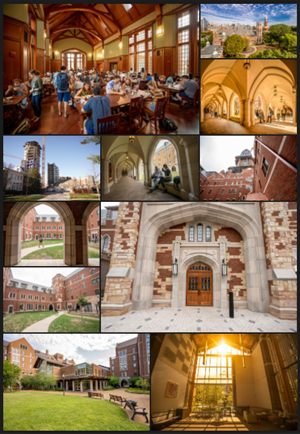 Plans for the reimagined Highland Quad will begin with the demolition of its existing dormitories—Morgan House, Lewis House, the Mayfield Living Learning Lodges and Chaffin Place—to make way for the new residential colleges. The current buildings are scheduled for closure in 2024. Construction on the new residential colleges is expected to be completed for the 2027–28 academic year.
Vanderbilt is partnering on the design for the project with Foster + Partners, a global studio for architecture, engineering, urban and landscape design rooted in sustainability. The residential colleges will be built to align with the university's Academic Strategic Plan and FutureVU, an initiative to enhance the places on campus where community members live, work and learn.
"The Highland Quad project is the next logical step in broadening our students' access to a comprehensive, four-year residential college experience—and the valuable learning opportunities it provides outside the classroom," said Eric Kopstain, vice chancellor for administration. "This project also will have a positive impact on campus in other ways, as we look to prioritize sustainability, connectivity and Vanderbilt's historic park-like setting in keeping with the university's FutureVU initiative."
Vanderbilt opened its first residential college, The Ingram Commons, to first-year students in 2008. Since then, five additional residential colleges for upper-division students have been constructed in the West End Neighborhood, expanding the university's efforts to provide students, faculty and staff with an intentional, mutually beneficial educational and living experience. Rothschild College, the newest of the West End Neighborhood residential colleges, is set to open this fall. A sixth residential college is currently under construction and scheduled to open in 2024.
To learn more about Vanderbilt's residential colleges, visit vanderbilt.edu/residentialcolleges.