Vanderbilt hosts 'food-scrap' cooking competition to reduce food waste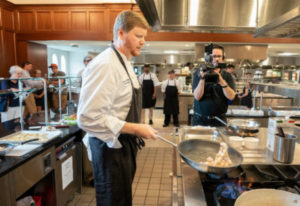 Four Nashville chefs and their teams—including one from Vanderbilt Campus Dining—competed at E. Bronson Ingram College June 10 to create high-quality dishes from food scraps.
The James Beard Foundation and Nashville Food Waste Initiativeco-sponsored the friendly competition to raise awareness of the problem of food waste in Nashville and promote creative culinary solutions. According to the Natural Resources Defense Council, up to 40 percent of food is thrown away in the United States.
"We at Vanderbilt are very excited to be working together with so many of the people in this room to combat food waste, not only today, but for many generations to come," Eric Kopstain, vice chancellor for administration, said during the community tasting reception.
Kopstain then introduced Nashville Mayor David Briley and thanked him for his administration's efforts to reduce food waste. Briley launched the Mayor's Food Saver Challenge in November 2018, partnering with restaurants and other commercial food-servers to reduce the amount of excess food they prepare, donate food they don't use and compost what cannot be donated. This helps the environment while providing resources for those who struggle at times to be able to purchase food.
Briley thanked all of the teams and noted the superior kitchen facilities at E. Bronson Ingram College for hosting a "Chopped-style" cooking competition.
Each team was given a mystery box of food scraps to create a trio of small appetizers (two to three ounces), with approximately 20 servings of each one for the post-cooking reception in the E. Bronson Ingram College dining hall.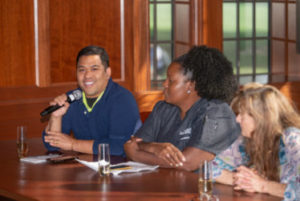 The Vanderbilt team, led by Stephen Gitschlag, chef de cuisine for Catering and Events, prepared fish tacos with tomato, pineapple and broccoli slaw; asparagus arancini with tomato and cauliflower relish; and carrot panna cotta.
"This was definitely a challenging exercise and a little nerve-wracking at times, but we enjoyed the competition while creating very good food and reducing food waste at the same time," Gitschlag said. "This is something that we strive to do daily at Vanderbilt."
Also on the university team were Anita Hartel, sous chef for catering; and Patrick Cochrane, a student at Nashville State Community College.
Judging the competition were prominent Nashville chefs Deb Paquette and Arnold Myint and Jennifer Hill Baker, an Impact Fellow at the James Beard Foundation. All four teams received strong praise for their creative use of scraps and delicious dishes. A team led by Kirstie Bidwell, executive chef for The Old School Farm to Table, was declared the overall winner in the tight competition.