Chancellor's Charter explores sustainability across Nashville
Read the MyVU story here.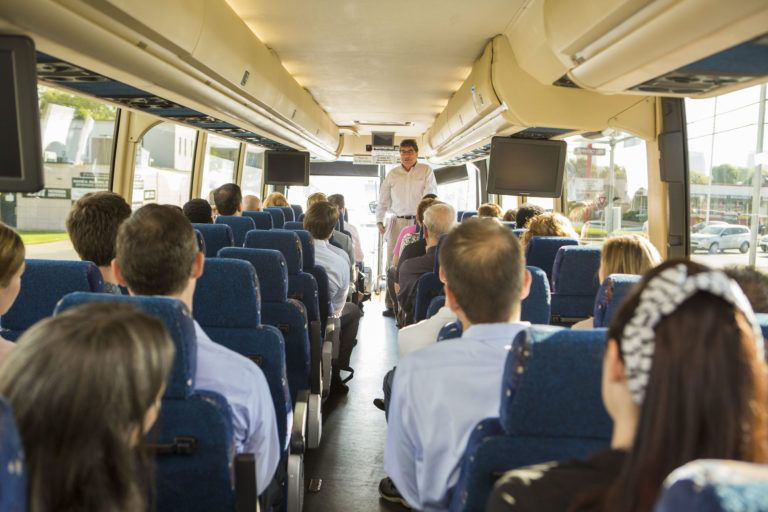 Faculty, staff and students joined Chancellor Nicholas S. Zeppos last week on a Chancellor's Charter tour to explore sustainability, a fundamental FutureVU guiding principle and initiative.
Designed to focus on community engagement and lifelong education, the Chancellor's Charter tours take place throughout the year and examine significant values, themes and topics by visiting various Nashville landmarks, spaces and community leaders and groups.
"It is our duty and responsibility to reach out and learn from the vibrant community we exist in and with," said Zeppos. "Investing in sustainability as a lifestyle is necessary to ensure Vanderbilt exists for generations to come. Treating our land and each other with respect is the only way we can thrive as humans and as a society."
The tour included stops at three different locations focusing on different sustainability themes. The first stop was at McGruder Neighbors' Community Garden and the C.E. McGruder Family Resource Center to learn about food insecurity as well as farm-to-table and food waste initiatives.
A panel led by Vanderbilt Campus Dining Director David ter Kuile and featuring Rob "Veggies" Horton, founder of Trap Garden; Lauren Bailey, garden director at the Nashville Food Project; Sam McCullough of the REACH 2020 Project; and Sharon Smith, assistant director of Metro Public Works, discussed the food insecurity epidemic afflicting the nation.
With one in five facing food insecurity in Nashville, panelists discussed with faculty, staff and students ways to better achieve sustainable farming and waste practices including the recent Campus Dining initiative to eliminate plastic straws and bags while adding composting practices and more sustainable menu options.
The second stop was at Music City Solar, the first and only solar park in Nashville. The park, located in Madison on what was previously a Metro landfill, houses more than 17,000 solar panels and offers clean, renewable energy for NES customers throughout the region.
A discussion led by Tony Richman, an energy services engineer with Nashville Electric Service, and featuring representatives from Lightwave Solar and Andrea George, director of Vanderbilt's Sustainability and Environmental Management Office, offered tour participants the opportunity to learn the history and future of Nashville's power grid.
The third and final stop incorporated a lunch-and-learn presentation on downtown sustainable projects by Gary Gaston, CEO of the Nashville Civic Design Center, and Erin Hafkenschiel, director of sustainability for the Nashville Mayor's Office. Afterward, tour participants were led through the Music City Center by the center's sustainability coordinator, Renee Barker, who highlighted its sustainable design and features such as the four-acre living roof.
"Reaching out and experiencing what our community is all about is the purpose of these tours, but bringing together a diverse group of Vanderbilt community members is what makes them special," concluded Zeppos. "Every day our faculty, staff and students come together to apply their knowledge, ideas and kindness to try and solve complex and often overwhelming problems. It is their experience and contributions that help Vanderbilt lead the region as a morally conscious, problem-solving enterprise."