Jordyn Cambridge-Women's Basketball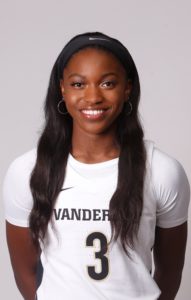 Jordyn Cambridge
Women's Basketball
Junior
Major: Human & Organizational Development
Why did you choose to attend Vanderbilt?
I chose Vanderbilt for a few reasons. One, it is very close to home and I wanted to stay close to family. Two, I wanted to go somewhere that would challenge me both athletically and academically. I wanted to make sure that I put myself in a position where I could have a successful basketball career, but also have a successful life after graduation, and after I can no longer play basketball.
What are your career goals?
I am not sure exactly what I want to do, but I hope that my career journey allows me to stay in the realm of athletics. Whether that career be playing, coaching, or anything related to, I hope that I can continue to impact athletes.
What does it take to be academically successful at Vanderbilt?
It takes will, preparation, and discipline to be successful at Vanderbilt.
How do you manage your demanding schedule?
I am a person that always needs to be on a schedule. Every week I have to have an idea about all the things that I need to get done that week. By knowing what I need to do in advance, it makes it easier for me to work around my basketball schedule and get everything done.
What is your ritual before taking a test?
I don't have a test taking ritual. I just make sure that I do everything I can previously, so that I can be as prepared and confident as possible.
Favorite quote?
"Comparison is the thief of joy." – Theodore Roosevelt