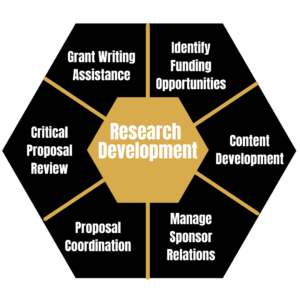 RDS supports the development of proposal submissions to Federal and State agencies, and to Foundations and other private sponsors. Proposal services will supply and incorporate information about resources available at Vanderbilt University. RDS can also supply boilerplate language and guides.
Note: RDS's primary charge is to assist with proposal submissions in which potential awards would be made to Vanderbilt University.
In most cases, RDS is not able to assist with proposals applied for by the individual scholar, in which awards would be made to the individual, not to Vanderbilt.
In these cases, we suggest that faculty reach out to their department for assistance or to VU's Writing Studio.  https://www.vanderbilt.edu/writing/faculty/#SUPPORT
Services
Identify Funding Opportunities
Research funding opportunities for faculty projects and other needs
Facilitate relationships with potential and existing sponsors
Proposal Coordination
Develop checklist of required proposal documents
Create timeline for proposal development with due dates for necessary milestones
Organize planning meetings with key collaborators
Communicate with team members and monitor progress towards milestones
Grant Writing Assistance
Assist in the conceptual development and writing of the proposal elements such as vision statement, resources description, and plans for management, education, outreach, and data sharing
Evaluate proposal drafts for clarity of vision, representation of stakeholders, integration across thrusts, and alignment with funding program goals and agency guidelines
Critical Review
Coordinate a "Red-team" review in which a panel of independent experts from Vanderbilt review the final draft of the proposal and provide critical feedback on the proposal's strengths and weaknesses based on the merit review criterion for the opportunity
Organize a "mock site visit," if applicable, in which all members of proposal present an overview of each component to a panel of reviewers in preparation for a site visit by a funding agency
Content Development
Provide assistance with design and conceptual visualizations of proposal figures and diagrams
Assist in development of tasks/milestones and a deliverable-based budget, if applicable
Data analysis of institutional metrics (e.g. degree information needed for training programs)
Connect with examples of previously funded proposals