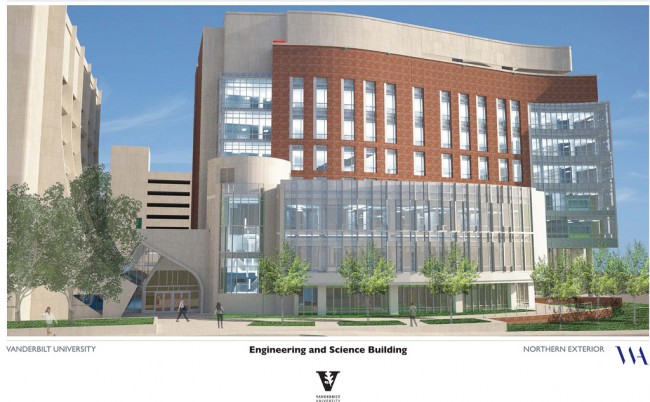 Vanderbilt University has a long-standing culture of creativity, collaboration, and civility that makes us unique among leading research universities. Fueled by an unusually compact campus, our synergistic environment promotes not only trans-institutional research of the highest caliber but also close interactions between students and faculty members.
See more images of the Engineering and Science Building »
The Engineering and Science Building will be a home for talented faculty members and students who are focused on trans-institutional teaching, research, and service.  As one of the largest interdisciplinary buildings on campus, this space will be programmatically designed to strengthen Vanderbilt's growing reputation as a major producer of intellectual leaders, entrepreneurs, and innovators.  The facility will also advance our position as one of the nation's prominent research institutions, bolstering our ability to address the most critical challenges our society faces.
While this building will provide a transformational opportunity to strengthen the School of Engineering, it will also serve the entire university, responding to the four themes of Vanderbilt's strategic plan:
Trans-institutional programs
Healthcare solutions
Education technologies
Undergraduate residential experience
Significant consideration has been given to the design of this building, incorporating fundamental features reflecting the university's priorities:
Innovation Center: Focuses on innovation, intellectual property creation, and entrepreneurship for the entire campus
Community Space: Serves as an intellectual meeting place and will include an area specifically designed for undergraduates to engage in research and innovation, enhancing their educational experience and preparation for the future
Atrium/Cafe/Social Space: Promotes interactions, building relationships across our dynamic campus and with out community, and allows opportunities to host events engaging students, faculty, alumni and others.
Research Shared Resources: Includes a Clean Room (operated by VINSE) and a high precision instrumentation space to improve the competitiveness of researchers submitting grant proposals in engineering and related fields, such as the physical sciences and medicine.
Instructional Space: Includes the latest in educational technologies to facilitate innovative intellectual engagement
Research Laboratories: Includes two built-out floors accommodating a range of research modules (wet, damp, and dry), supporting faculty and graduate student growth plans for the School of Engineering.  Three additional floors will be shelled, providing flexibility to support new trans-institutional programs and opportunistic hires for academic leaders intersecting the School of Engineering, the College of Arts and Science, and the School of Medicine.
Science and Engineering advisory firm, committee members
HDR Inc., an architectural, engineering and consulting firm based in Omaha, Nebraska, has been chosen as the advisory firm for the science and engineering planning process and will advise on the overall assessment process. HDR has a wide portfolio of higher education clients, with recent projects including the University of Maryland Physical Sciences Complex, the Lewis Integrative Science Building at the University of Oregon, and the Interdisciplinary Research Building at Howard University.
The committee members are listed below.
Executive Committee
Eric Bymaster, associate vice chancellor for finance
Philippe Fauchet, dean, School of Engineering
Eric Kopstain, vice chancellor for administration
Lawrence J. Marnett, dean, Basic Sciences, School of Medicine
Michael Perez, associate vice chancellor and chief facilities officer
Kamal Saggi, interim dean, College of Arts and Science
Susan R. Wente, provost and vice chancellor for academic affairs
David Wright, dean of sciences, College of Arts and Science
Advisory Committee
Douglas Adams, Daniel F. Flowers Professor, and chair and Distinguished Professor of Civil and Environmental Engineering
Isabel Gauthier, David K. Wilson Professor of Psychology
Steven L. Goodbred, chair and professor of earth and environmental sciences
Tina Iverson, associate professor of pharmacology
G. Kane Jennings, chair and professor of chemical and biomolecular engineering
Ethan Lee, professor of cell and developmental biology, professor of pharmacology
Antonis Rokas, Cornelius Vanderbilt Professor of Biological Sciences
Charles R. Sanders II, Aileen M. Lange and Annie Mary Lyle Professor of Cardiovascular Research; associate dean for research; professor of biochemistry; professor of medicine
Sharon Weiss, Cornelius Vanderbilt Professor, professor of electrical engineering