Dockless Bike and Electric Scooter Share
Interested in taking a scooter or bike safety class? Complete the interest form at the bottom of the webpage to let us know!
Metro Nashville established a one year pilot program allowing multiple dockless bike, electric bike (e-bike) and electric scooter (e-scooter) companies to operate on public rights of way in Nashvillle if they apply for and obtain a certificate of public necessity and convenience.
Vanderbilt University is aligning with the city and will allow bike, electric bike and electric scooter companies to operate on campus starting September 6, 2018, if the companies obtain a certificate through Metro's program and agree to adhere to Vanderbilt guidelines. Vanderbilt recently completed a successful pilot program with the dockless bike share company ofo and remains committed to providing alternative modes of transportation and enhancing circulation on campus.
Bike and Electric Scooter Options
As bike, e-bike and e-scooter companies obtain certificates of public necessity and convenience through Metro's program and sign an agreement with Vanderbilt, names and information on each company will be provided here so that interested users at Vanderbilt can access information in one place.
Bird Scooters
Email: hello@bird.co
Website: https://www.bird.co/
Lime Scooters
Email: support@li.me
Call us: 1(888)-LIME-345
Website: https://www.li.me/ 
Spin Scooters
Use support button in app for issues and questions
Website: https://www.spin.app
Designated Shared Parking Areas
Parking Areas
The university is setting up preferred parking areas for dockless bikes, e-bikes and e-scooters in convenient locations across campus. The campus community is encouraged to use these spaces and park responsibly in order to keep campus accessible and safe for all.
Preferred parking areas will be designated with green paint and signage and are noted on the below map.
Additionally, if a preferred parking area is full, bicyclists are welcome to park bikes at university bike racks.
Please note: Bikes and scooters should not be parked in front of building entrances; in the middle of sidewalks, paths or driveways; or on accessible ramps.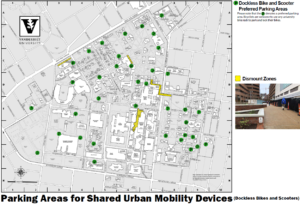 Etiquette, Safety & Resources
Rules of the Road
Bike, e-bike and e-scooter users must yield to pedestrians on campus and provide audible or hand signals when approaching and passing pedestrians.
Bikes, e-bikes, and e-scooters should be walked in dismount zones noted on the above map, which include: the 21st Avenue pedestrian bridge, Rand wall, and Medical Center Plaza.
Bike, e-bike and e-scooter users must follow the rules of the road on campus and city streets, including stopping at stop lights and stop signs.
If e-scooter users plan to travel outside of campus, please keep in mind that e-scooters are prohibited from riding on the sidewalks and must ride on the streets in business districts such as the midtown and downtown areas.
Parking Etiquette
Park responsibly. Do not park in the middle of sidewalks, paths or driveways or in front of doorways or entryways to buildings.
Bikes and e-scooters should not be parked in front of accessible building entrances or on accessible ramps.
We encourage anyone who observes improper parking to report the issue to the bike or scooter company contacts mentioned above or Vanderbilt University Public Safety.
Electric Charging
The charging of e-scooters and e-bikes in any university building is prohibited.
Safety
Helmet use is encouraged.
For issues relating specifically to the bikes, e-bikes or e-scooters (such as maintenance, reporting issues such as illegal parking, etc.), please contact the specific company directly.
Resources
For a map of bike lanes in the city, please click here.
For a map of bike lanes and greenways in the city, please click here.
For questions about the program, please contact docklessmobility@vanderbilt.edu.
Dockless Educational Outreach Group
A dockless bike and electric scooter educational outreach group has been charged with bringing together students and administrators to work together to educate the community on best practices and problem solve any concerns. The group collaborated on an e-scooter safety video which features Vanderbilt students demonstrating how to responsibly use e-scooters on campus and created safety tip cards to distribute at residence halls and events. The group will continue to meet and discuss additional ways to educate the campus community on responsible use of bikes and e-scooters.
Contact for Bike and Scooter Companies
Vanderbilt has arranged a point of contact to work with dockless bike, e-bike and e-scooter companies. We ask companies to inquire at docklessmobility@vanderbilt.edu if they are a certificate holder in Metro's program and are interested in operating their devices on the Vanderbilt campus.
News
Mar 22, 2018: Vanderbilt and ofo partner to bring dockless bike sharing to campus
Apr 25, 2018: Dockless bike-sharing pilot continues through summer; preferred pricing available for VU, VUMC
Aug 31, 2018: Vanderbilt to offer dockless bike and scooter options on campus
Feb 18, 2019: Safety remains top priority as electric scooter use increases
Apr 23, 2019: Learn to use electric scooters safely at free VU class April 27
Additional information on university mobility and transportation efforts can be found here.
Interested students, faculty and staff should complete the form below to indicate their interest in either or both classes.