Environmental Health and Safety Assist (EHSA)
EHSA Login
EHSA Link: http://ehsa.vanderbilt.edu
Sign In Information
For VU individuals, sign in through Vanderbilt's SSO page.
For VUMC individuals, sign in with your VUMC email to be taken to VUMC's SSO page.
For new researchers who need access to EHS Assist or to add a lab's inventory, please contact ehsa@vanderbilt.edu.
For existing researchers who need to add, edit, or remove existing lab members, access the Researcher Registration Guide.
What is EHS Assist (EHSA)?
As part of the EHS transition, Vanderbilt is upgrading the IT and data management tools related to research EHS by implementing the EHS Assist (EHSA) online platform. Goals of the EHSA implementation are to reduce administrative and management burden, improve efficiency, improve data accuracy, and increase data transparency.
EHS Assist is a user-friendly, comprehensive, online information management system that assists VU researchers with managing their safety and compliance responsibilities and information related to the use of hazardous research materials and equipment.
VU researchers can use one portal to manage chemical, radiation, X-ray, laser, and biological safety information as well as the following:
Access safety data sheets (SDSs);
Update the users, locations, and inventories of hazardous research materials such as chemicals;
Track EHS training completion data updated daily from Oracle Learn;
Order radioactive materials if approved;
Respond to inspection findings;
Request chemical and radioactive waste collection services and supplies.
The information on this page will be updated regularly as new functionality is available or additional user guides or information becomes available.
Need EHSA Help or need to request changes to your access level?
Email ehsa@vanderbilt.edu with your questions or issues.
EHSA User Guides
The following user guides have been prepared to assist researchers with using the EHS Assist platform.
| | |
| --- | --- |
| Chemical Safety Guides and Templates | Radioactive Material (RAM), X-ray machine, and Irradiator Guides |
| Chemical Inventory Guide – how to view, search, add, remove, share, and transfer chemical items in an inventory | RAM Buyer's Guide – how to enter and submit a radioactive material (RAM) requisition |
| Template for Importing Chemicals into a Chemical Inventory – use this excel template when importing your complete inventory into a new inventory or adding batch chemicals into an existing inventory | RAM Meter Guide – coming soon |
| Chemical Inventory Verification Guide – how to compare the inventory data in EHS Assist with what is physically in the lab at any given time. This can be accomplished with or without a barcode scanner. | |
| Chemical Fume Hood Guide – how to access information on chemical fume hoods in your lab | |
| | |
| --- | --- |
| Biological Safety Guides | |
| Coming soon | |
EHSA VIDEO TUTORIALS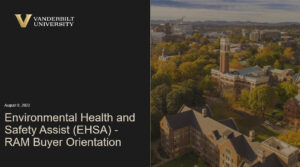 Find answers to the most asked questions about EHS Assist
For example, type in "transfer" or "inventory" in the search box. The list will filter to show only items that mention those keywords.
EHS Assist FAQ