Crystallography Hardware & Software
Hardware
Diffraction Lab
The CSB possesses a state-of-the-art diffraction laboratory located in Robinson Research Building, room 862.
The laboratory houses:
MetalJet X-ray source
PHOTON III pixel array detector
Crystallization Lab
The crystal lab for viewing and recording crystallization experiments is located in Stevenson Center Building 2, room SC2537.
The facility includes:
crystallization incubators maintained at a variety of temperatures
two Leica MZ12 microscopes with polarizer/analyzer; one with a CCD camera for photographing crystals
Leica MZ6 microscope with polarizer/analyzer
The crystal lab also provides a linux computer, X8R, for data processing using HKL2000.
Pac-Van Robotic Crystallization Facility
The Pac-Van Facility is located in the Iverson Laboratory on the 4th floor of the Preston Research Building. It is fully equipped for high-throughput crystallization experiments including remote access to images from the automated imager. The imager is equipped with UV lighting to allow for fluorescence of proteins to identify protein crystals in crystallization drops.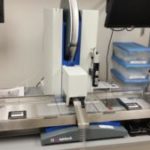 Pac-Van equipment includes:
Mosquito LCP Robot: Crystallization trial experiments can be performed quickly and efficiently in 96 well plates, using the Mosquito, a nanoliter dispensing high-throughput robot. The Mosquito robot is also capable of setting up lipidic cubic phase (LCP) crystallization trials.
Dragonfly Robot: The Dragonfly is capable of setting up a custom screen in 96 well plate using minimal amounts of stock solutions. The software includes a user-friendly application for designing custom screens. The screen can exported in a format suitable for the RockImager.
Rock Imager: This is a robust, easy-to-use, automated imaging system for protein crystallization.
Software
SBGrid
All software needed for crystal structure solution is available on CSB computers using the Structural Biology Grid, SBGrid. Visit the SBGrid website for full details.