Welcome to our 2023 first-year cohort
We are delighted to welcome seven new students to our program this fall.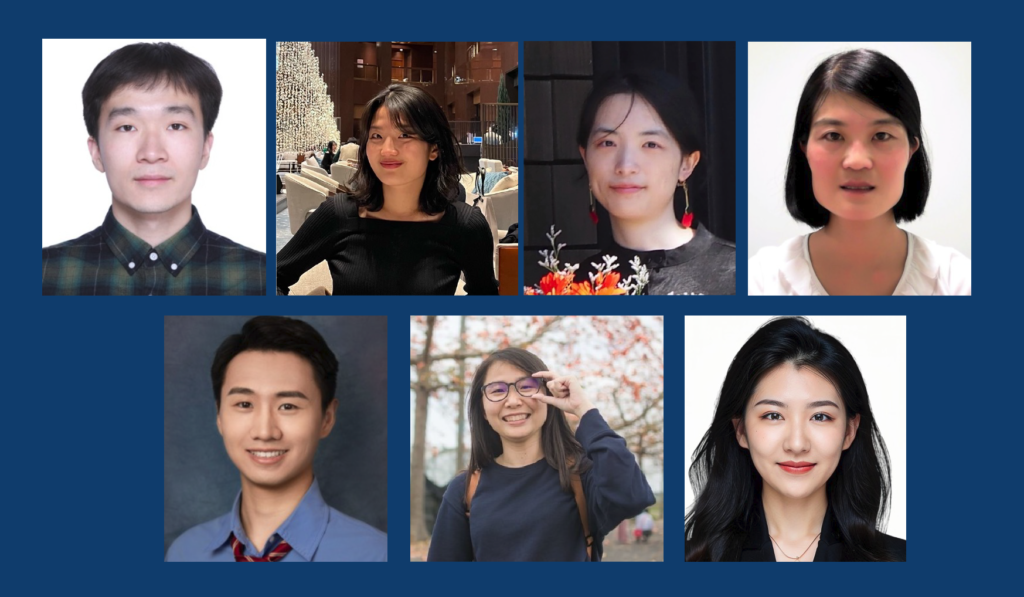 Kaixing "Charlie" Liu is a new student in our MS program. A native of China, he majored in biological science at Tsinghua University, minoring in economics and statistics. His studies there shaped his interest in the intersection of statistics, health, and programming, and for his undergraduate thesis he attempted to leverage statistical methods to explore genetic variants significantly associated with the variance of gene expression (evQTL or vQTL). He is currently open to different research directions in biostatistics. In his free time, he loves playing tennis, listening to music (both pop and classical), and exploring new places.
Yunbi Nam is a new student in our PhD program. She earned her BS in math and economics at Sogang University and her MS in biostatistics at the University of Washington. As a research scientist, she has actively worked with clinical data in the Multi-Ethnic Study of Atherosclerosis (MESA) and the Kidney Precision Medicine Project (KPMP). Her research interests include data integration and precision medicine. She was born and raised in South Korea, but after living in Seattle for several years, she became enthusiastic about sports, including hiking, tennis, and CrossFit!
Danni Shi is a new student in our PhD program. She earned her BS in statistics (minoring in both the applied and research mathematics programs) and MS in biostatistics at the University of Washington. Her current research interests include causal inference, clinical trials, observational studies, and HIV/AIDS. In her spare time, she enjoys music and photography, with published images of college football and basketball.
Kay Soga is a new student in our PhD program. She comes to Nashville with 17 years of experience as a data analyst, programming in SAS, R, Stata, and SPSS for education research in Washington, DC, and epidemiologic research in Canberra, Australia. For her graduate studies, she is interested in specializing in data science methods.
Hao Wu is a new student in our PhD program. He majored in food science, data science, and architecture at China Agricultural University, and then earned his master's degree in biostatistics at the University of Michigan. He is interested in applying machine learning and AI to computational biology and probing the socioeconomic and medical realities within electronic health records (EHR) data. Outside of academia, he enjoys traveling, hiking, playing basketball, working out at the gym, and reading.
Chih-Ting "Teresa" Yang is a new student in our PhD program. She earned her BS and MS degrees in statistics at National Cheng Kung University in Taiwan. Her research interests include genomics, precision medicine, and biomedical imaging data. Outside of work, she likes hiking and jogging to clear her mind. Running is one of her biggest hobbies, and she challenges herself to run a marathon each year. She is also passionate about solving puzzles of all kinds.
Xinyu Zhang is a new student in our PhD program. Originally from China, she earned her BS in statistics at SWUFE (Southwestern University of Finance and Economics) and then pursued her master's in biostatistics at Yale, with an emphasis on survival analysis and functional data analysis. Her research focus is currently on clinical trials, and she's eager to explore imaginative collaborations. Her interests include non-proportional hazards in oncology and cancer trials, and the goodness of fit test for the functional linear regression model. In her free time, she enjoys playing and listening to music, working out, and decorating her living space.