Types of Positions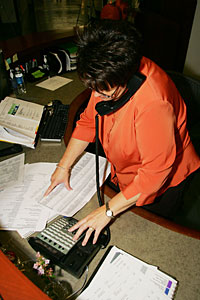 Full-Time
Positions in which an employee's standard work schedule requires a minimum of 30 hours of work per week. Full-time Regular and Term staff are eligible for most employee benefits.
Part-Time
Part-time positions are those in which an employee's standard work schedule requires less than 30 hours of work per week. Part-time employees will earn leave time at a rate related to the number of regularly scheduled work hours per week, however, they are not eligible for most employment benefits.
Regular
Ongoing positions with no defined ending date are considered "Regular" positions. That does not mean a regular position cannot end - it means there is no current expectation that it will end at a defined time. Full-time regular staff are eligible for most employee benefits.
Term
"Term" positions are staff positions that exist for a period longer than six months but are not expected to last beyond one year. Although a position may exist for a specified or indefinite period, staff who accept term appointments are not guaranteed employment for the entire period; they are employed for indefinite periods within the limit of the appointment. There are no guarantees of continued employment, either within the term or when the term ends. Term appointments are treated like regular staff positions for benefits eligibility and leave time accrual.
Temporary
"Temporary" positions are created for a specific time-limited duration of no more than six months. Staff in temporary positions are not eligible for most employment benefits. Vanderbilt operates an internal temporary employment service, Vanderbilt Temporary Services (VTS), which helps the University meet its temporary staffing needs. Hiring of staff for temporary positions should be coordinated through VTS. 
Student
Individuals who are Vanderbilt students are usually not eligible to hold regular staff positions - either in the department in which they are enrolled or in another Vanderbilt department. Supervisors should be aware of the special issues related to student employment, including limits on the number of hours students may be authorized to work, and the effects that earned income may have on a student's eligibility for other sources of financial support. There are additional restrictions if the student is a minor. Before employing any Vanderbilt student as a "Student Worker" (undergraduate or graduate), supervisors must contact the Student Financial Aid Office.
Faculty
Openings in these positions are managed by the offices of the dean or chair of each school or department. Job seekers should search the Vanderbilt website or Vanderbilt Directory to obtain contact information in specific areas of interest.