'Fate of Fact,' an audio documentary by Jon Meacham
By Jon Meacham, Pulitzer Prize–winning historian, author, co-chair of the Vanderbilt Project on Unity & American Democracy and Vanderbilt University Carolyn T. and Robert M. Rogers Chair in American Presidency.
Unifying Theme: Information Marketplace: Ensuring that the Public has the Data
Summary: This five-part series explores the question of how fear conquered truth, the history and origins of the strong grip that misinformation and disinformation have on our politics, and how we got here today. The way forward isn't about nostalgia, it's not about sentimentality, it's about seeing things whole.  
Related news about Jon Meacham:
Fate of Fact features Jon Meacham with esteemed guests, including presidential historian Michael Beschloss; Dr. Eddie S. Glaude Jr.; historian Evan Thomas; Sean Wilentz, professor of history, Princeton University; and Washington Post opinion columnist Jennifer Rubin, who will explore the question of how fear conquered truth, the history and origins of the strong grip misinformation and disinformation have on our politics, and how we got here. Trace the roots of America's prevailing culture of polarization, with an emphasis on why the right has chosen to break with a governing consensus that, however imperfect, was once embodied by the figurative conversation between Franklin Roosevelt and Ronald Reagan. Fate of Fact offers a historically grounded perspective on the forces that led to the presidency of Donald Trump and the insurrection of Jan. 6—an attack on the Capitol and on democracy as grave as any American moment since the Civil War. Fate of Fact is a presentation of Shining City Audio, a C13Originals and Jon Meacham studio. 
[Originally aired April 28, 2021]: LBJ announces his vision for a "Great Society" in an America predominantly defined by two competing visions, both rooted in a shared sense of reality. But on the far right wing of the political spectrum there is a disaffected group of people, driven by paranoia and fear, who are captive to conspiracy—setting a dangerous course for the decades to come. (27:21)
[Originally aired May 5, 2021]: From the Yalta Conference to the centrist Dwight Eisenhower administration, members of the far-right feel a sense of betrayal as the country integrates and embraces separation of church and state, laying the foundation for a paranoid style of politics and a flight from fact. (26:22)
[Originally aired May 12, 2021]: Republican presidents in the second half of the 20th century were not strangers to extreme rhetoric and hardline statements, but in practice they were more centrist than members of the far-right might have hoped. Over several decades, the spirit of what George H.W. Bush called "sound governance" aggravated the ideologues and fomented a contempt for compromise. (30:33)
[Originally aired May 19, 2021]: The religious right becomes a force in American politics. Guided by a belief that Christianity belongs at the center of public life, some Evangelical voters view secularism as an existential threat—a threat that has helped create a false choice between faith and fact. (20:19)
[Originally aired May 26, 2021]: Progress isn't inevitable. Justice is forever elusive. Liberty is always fragile. What will it take for America to find its better angels? (27:26)
About Jon Meacham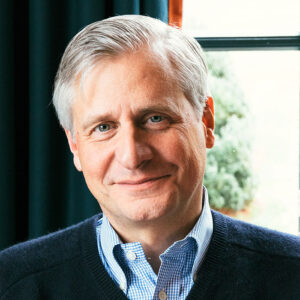 Jon Meacham is a Pulitzer Prize–winning biographer. His latest work, His Truth Is Marching On: John Lewis and the Power of Hope, debuted at No. 1 on the New York Times bestsellers list in August 2020. He is the author of several other No. 1 New York Times bestselling books, including The Hope of Glory: Reflections on the Last Words of Jesus from the Cross; The Soul of America: The Battle for Our Better Angels; Thomas Jefferson: The Art of Power; American Lion: Andrew Jackson in the White House; Franklin and Winston; Destiny and Power: The American Odyssey of George Herbert Walker Bush; and Songs of America: Patriotism, Protest, and the Music That Made a Nation. He is the host of Cadence13's Hope Through History and It Was Said documentary podcast franchises, a distinguished visiting professor at Vanderbilt University, a contributing writer for The New York Times Book Review and a fellow of the Society of American Historians. Meacham lives in Nashville with his wife and children.