Rand Farmer's Market returns for 2022
During the month of April, Vanderbilt Campus Dining celebrates its commitment to sustainability with student engagement and educational opportunities throughout the month. The month of sustainability-themed events kicks off with a focus on local suppliers with the return of the popular Rand Farmer's Market, scheduled for Monday, April 11 from 11:00am – 1:30pm.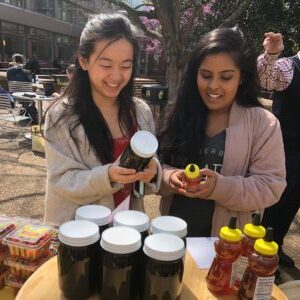 Students checking out local honey at a previous year's Farmer's Market
Paused during COVID restrictions in 2020 and 2021, the popular campus event returns this semester, presented in partnership with Vanderbilt Student Government. This year's Rand Farmer's Market will feature an assortment of locally-sourced fruits and vegetables, in addition to small-batch local and regional specialty foods, plus product giveaways. Chef Jordan Rogers will be on hand, serving samples of his handcrafted blistered shishito pepper, avocado, and heirloom tomato salsa.
Students, faculty, and staff members are invited to attend the event. In the event of inclement weather, the Farmer's Market will be held indoors in the Sarratt Promenade. Meal plan swipes will be accepted at the event, in addition to meal money and credit/debit cards.
Additional sustainability events this month will be announced via DiningNews text alerts (text DiningNews to 55744 to subscribe) and on Vanderbilt Campus Dining's Instagram.