Two Vanderbilt University buildings earn LEED certification
Vanderbilt University has been awarded two Gold Leadership in Energy and Environmental Design (LEED) certifications. The first is for the School of Nursing building, which opened in 2019, and the second is for the 1101 19th Avenue South building, formerly Disciples of Christ building, for its renovation in 2020.  
The university now has 24 LEED-certified buildings as designated by the U.S. Green Building Council (USGBC).  
"It's a great honor for Vanderbilt to be recognized for its sustainable building efforts," said Vice Chancellor for Administration Eric Kopstain. "Our work to ensure that sustainability is at the forefront of our campus growth continues to be of great importance to our university leaders. These new certifications show the results of our progress." 
The School of Nursing project earned the accreditation through installing high efficiency flush and flow plumbing, installing systems for energy cost savings and strategically sourcing raw materials—including repurposing a tree removed from the site as material for a focal wall, earning it a Gold LEED certification.  
This project is also Vanderbilt's first WELL-designed building. The building is constructed to measure and monitor features that impact human health and well-being such as air, water, nourishment, light, fitness, comfort and mind. 
"Many considerations for health and sustainability went into the planning, construction and furnishing of our new building," said Pamela R. Jeffries, School of Nursing dean and Valere Potter Distinguished Professor of Nursing. "As nursing takes a holistic view of health, it was important that the building both support environmental initiatives and incorporate features designed with the well-being of our students, staff and faculty in mind."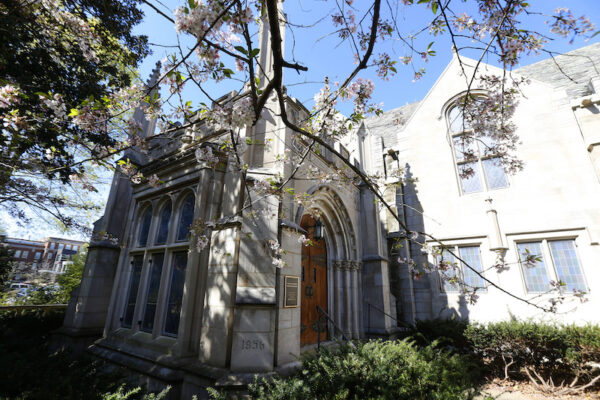 The 1101 19th Avenue South building underwent a renovation to restore its historic interior and façade, but also to update the building to support the university's sustainability goals. This project implemented a student-driven case study, which included embodied carbon calculations and educational signs for the building to educate visitors about the sustainability measures incorporated into the buildings.  
Notable features of this project are adapting the landscaping to preserve the existing healthy biodiversity, installing bike racks to reduce the use of personal cars and emissions, reusing resources and materials to retain 81 percent of the original structure and installing a high-efficiency HVAC system and water fixtures.  
Learn how to take a self-guided tour of 1101 19th Avenue South. 
The university continues to incorporate sustainability into all its capital projects. Learn more about all completed LEED projects on the Campus Planning and Construction website.