The second Living Building Challenge project on a college campus in the Southeast is well underway but still half a year from completion.
The 88,000-square-foot rehabilitation and expansion of two century-old buildings at Vanderbilt University in Nashville is seeking Petal Certification, a track allowing partial fulfillment of the rigorous Living Building Challenge (LBC) standard.
"This is a concrete thing we can do to make a difference," says Paul Marshall, the Vanderbilt architect managing the project.
Soon after he joined the university's staff in 2011, Marshall and a handful of colleagues founded the Nashville Living Building Collaborative to learn about and advocate for regenerative design and construction in Tennessee's largest metro area. Vanderbilt — a wealthy and prestigious private university that has long put a strategic emphasis on sustainability — quickly took center stage.
News of the Kendeda Building for Innovative Sustainable Design pushed the small group to move from theory to action. In 2018, the Collaborative held a series of workshops that focused on the Kendeda Building as a case study underway in the same the region. Kendeda lead architect Joshua Gassman of Lord Aeck Sargent led two of the seminars, and some Nashvillians made a trip last fall to Atlanta to tour the Kendeda construction site.
Meanwhile, the Vanderbilt project was just getting underway. Marshall says he and Keith Loiseau, Vanderbilt's director of campus planning and construction, had long "been looking for the right project that was of the right scale" to begin work on a Living Building. They found their internal client in Vanderbilt's Peabody College for Education and Human Development.
Peabody possessed two stately red-brick buildings, neither of which had undergone a true renovation since their 1914 construction. Built to train future home economics and industrial arts teachers, the Georgian-style structures, with their classical exterior details and rickety interior finishes, had fallen on hard times. The two academic disciplines for which they'd originally been designed are seldom even taught in public schools anymore.
Together with college officials, the Campus Planning and Construction department devised a plan to renovate the two buildings and to link them with a new, two-story, 15,000-square-foot atrium. The design — a collaboration of Nashville-based Centric Architecture and the New York Office of SGA — calls for glass-and-steel connector that will serve as a new "front door" for Peabody College. The two rehabilitated buildings will in effect become wings in 88,000-square-foot complex mainly dedicated to flexible classrooms and research spaces.
Marshall is particularly excited about the sustainable features. Under Living Building Challenge 3.0, Petal Certification requires projects to satisfy three of the Challenge's seven Petals, or focus areas, one of which must be Materials, Energy or Water. The Peabody team has chosen to focus on Materials, along with three other petals: Beauty, Equity, and Health & Happiness. (Under recently released LBC 4.0, Petal Certification includes additional "Core" requirements.)
"We decided to do four Petals, so if we fall short on one, then there will be a backup," Marshall explains.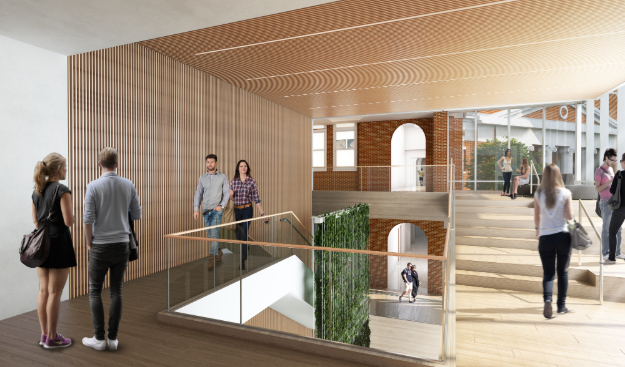 "It's pretty challenging to tighten up such an old building," Marshall says.
His favorite detail is a biophilic centerpiece intended to help meet the Health & Happiness Petal: A planted green wall will rise nearly stories in the middle of the new atrium.
On the Materials Petal, the LBC's salvage requirement has forced an emphasis on craftsmanship. Long-hidden plaster ceilings are being exposed, cleaned and patched, using products that meet the Materials Petals strict requirement for toxic free chemicals. In some case, wood floors have been pulled up to be refurbished on location and then reinstalled in another part of the complex.
All that refurbishment does take time. Demolition began last September, and construction, being led by Messer Construction, isn't expected to be completed until early 2020.
The rather long project timeline shouldn't mask the fact that interest in the Southeast for the Living Building Challenge appears to be quickening. The Kendeda Building — which Marshall says "inspired us to push the boundaries" — is nearing completion; it will become the third completed full LBC project in the region.
Although most property owners don't want to publicly discuss their plans until they're certain that they're proceeding, at least four owners in Georgia and contiguous states are taking  initial steps toward Petal or full LBC projects. The Peabody project itself may provide a foothold for LBC in Nashville just as the Kendeda Building appears to be doing for the region, and it's possible that Vanderbilt isn't quite done with its Living Building ambitions.
"Vanderbilt has been discussing and reviewing the objectives of the Living Building Challenge with many key stakeholders," the university said in a statement. "This will continued to be explored as part of the overarching sustainability efforts."