Vanderbilt greenhouse gases emissions drop 12 percent per square foot, new sustainability report shows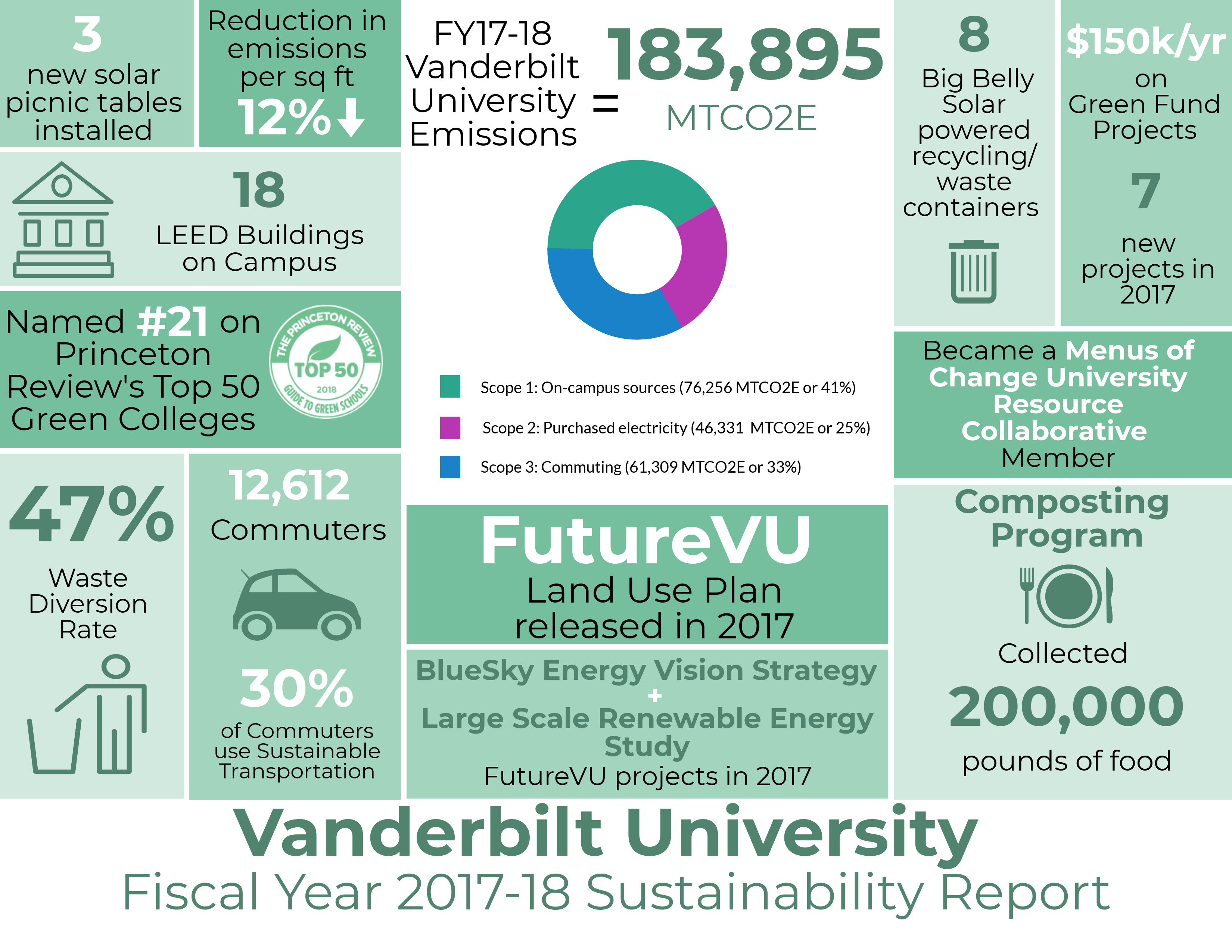 Vanderbilt University's greenhouse gas emissions dropped 12 percent per gross square foot in
the 2017-18 fiscal year. The findings are among those showcased in the annual sustainability
report released today by the Sustainability and Environmental Management Office in the
Division of Administration.
Vanderbilt leaders are aligning sustainability efforts with the guiding principles of  FutureVU , the
university's land use planning initiative. The FutureVU campus plan, released last spring,
includes recommendations for storm water management, water conservation, energy use
reductions and alternative transportation options.
"Integrating sustainability efforts into every project on campus is a key component of the
FutureVU campus plan," said Eric Kopstain, vice chancellor for administration. "As we continue
to develop Vanderbilt's physical environment, our goal is for each building project or initiative
to bolster our standards for greenhouse gas emissions."
The university's GHG emissions are split between three primary sources: 41 percent from the
on-campus power plant's natural gas use and individual buildings; 25 percent from electricity
purchased from Nashville Electric Service; and 33 percent from commuting, air travel, recycling
and waste disposal. Total emissions for the most recent fiscal year were 183,895 metric tons of
carbon dioxide equivalents. The carbon footprint is now reported on a fiscal year basis to better
align with the university's academic and financial operational cycles; it had previously been
reported by calendar year.
During the 2017-18 fiscal year, the university invested in a suite of projects making a positive
environmental impact, including a food waste composting program, a dockless bikeshare
program, one new LEED building, one new green roof, eight BigBelly recycling containers and
three solar picnic tables.
The report also found that since 2007, the university has increased its annual recycling rate by
almost 4,200 percent by continuing its focus on traditional and non-traditional recycling
programs and establishing initiatives like the ReUse Surplus Program, which repurposes
unneeded items owned by university departments, office and laboratories. The waste diversion
rate, which tracks the amount of campus waste processed by recycling and compost programs,
was 47 percent for the 2017 calendar year.
Several projects and studies designed to reduce the university's environmental impact are also
included in the report. These include the large-scale renewable energy study, which kicked off
in September 2017, the BlueSky Vision study, launched in November 2017 and focused on
potential building sites and energy efficiency, and a forthcoming transportation demand
management study led by the new transportation and mobility office.
Last month, Vanderbilt was ranked 21 st in the nation by the Princeton Review's Green Colleges
ranking.